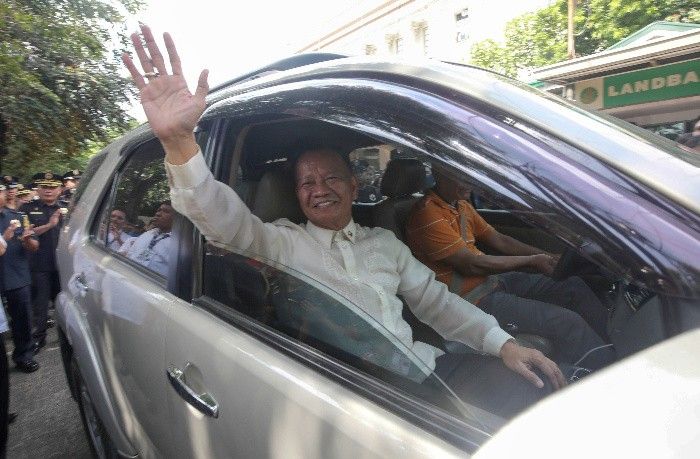 In this Oct. 31, 2018 photo, Customs chief Isidro Lapeña waves to employees who bade him farewell after he resigned from his post amid an investigation into 105 missing shipping containers. Lapeña is assuming a Cabinet-level post as head of TESDA.
STAR/KJ Rosales
Lapeña still 'enjoys' Duterte's trust despite NBI's graft complaint
MANILA, Philippines — Despite facing a graft complaint at the Department of Justice, former Customs commissioner and now technical education chief Isidro Lapeña still enjoys the trust of President Rodrigo Duterte, Malacañang said on Tuesday.
Presidential spokesperson Salvador Panelo said in a statement that the results of the National Bureau of Investigation's probe showed that "the president shall not shield those upon whom a shadow of doubt has been cast."
"No one, friends or political foes alike, is spared in our fight against corruption," Panelo added.
"Good governance is the hallmark of the Duterte administration and this latest development is a reaffirmation of the President's commitment against all forms of corruption and illegality," Panelo also said.
The National Bureau of Investigation on Monday recommended graft and administrative charges against Lapeña, over 105 shipping containers that are missing and believed to contain undervalued goods.
The complaint was filed before the Department of Justice.
Despite this, Panelo stressed that Lapeña still has the "constitutional right to be presumed innocent." The statement comes even amid authorities' killing of drug suspects before court trial in hundreds of police operations since mid-2016.
"Until and unless proven otherwise, [Lapeña] still enjoys the trust and confidence of the appointing authority who happens to be the president," the Palace spokesman said.
Lapeña's transfer
Duterte recently transferred Lapeña to TESDA amid controversy at the Bureau of Customs on the alleged P6.8-billion illegal shabu shipment that slipped past authorities.
Critics raised that Lapeña should be held liable for negligence, if not direct involvement, in shabu smuggling over the multi-billion shipment, but the president vouched for the embattled former Customs chief, and his predecessor Nicanor Faeldon.
"They are not corrupt. I would not have appointed them if they were corrupt," Duterte said in a speech last October 29.
President Duterte defended his two former Customs chiefs, saying illegal drugs entered the country under their watch because of a corrupt system.
"They are not corrupt. I would not have appointed them if they were corrupt," Duterte said, referring to Lapeña and Nicanor Faeldon.
"The illegal drugs slipped past them because they could not overturn the system. There were insiders involved and they were eaten up by the system," he added in Filipino.
Case transfer to Ombudsman?
The NBI filed its case before the Department of Justice, while Lapeña may be put under preliminary investigation as a ranking official. The Office of the Ombudsman handles cases against public officials with salary grade 27 and above, which falls under the jurisdiction of the Sandiganbayan.
Justice Secretary Menardo Guevarra said that the Memorandum of Agreement between DOJ and the Office of the Ombudsman has not been amended.
Guevarra however declined to say if the case will be transferred to the Office of the Ombudsman.
"I will not pre-empt the state prosecutors who will look at the complaint," the justice chief said.