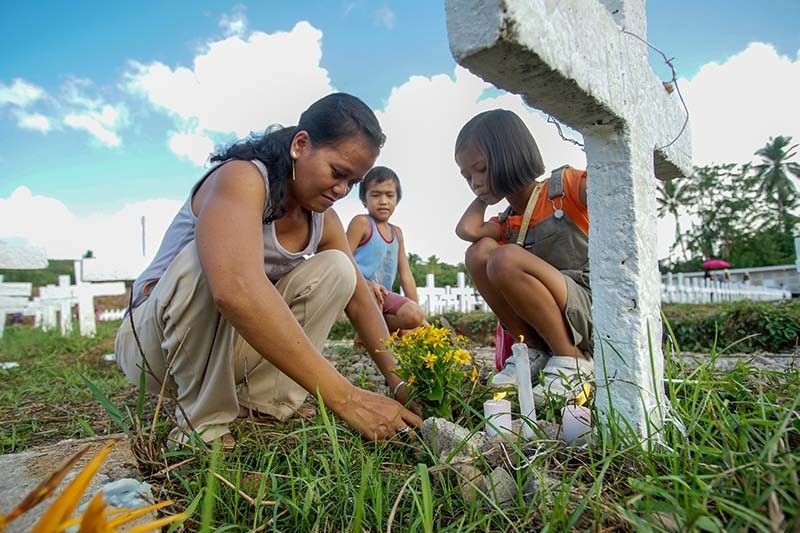 A survivor of Super Typhoon Haiyan places flowers and candles at the grave of a relative at the mass grave for victims of the typhoon on the fifth anniversary of the typhoon in Tacloban City, Leyte province, central Philippines on Nov. 8, 2018.
STR/AFP
Senators call for reflection, stronger disaster resilience 5 years after 'Yolanda'
(Philstar.com) - November 8, 2018 - 5:03pm
MANILA, Philippines — On the fifth anniversary of the catastrophic super typhoon Yolanda (international name: Haiyan), lawmakers reminded Filipinos to reflect on the lessons left by the country's worst storm on record.
In a statement, Senate President Vicente Sotto III said "Yolanda" will always be remembered for awakening the consciousness of the public that the wrath of nature spares nobody.
"After five years, let us all remember our countrymen who lost their lives on that terrifying day. Moving forward, we should reflect on the lessons it left us," Sotto said.
Sen. Loren Legarda, for her part, once again urged communities to strengthen disaster preparedness by conducting education and information campaigns.
"We need to ensure that in rebuilding communities, we are not rebuilding the risks again. We must reduce the risks and not create new risks. If a community is prone to landslides, consult the geohazard map to see where relocation is possible; otherwise, we will continue to incur damages and rebuild again when natural hazards occur," Legarda said.
"Yolanda" struck the central Philippines on Nov. 8, 2013, killing at least 6,300 individuals and affecting more than 1.4 million households.
Lacson laments limited 'Yolanda' funds
Sen. Panfilo Lacson, who was then tapped to lead the rehabilitation efforts for "Yolanda," earlier reiterated his frustration over the lack of government funds.
In a statement Wednesday, Lacson said his office crafted an 8,000-paged Comprehensive Rehabilitation and Recovery Plan with P167-billion budgetary requirement.
"Unfortunately, while the CRRP was approved by then president [Benigno] Aquino [III], very little budget support was appropriated to help the typhoon victims in the affected areas," he said.
Lacson said most of the projects came from donations from the private and business sectors.
"In sum, Haiyan is one chapter in my public service career I will never forget—extremely difficult, many times frustrating, yet satisfying only because I worked with very competent staff and consultants who didn't mind the limitations imposed by our own government in all aspects," he said. — Gaea Katreena Cabico