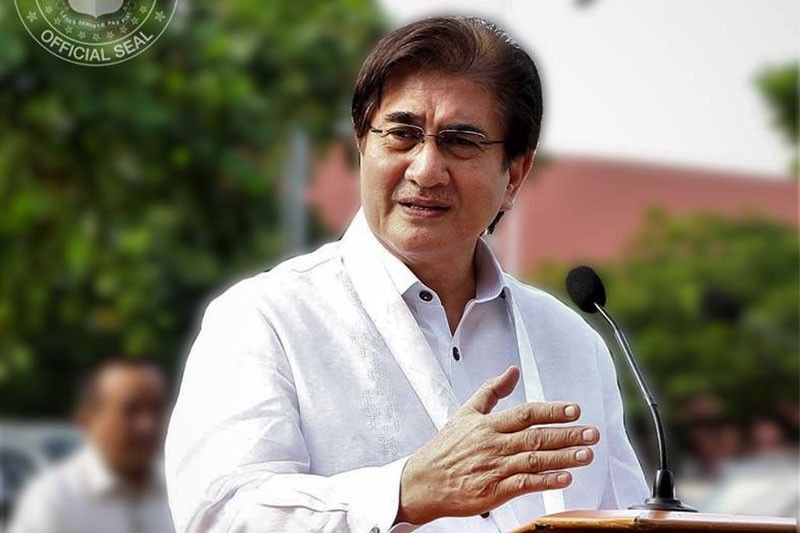 Sen. Gregorio Honasan will soon head the Department of Information and Communications Technology, according to Senate President Tito Sotto.
Senate PRIB
Sotto: Honasan an asset to DICT amid 'jurassic' phone
MANILA, Philippines — Sen. Gregorio Honasan's expertise will be an asset to the Department of Information and Communications Technology (DICT), particularly on national security, Senate President Tito Sotto said Wednesday.
Sotto earlier confirmed that Honasan would soon head the DICT and revealed that the retired Philippine Army officer still owns a Nokia 3210, which Sen. Panfilo Lacson described as "jurassic."
"The thing is he will be in the executive department. From there, things may turn to different situations in the future. I think he will be an asset to the DICT because what we see is the communications and technology part but national security is a big factor," Sotto said in a mix of English and Filipino during the Kapihan sa Manila Bay forum.
The Senate leader added that the plan to appoint Honasan to the DICT had already been discussed in a meeting with President Rodrigo Duterte, Sen. Panfilo Lacson and Executive Secretary Salvador Medialdea last October.
"It has been some time already that there was an overture from the Palace to invite Sen. Greg Honasan to head the DICT. It was put off because we were thinking that we needed Greg in the Senate," Sotto said.
According to Sotto, Honansan's official nomination to become Secretary of Information might come on November 12.
If Honasan's nomination comes on the aforementioned date, he would still be a senator until the Commission on Appointments confirms his appointment.
"When the CA confirms him and he takes his oath, he will be deemed resigned as senator. That would be the situation unlike an ad interim appointment," the Senate president said.
Honasan's appointment to the DICT comes at a time when the government is searching for the Philippines' third telecommunications player.
Asked if Honasan's appointment would affect the process, Sotto said his colleague would not interfere with the proceedings.
"I'm sure that Sen. Honasan is a good manager so he will not disrupt anything that is ongoing that is good and that is beneficial to the government," Sotto said.
Acting DICT Secretary Eliseo Rio Jr. currently oversees the bidding process for the third telco player. Sotto added that Rio would remain an undersecretary in the agency once Honasan assumes office.