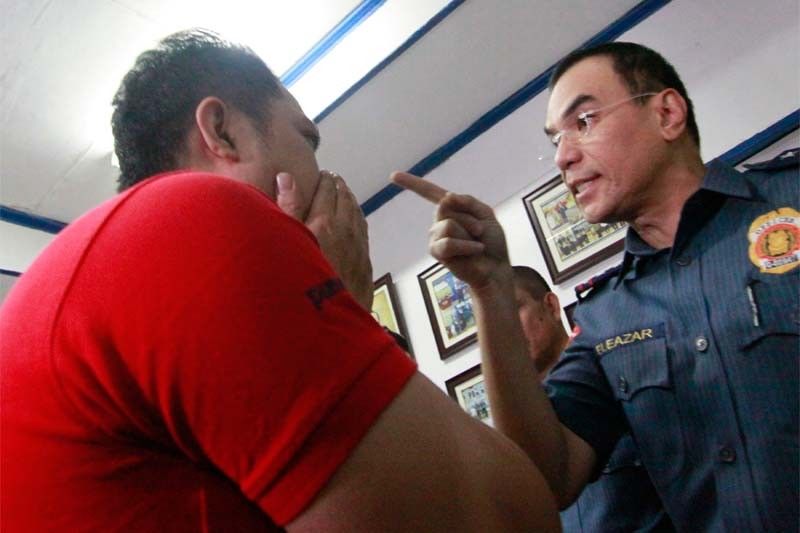 Police Officer 1 Eduardo Valencia of the Manila Police District Station 4 drug enforcement unit was nabbed by his colleagues at his house on Dimanlig street, San Nicolas in Pasig City.
The STAR/Edd Gumban
Women's groups call for justice in alleged rape of drug suspects' teen daughter
(Philstar.com) - October 29, 2018 - 4:45pm
MANILA, Philippines— Two women's groups are crying for justice for the 15-year-old girl allegedly raped by a cop in exchange of the freedom of her parents who were apprehended in a drug sting in Sampaloc, Manila over the weekend.
On Sunday, Director Guillermo Eleazar, National Capital Region Police Office chief ,ordered the arrest of Police Officer 1 Eduardo Valencia of Manila Police District Station 4 in Pasig City after the girl's relatives sought help from the authorities.
The NCRPO chief then went to the police station and scolded Valencia.
Earlier, Senior Superintendent Danilo Macerin—MPD chief of directorial staff—Valencia and his team went to the house of the victim's parents to serve a search warrant. The victim's parents were arrested for drug pushing.
After the raid and arrest, Valencia reportedly offered to give the victim a ride home. However, he drove to a hotel in Sta. Mesa instead and allegedly raped the girl.
Valencia, who is now under investigation, however, denied the rape allegations against him. He said that he couldn't do that because he has a family of his own and the victim could be his own daughter.
The rookie cop also said that such accusations being thrown at police operatives "are not new," implying the allegation is payback for the drug operation.
Despite this, women's groups Gabriela and Coalition Against Trafficking In Women – Asia Pacific are calling Valencia and his superiors to be held accountable.
CATW-AP said Valencia's acts "calls for the punishment of him and more in law enforcement."
"Gabriela is calling for PO1 [Valencia] and his superiors to be held liable for the rape," Gabriela said in a statement in Filipino. It also called for an impartial and in-depth investigation into the government's campaign against drugs, which it said is replete with cases of rights violations, including extrajudicial killings and violence against women.
It said the investigation should be geared towards holding abusive police officials accountable.
Both women's groups claimed they have been documenting and receiving similar rape cases perpetrated by cops.
In a statement, CATW-AP said it has been documenting cases of women and girls who were sexually used by police officers in exchange for the life and liberty of their family members.
On the other hand, Women's Party Gabriela cited that last year, six Olongapo police were accused of raping a female drug suspect inside a PNP facility.
It also claimed that more than 30 cops have been implicated in publicized rape or sexual harassment cases but none of them have been charged.
Gabriella said uniformed men become more confident because of the climate of impunity under the president, whom they described as "fascist," and who they said "often belittles and ridicules women."
"Because of the climate of impunity with hardly a police in command punished, with the president not accounted for his command to kill and rape, the women do not see the use of risking their own security to file charges," CATW-AP lamented.
"The charges against the president and his law enforcers in the ICC should prosper, for the women to find courage in fighting legally," it added. —Rosette Adel