Antonio Trillanes IV: 'A victory for justice, rule of law'
October 23, 2018 | 12:00am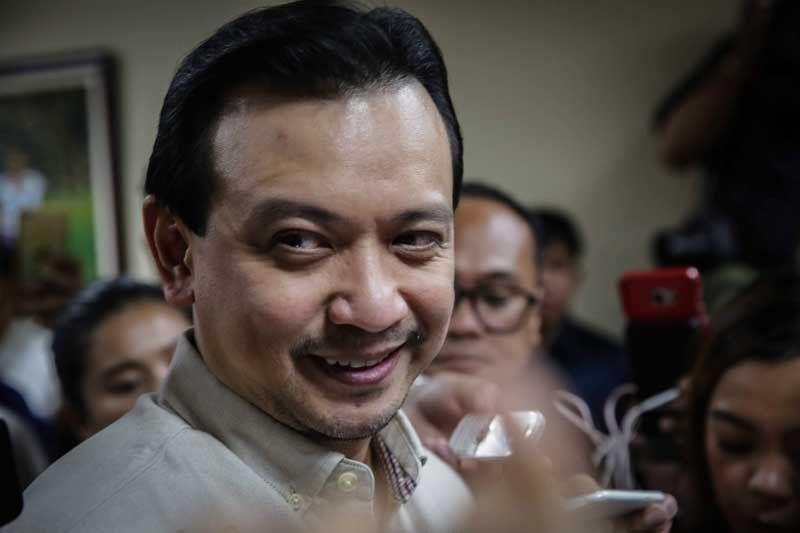 MANILA, Philippines — The Supreme Court has the final word, and he may yet face a court martial.
Yesterday, however, Sen. Antonio Trillanes IV celebrated a legal victory after the Makati City Regional Trial Court Branch 148 junked a petition of the Department of Justice (DOJ) to have him arrested after President Duterte voided in August the amnesty granted him in 2011.
A visibly relieved Trillanes described the ruling of Judge Andres Soriano as "a victory for justice, rule of law and democracy for the country."
"We thanked Judge Soriano who singlehandedly upheld justice and the rule of law in the country, in spite of the extreme pressure coming from the Duterte regime. We're encouraged that there's hope for this country, and he's personified by Judge Soriano at this point," Trillanes said shortly after the court sheriff delivered the resolution to his office.
While he was prepared to be arrested on the non-bailable coup charges, he was anticipating a favorable decision given that Soriano took time to study the case and accepted the evidence presented by lawyers, disputing the arguments raised by the DOJ and Proclamation 572 that he did not apply for amnesty nor admitted guilt of leading the military uprisings in 2003, 2006 and 2007.
Asked to elaborate on the alleged pressure on Soriano, he said: "You know, it goes without saying, Filipinos know what this pressure is but still he faced this and did what is right."
Trillanes said he is not going to gloat over the legal victory but he will continue criticizing the administration for what he sees are its wrongdoings.
"I'm very full of energy now. Really, they should just watch out. I've really geared up," Trillanes said, adding he has not shaved the past few days while waiting for the decision.
He vowed to continue pushing for the Senate investigation against Solicitor General Jose Calida, who is being accused of using his connections to allow his family-owned security agency to bag contracts with the government.
He said he would also pursue an investigation of former presidential aide Christopher Go. – With Helen Flores