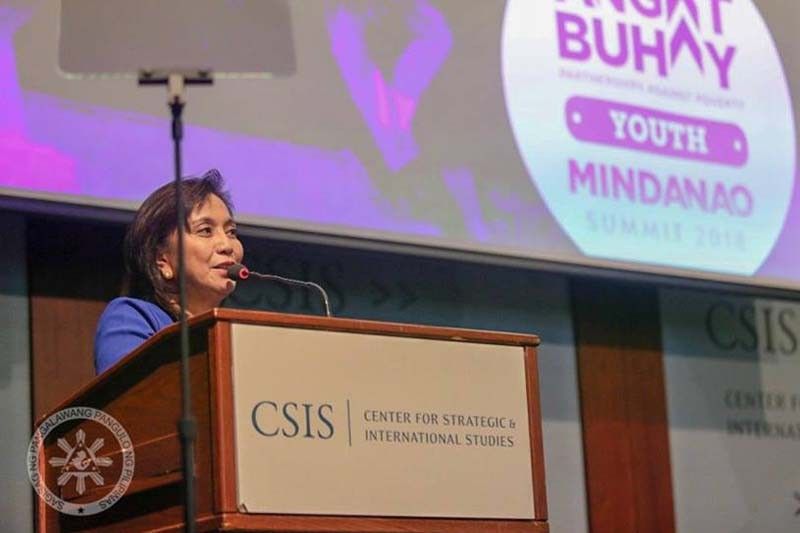 at the In this Oct. 2018 photo, Vice President Leni Robredo speaks at the Center for Strategic and International Studies (CSIS) in Washington, D.C., for the CSIS-Pertamina Banyan Tree Leadership Forum and the US-Philippines Strategic Initiative.
Office of the Vice President/Released
Robredo: 2019 polls 'uphill climb' for the opposition
MANILA, Philippines — Vice President Leni Robredo on Thursday admitted that the 2019 elections will be tough for the opposition.
Robredo cited the elections in the country is more "personality-oriented" that is why it is difficult for lesser know candidates. She said individuals don't join political parties for its values but for popularity.
She added that an electoral reform law "will repair this particular situation."
"The President is still very popular, and the candidates that he will endorse would have... you know... would benefit from the president's popularity. But we are hopeful that we will be able to... to win a number of seats—in the Senate, at least," Robredo said in the CSIS-Pertamina Banyan Tree Leadership Forum & US-Philippines Strategic Initiative in Washington, D.C., United States.
We have— I'm not sure if you are familiar at all with the political landscape in the Philippines, but in the Philippines, political parties do not matter much. You belong to a political party, but then everyone switches political parties every election season," she added.
For the upcoming May 2019 elections, Robredo said the opposition decided to just field eight candidates.
"So it's an uphill climb for the opposition. We decided not to put up a full slate for the Senate. Instead of 12, we're putting up only eight. And it's a strategy. It's a strategy that we're doing. We decided to put up names of really, very good people, so that we could differentiate from the names put up by the administration," Robredo said.
"It's a big, big risk, considering that in the Philippines, popularity is the number one driver for winning elections," she added.
The eight opposition candidates were led by Liberal Party members, including re-electionist Bam Aquino, former Interior and Local Government Secretary Mar Roxas, human rights lawyer Jose Manuel "Chel" Diokno, former Quezon Rep. Lorenzo "Erin" Tañada and former member of the Bangsamoro Transition Commission Samira Gutoc-Tomawis.
Other candidates of the opposition from other parties include Rep. Gary Alejano, former Solicitor General Florin Hilbay and elections lawyer Romulo Macalintal.