Comelec sees surge in COC filers today
October 15, 2018 | 12:00am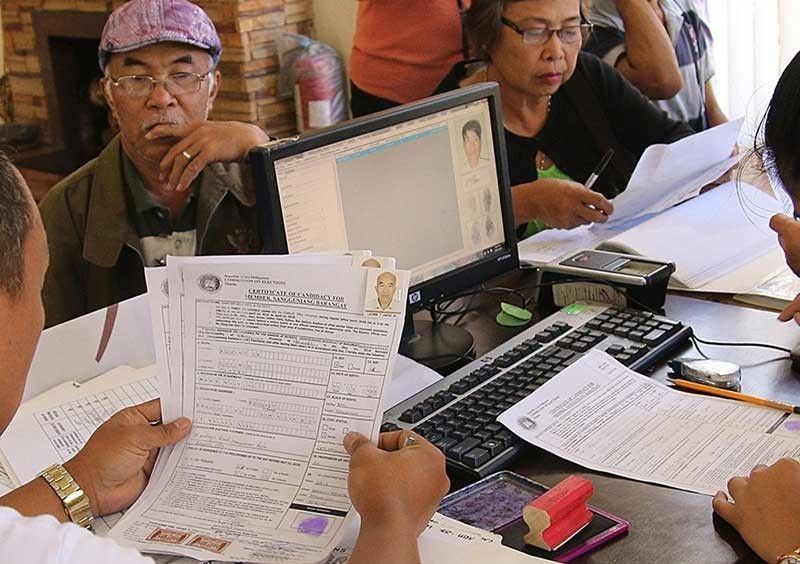 MANILA, Philippines — The Commission on Elections (Comelec) is expecting an influx of candidates filing their certificates of candidacy (COCs) for the May 2019 midterm elections starting today.
Comelec spokesman James Jimenez said politicians are expected to rush to the different poll offices in the last three days of the filing of COCs.
"By (today), the sense of the impending end will operate and people will start hurrying things along," Jimenez told reporters.
Based on past experience of the Comelec, Jimenez said the last day traditionally sees the greatest number of filers.
He added that the two-day weekend break also gave those who were still undecided time to think and make a final decision whether to run or not in the coming polls.
"Maybe, people thought, 'Let us give the weekend to think about it,'" Jimenez said.
The first two days of the filing of COC last week was rather slow with only a few senatorial and local candidates going to Comelec offices.
A total of 37 senatorial candidates and 30 groups have so far filed their COCs and certificates of nomination and acceptance (CONA) for the party-list elections, respectively.
Jimenez said many candidates probably believed that Friday is not a good day, so they opted to delay their filing of COC for today.
Among the senatorial contenders who have already filed their COCs are Senators Koko Pimentel and Nancy Binay, Bureau of Corrections chief Ronald dela Rosa, former Department of Health consultant and The STAR columnist Dr. Willie Ong, former party-list representative Neri Colmenares and Samira Gutoc of the Liberal Party.
Jimenez reminded all candidates to ensure that they have all the necessary documents for filing their COCs so that there would be no need for them to return to the Comelec office.
COC and CONA forms of some senatorial candidates and party-list groups were not immediately accepted due to lack of requirements.
Wednesday deadline
Re-electionist senators who have yet to file their respective COCs are expected to beat the Comelec's deadline.
Senators Cynthia Villar and JV Ejercito are scheduled to file their COCs today at the Comelec main office in Intramuros, Manila.
Villar is running under the Nacionalista Party (NP) while Ejercito will be carried by the Nationalist People's Coalition (NPC).
Ejercito remains optimistic he will win even if his half-brother, former senator Jinggoy Estrada, is ahead of him in the polls, citing his track record in the Senate.
Both the NP and the NPC are allied with the Hugpong ng Pagbabago party of presidential daughter and Davao City Mayor Sara Duterte-Carpio.
Sen. Paolo Benigno Aquino IV is expected to file his COC tomorrow under the opposition coalition. Rumors circulated, though, that the NPC might include him as among the candidates they will support.
Sen. Grace Poe, who is leading the surveys, is also expected to file her COC on Wednesday at the latest. She will be running under the NPC.
Senate President Vicente Sotto III, one of the top leaders of the NPC, said the party would come up with its final list of candidates it will support after the end of the filing period.
Meanwhile, Sen. Antonio Trillanes IV said he does not expect senatorial candidates to be supported by President Duterte to win.
"Believe me, Duterte's bets won't win. If he's really popular, why aren't they doing well?" Trillanes told radio station dzBB, apparently referring to the results of recent polls.
"I feel a different pulse from the people, they will get even with Duterte in this election," he said. – With Paolo Romero