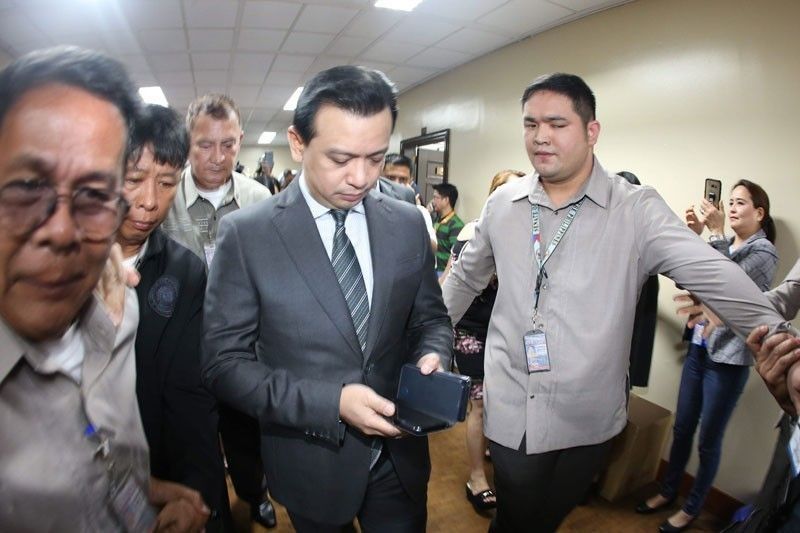 Judge Andres Bartolome Soriano, who presides over Makati RTC Branch 148, said he could not as yet issue the orders as asked by the Department of Justice (DOJ), although he might be able to rule on this motion by next week.
The STAR/Krizjohn Rosales
DOJ rejects Alejano assertion government pressuring judge in Trillanes case
MANILA, Philippines— Justice Secretary Menardo Guevarra on Sunday vehemently denied that his department is pressuring the Makati judge handling the revived coup d'etat case against Sen. Antonio Trillanes IV.
In a statement written entirely in upper case, Guevarra disputed an allegation by Rep. Gary Alejano (Magdalo party-list) that Makati Regional Trial Court Branch 148 Judge Andres Soriano is being pressured by the government on the case against Trillanes.
Alejano made the claims at a news forum at the University of the Philippines Hotel in Quezon City on Saturday.
READ: 'Trillanes case judge being pressured'
Guevarra stressed that the DOJ does not interact with Soriano. He said they only coordinate through pleadings and arguments raised in open court.
"Representative Alejano's allegations tend to impede the orderly administration of justice, unfairly cast aspersion on the integrity and professionalism of the Department of Justice and its state prosecutors, and contumaciously influence Judge Soriano's decision-making process," Guevarra said.
Guevarra also slammed Trillanes' camp for "continually making unfair stratements" against the government.
"Come to think of it, sila yung clearly trying to influence the decision-making ni Judge. The DOJ has not engaged them in sub judice argumentation in the media, but they're just going a bit too far," the DOJ chief said.
Soriano is set to rule on the DOJ's petition to issue an arrest warrant against Trillanes for a previously dismissed coup d'etat case over the 2003 Oakwood mutiny.
On August 31, President Rodrigo Duterte called for Trillanes' arrest after he revoked the senator's amnesty through Proclamation 572. He said the amnesty granted to Trillanes, one of his most vocal critics, was void because the senator had supposedly failed to apply for amnesty and admit guilt.
The president's decision also prompted the DOJ to file a motion asking for a warrant of arrest and hold-departure order.
Makati RTC Branch 150 has already issued a warrant for Trillanes' arrest for a separate rebellion case over the 2007 Manila Peninsula siege, saying his camp had not provided primary evidence to show that he had applied for amnesty. The court has also scheduled a hearing on Trillanes' appeal of the decision to issue a warrant against him.