Madhouse at Comelec on first day of candidacy filing
October 12, 2018 | 12:00am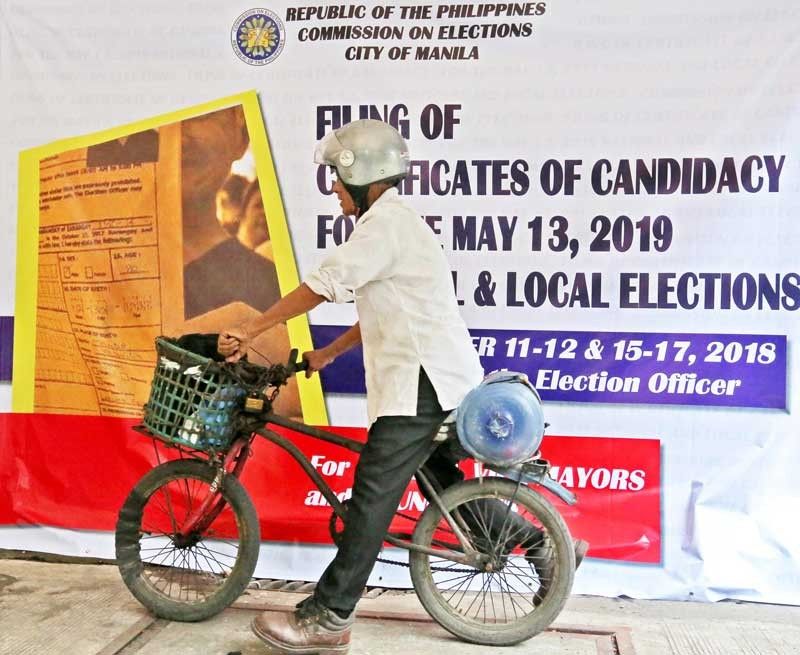 MANILA, Philippines — Colorful characters dominated the first day of filing of certificates of candidacy (COCs) yesterday for senators, signaling the start of the election season for the May 2019 midterm polls.
Among them is perennial filer Daniel Magtira, a 57-year-old resident of New Antipolo Street in Tondo, Manila. He cannot remember how many times he has attempted to run for the Senate, only to be dumped as a "nuisance candidate" by the Commission on Elections (Comelec).
"I have long wanted to be a senator because I intend to push for the promotion of Pinoy rock. If I were not disqualified by the Comelec, I would have long achieved this," Magtira told reporters.
In 2016, Magtira tried but failed to run for the Senate. He declared himself to be the husband of television host Kris Aquino. They have since separated but he claimed he is still in love with her.
Magtira belted out parts of his campaign jingle which he dedicated to Aquino.
Salam E.D. Lacan Luuisong Tagean, 61, of Bagumbayan Sur, Naga City, complained that Comelec was quick to declare him a nuisance bet during the 2016 polls, which he said has caused the country to lose its claim on the Spratlys archipelago.
Tagean said had he become senator, he would have fought so hard for the country to get back the disputed island chain.
He also claimed to be a "living witness" that the late strongman Ferdinand Marcos did not embezzle the country's funds.
For his part, Anson Tuana, 39, said he decided to seek a Senate seat as he is already fed up with the traffic problem and rising cost of living.
Tuana added he had solutions for the country's problems and he could implement them if he is elected to the Senate.
He identified himself to be the "ex-boyfriend" of resigned Presidential Communications Operations Office (PCOO) assistant secretary Mocha Uson.
Comelec Commissioner Rowena Guanzon said they had to accept their COCs as their ministerial duty.
"That is their human and political right and as long as they meet the basic criteria, we will accept their COCs," she said.
Guanzon gave assurance that the candidates would be subjected to thorough screening to identify those qualified to seek elective posts.
She, however, said they are hopeful that COC filers will only be those who have genuine intentions to run for public office.
Guanzon said an election is a serious exercise that should not be considered a joke "or for Facebook souvenirs."
"If you are not serious in running and campaigning, don't file COCs anymore... You should not do that because democracy is a serious matter," she said.
Yesterday's filing was unlike the festive atmosphere during the run-up to the 2016 elections.
Comelec spokesman James Jimenez said this could be because it was just the first day of filing.
Jimenez pointed out that unlike in 2016, next year's elections do not involve the presidential post.
Jimenez declared the first day was a success.
"Overall, our first day is very successful in the sense that there was no major problem," he said.
He said the only "issue" that cropped up was when some aspirants filed old COC forms.
Jimenez added this was immediately resolved when the right forms were provided to them.
"Hopefully, the news (about the wrong forms) had already spread and people would be more careful tomorrow," he said.
Jimenez added appointees in government are "deemed resigned" once they file their COC for whatever positions.
"This rule applies only to those holding appointive positions. It does not cover those elected," he added.
Across the country, Jimenez said the Comelec did not receive reports about untoward incidents.
"For the most part, I think people were happy with what happened in their areas," he added.
Early birds
A total of 27 senatorial aspirants filed COCs yesterday. The filing will last until Oct. 17, except Saturday and Sunday.
Among them was reelectionist Sen. Aquilino Pimentel III, the first to file his COC.
Other reelectionists like Sen. Joseph Victor Ejercito have yet to file their COC. He said he will use the Estrada "brand name" in his bid for reelection.
Pimentel, for his part, said he does not want to delay his political plans as he is getting married next week to his fiancée, Anna Kathryna Yu.
"I want to get this off my mind so I can concentrate on my wedding next week," Pimentel told reporters after filing his COC at 8 a.m. yesterday.
He said his partymates at PDP-Laban have decided to file their COCs individually, and that some of them are still undecided or had hectic schedules.
Pimentel wore a red shirt as their campaign color this coming elections.
"We don't want to force those who are still undecided… I don't want our up and coming young leaders to start with an election loss. We don't want that to happen," he said.
According to Pimentel, the PDP-Laban has identified six senatorial bets that are sure to file their COCs. However, he refused to name them.
He said they might leave the remaining slots for those who may be personally chosen by President Duterte.
"These six to seven is a good number so that the President can accommodate some of his personal commitments to some candidates. There are many people who helped the President who do not belong to our party and they have to be accommodated," he added.
Among the PDP-Laban candidates is singer-composer Freddie Aguilar, who filed his COC almost at the same time as Pimentel at the Comelec main office in Intramuros, Manila.
"For 40 years, they have been convincing me to run for the Senate. They want me to run because of the advocacies that I made through my songs," Aguilar said.
Aguilar added that Special Assistant to the President Christopher Go had given him assurance of support.
Pimentel, however, denied Aguilar was included in the lineup of PDP-Laban.
He said the party has only six official senatorial bets, including him.
Aguilar's COC indicated PDP-Laban was his political party while his certificate of nomination and acceptance (CONA) was signed by Wilfredo Talag.
Former Department of Health (DOH) consultant Willie Ong also filed his COC for senator under the Lakas-CMD party. – Marvin Sy