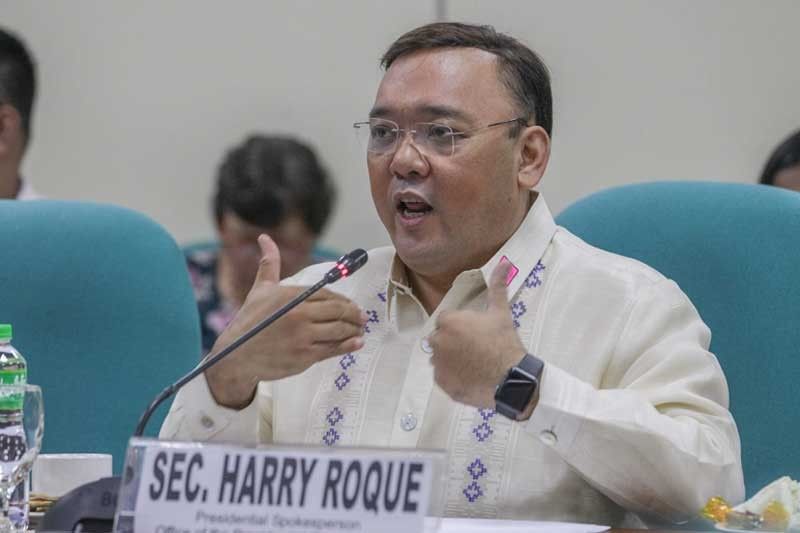 Roque was supposed to be on indefinite leave since October 8, but attended a Cabinet meeting and handled press briefings earlier this week.
Geremy Pintolo
Roque defers comment on looming replacement by Panelo
MANILA, Philippines — Palace spokesperson Harry Roque, now on leave, on Thursday refused to comment on his looming replacement by Chief Presidential Legal Counsel Salvador Panelo, who has been named the next presidential spokesman.
"I will defer any comment until Monday since I am in China," Roque said.
Roque is considering running for senator next year. The announcement on Panelo's appointment came even though Roque had clarified earlier Thursday that he had not yet quit as President Rodrigo Duterte's spokesman.
Panelo will serve in a concurrent capacity as Duterte's spokesman, presidential aide Christopher Go told reporters Thursday. This means that Panelo would remain as Duterte's chief legal adviser while serving as his spokesman.
Panelo confirmed in a text message that he has already been informed of his designation as spokesman. He said he is not new to the job, having served as Duterte's spokesman during the campaign period for the 2016 polls.
"Nothing really changed because since Day 1 of the presidential campaign of the president, I was already his spokesperson. And Day 1, when he assumed presidency, I was also his spokesperson. In fact, the executive order creating this office, my present position, states that I am the spokesperson of the president," Panelo said in a video sent by Presidential Communications Secretary Martin Andanar.
"The only difference I think would be I would be more visible this time. Because as chief presidential legal counsel, I was really speaking for the president on matters of national sensitive issues that requires my articulation of thoughts and ideas of the president," he added.
After winning the presidential race, Duterte announced that he would appoint Panelo as presidential spokesman. A few days before he assumed office, Duterte named former pastor and educator Ernesto Abella as his spokesman and appointed Panelo as his chief legal counsel instead.
Last November, Roque was named presidential spokesman, succeeding Abella, who was appointed Foreign Affairs undersecretary.
Go: Roque on leave, not fired
Go clarified that Roque was not dismissed from his post.
"Roque is on leave. He is still weighing his options. There was no firing," the presidential aide said.
Roque confirmed this, saying he has not yet decided whether to run for senator.
On Tuesday, Duterte said Roque had threatened to quit after being kept in the dark about his visit to the hospital last week. He said Roque felt he had been "placed in a bad light" when he was not informed about the presidents' medical checkup at the Cardinal Santos Medical Center last Wednesday.
"He (Roque) said he would resign because he didn't know that I was in the hospital. So he was not informed. I do not need to tell him everything. There are things which are limited to the immediate members of the family," Duterte told reporters in Malacañang.
"And sabi niya, mag-resign siya. Sabi ko 'di sige (He said he would resign. I told him, go ahead)," he added.
Duterte: Roque 'flip-flopped'
Duterte claimed that while Roque had flip-flopped about his political plans, he needed to appoint a successor to avoid a "paralysis in the flow functions."
Last Thursday, Roque denied that Duterte was brought to a hospital only to be contradicted later on by the president, who admitted undergoing endoscopy at the Cardinal Santos Medical Center. Roque has claimed he was not informed about the president's visit to the hospital.
Last Saturday, Roque said Duterte was in Davao City but this was proven inaccurate after Go released photos of the president and his family in Hong Kong.
Roque has admitted having limited access to the president, making it hard for him to perform his functions.