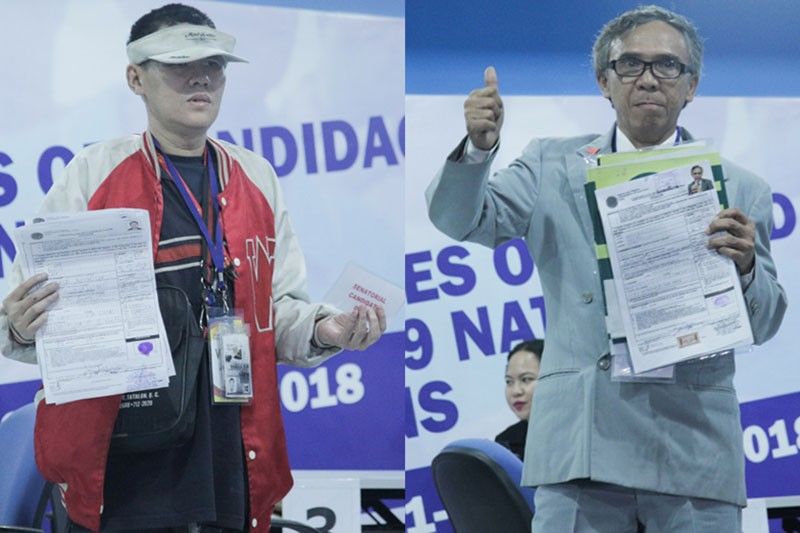 Senatorial aspirants Anson "Agi" Tuana and Daniel Magtira
Philstar.com/Kat Leandicho
Lesser-known bets to try luck in Senate race
MANILA, Philippines —The first day of filing of certificates of candidacy saw both big names and fresh faces troop to the Commissions on Elections head office in Intramuros, Manila, with promises of reforms for the country.
More familiar names like Sen. Aquilino "Koko" Pimentel III and former Rep. Neri Colmenares (Bayan Muna ), as well as Maranao leader Samira Gutoc-Tomawis, cardiologist Willie Ong, folk musician Freddie Aguilar were among those who formalized their Senate bids Thursday.
Senatorial aspirant Angon "Agi" Tuana, who claims to be the ex-boyfriend of Mocha Uson, dedicates his campaign jingle to the blogger. #Elections2019 @PhilstarNews pic.twitter.com/r3ymgTTaPN

— Patricia Lourdes Viray (@patriciaviray) October 11, 2018
But there were also aspirants who, despite their apparent lack of means and name recall, took their chance at winning a seat in the Senate.
Among them was Anson "Agi" Tuana, who claimed without proof to be a former lover of former Presidential Communications Assistant Secretary Mocha Uson, who is herself a possible senatorial candidate. They were supposedly a couple for "five nights."
Tuana, who brought a banana with him when he filed his COC, said his campaign slogan is "Aging Saging."
He said he will work to lower fuel prices and crime.
A constant figure at COC filings, Daniel Magtira made official his bid for a Senate seat. In 2016, he claimed to be the former husband of multimedia personality Kris Aquino.
Magtira said that if he is elected, he will champion the revival of Pinoy rock.
The Comelec rejected his applications for the 2013 and 2016 polls.
WATCH: Perennial COC filer for senator Daniel Magtira gives a sample of his campaign jingle; he claimed to be the husband of @krisaquino214 in 2016; says he is still in love with her. #BilangPilipino | @shecrisostomo pic.twitter.com/iyphPfzI8m

— The Philippine Star (@PhilippineStar) October 11, 2018
Old names top SWS survey
Although the 1987 Constitution sets very broad guidelines on who can run for public office, the halls of power are often filled by reelectionists and candidates linked to traditional political parties and power blocs.
Incumbents and former senators dominated a Social Weather Stations survey released this week, with Sen. Cynthia Villar—wife of business tycoon and former Senate President Manny Villar—at the top spot with a voter preference of 53 percent.
Tied at second to third places are Sen. Grace Poe and Rep. Pia Cayetano (Taguig City) with a voter preference of 43 percent each.
Pimentel and former Sen. Lito Lapid shared the fourth to fifth slots with 33 percent each.
Coming in sixth is former Sen. Jinggoy Estrada with 31 percent, followed by former Sen. Mar Roxas with 30 percent.
What makes a candidate a 'nuisance?'
It is the Comelec's duty to accept the COCs of anyone who wants to file.
The 1987 Constitution states that to become a senator, one must fulfill these constitutional requirements:
A natural-born citizen of the Philippines
At least 35 years old on the day of election
Able to read and write
A registered voter
A Philippine resident for not less than two years immediately preceding the day of the election.
The nuisance candidates will then be weeded out from the legitimate ones after deliberations.
Records from the last national elections showed there were 140 senatorial hopefuls. But only 50 were deemed qualified.
Under the Omnibus Election Code, Comelec can cancel the certificates of candidacy of persons who make a mockery of the election system; seek to confuse voters by the similarity of the names of the registered candidates; and have no bona fide intention in running for office.
Those who fail to prove that they can mount a national campaign can be also considered nuisances.
The COC filing for the 2019 midterm elections is slated from October 11 to 17. Comelec spokesperson James Jimenez said voluntary withdrawal of candidacy will be accepted from October 18 to November 29.