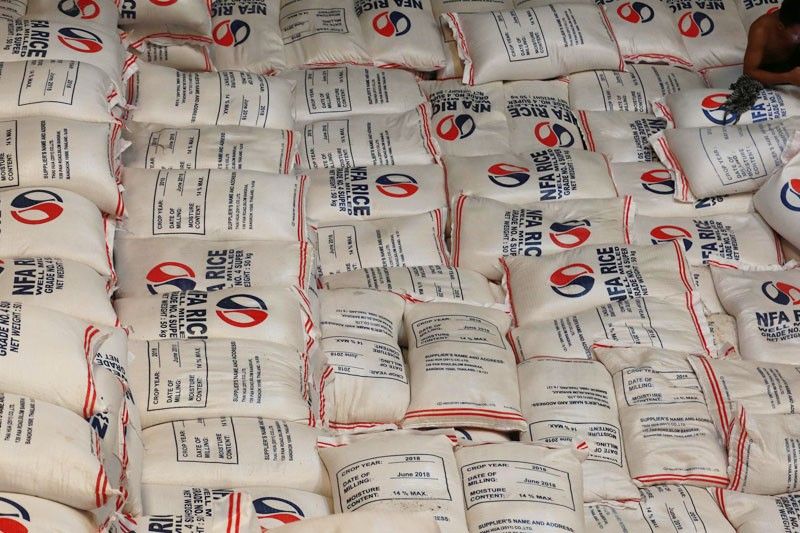 'Free-for-all' rice importation OK'd
MANILA, Philippines — President Duterte has approved recommendations to liberalize rice importation in a bid to address the soaring prices of commodities that led to inflation of 6.7 percent last month.
Finance Secretary Carlos Dominguez III made the recommendation to liberalize the importation of rice, which led to heated debates among Cabinet officials, according to presidential spokesman Harry Roque Jr.
Roque said the debates were "close to tempers flaring" between concerned officials, although he did not identify those who were opposing Dominguez's recommendation.
Agriculture Secretary Emmanuel Piñol and Dominguez clashed when he pushed for liberalization of rice imports to address the rising prices of commodities, which was a cause of the soaring inflation rate.
Before this, Duterte issued Administrative Order No. 13 which removed non-tariff barriers and streamlined administrative procedures on the importation of agricultural products.
Roque though did not confirm if there was a shouting match between Dominguez and Piñol but he confirmed there were intense debates among officials about the rice importation issue.
"I don't think it was a shouting match. I think it was just people being assertive about their views," Roque said.
"It was a principled and fierce discussion about how to characterize the current system and the possible solution to the problem," he said.
The President listened to both sides but decided to go with liberalizing rice imports, Roque added.
Roque said Duterte eventually decided to allow "unimpeded" rice importation, following the explanations of his Cabinet members, in a bid to flood the country with rice.
"There are no more restrictions and we will use the tariffs for the Filipino rice farmers," Roque said.
Roque categorized the rice shortage as a "hot issue" to begin with.
"It was a very hot issue, it was very animated and we were one of three who had very strong views about the need for controlling inflation through increasing the supply of rice in the country," Roque said.
With the President's directive, Roque said the National Food Authority will no longer have a say on how much rice should be imported and that anyone who can pay tariff will be allowed to import rice.
"We are hoping that with this kind of order, even giant companies like San Miguel Corporation, which was specifically mentioned in the Cabinet yesterday, will be able to import rice, and this increase will result in overall lowering of price of rice," Roque said.
Roque said the President approved unimpeded importation of rice as a measure to reduce inflation after Dominguez stressed that food items are "primarily responsible for uneven inflation rate for the last month."
"The President ordered the unimpeded importation of rice, he wants to flood the market with rice so that if the prices of crude and other oil prices should go up a step further, that the people should have access to affordable rice," Roque said.
"I underscore that this was after the finance secretary illustrated by way of graphs that food items – together with tobacco and oil – were responsible for the increase in inflation and that rice in fact was the most important commodity whose price increase led to the spike in inflation," he said.
Quoting Piñol, Roque said the prices of commodities have started to drop following the importation of over two million metric tons of rice.
On the other hand, the government continues to implement a temporary ban on importation of pork from six countries amid several outbreaks of African Swine Fever (ASF).
The Department of Agriculture (DA) has instituted the ban on importation of domestic and wild pigs including pork meat and semen from Bulgaria, Czech Republic, Moldova, South Africa, Zambia and Belgium.
Last month, the DA banned pork imports from Latvia, Poland Romania, Russia, Ukraine and China.
Based on the report submitted to the World Organization for Animal Health, there were outbreaks of ASF virus affecting domestic and wild pigs in these countries.
ASF is a highly contagious hemorrhagic disease of pigs, warthogs, European wild boar and American wild pigs. Mortality rates are high as 100 percent.
Piñol issued an immediate suspension of the processing, evaluation of the application and issuance of Sanitary and Phytosanitary (SPS) import clearance to the commodities.
Piñol said there will be stoppage and confiscation of all shipments of the commodities into the Philippines by all DA veterinary quarantine officers at all major ports.
There will also be confiscation of meat and their products brought in by arriving passengers from the aforementioned countries.
The memorandum order was issued to prevent the entry of the virus to protect public health and the local swine population and is set to take effect immediately. – With Louise Maureen Simeon, Evelyn Macairan