COCs can be downloaded from Comelec website
October 10, 2018 | 12:00am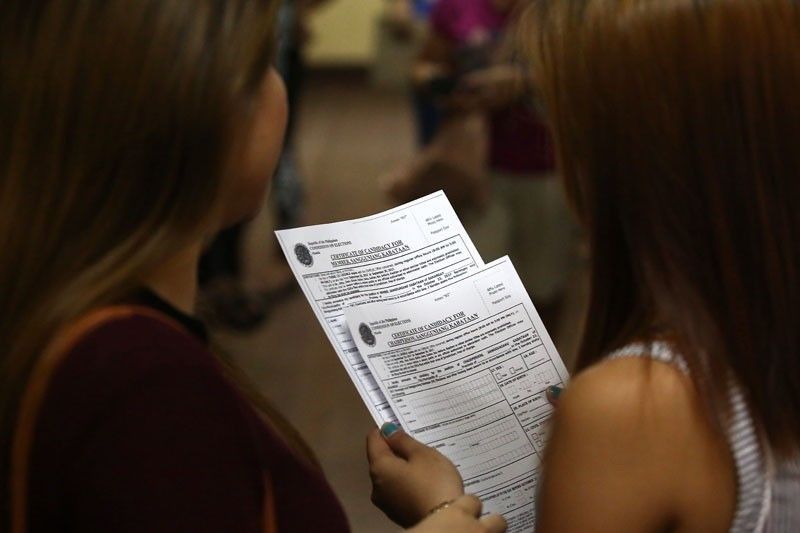 MANILA, Philippines — To speed up the filing of certificates of candidacy (COCs) for the May 2019 elections, the Commission on Elections (Comelec) yesterday announced that forms can be downloaded from its website.
Comelec spokesman James Jimenez said those intending to run in the elections may secure and fill out the forms before coming to local poll offices to file them between Oct. 11 to 17, except Saturday and Sunday.
The forms can be downloaded from the Comelec official website at http://www.comelec.gov.ph/?r=2019NLE/COC.
"The soft copy of all the forms are already available in our website. They can easily download them," Jimenez said.
He added it is best for prospective candidates to see the COC early on so they can avoid errors while filling them out.
The forms available for download are COCs for the positions of senator, member of House of Representatives, regional governor, regional vice governor, member of Regional Legislative Assembly, provincial governor, provincial vice governor, member of Sangguniang Panlalawigan, mayor, vice mayor, member of Sangguniang Panlungsod and member of Sangguniang Bayan.?Also available are the Certificate of Nomination, Certificate of Acceptance of Nomination, Certificate of Nomination and Acceptance, Authority to File Certificate of Candidacy and Statement of Withdrawal.?
The Comelec gave assurance that hard copies are also available at local Comelec offices for free and they can be photocopied.
The Comelec has released its official calendar of activities for the elections on May 13, 2019.
Among them is the period for aspirants to file their COCs on Oct. 11 to 12 and Oct. 15 to 17.
The campaign period for senatorial candidates and party-list groups is scheduled from Feb. 12 to May 11, 2019.
For the local bets – from governors to municipal councilors and congressmen – the campaign period is set for March 29 to May 11, 2019.
Philippine National Police chief Director General Oscar Albayalde is planning to create a special operations task group to monitor developments in 7,926 barangays and 896 municipalities earlier identified as election "areas of concern."