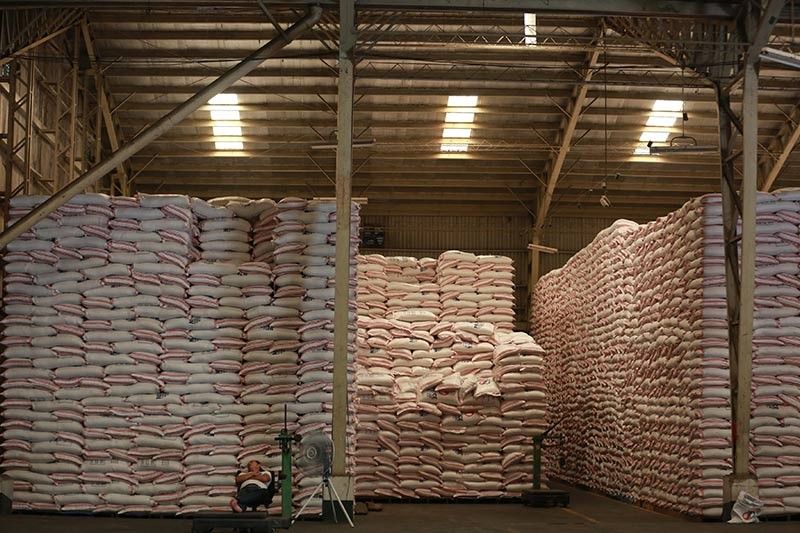 A worker resting at the NFA warehouse in Quezon City on Oct. 8, 2018. Philippine laws are silent on how rice shipments will be charged, precisely the reason that President Duterte's own economic managers are pushing for the rice tariffication bill's passage.
The STAR/Michael Varcas
Why Duterte's order of 'unimpeded' rice imports is harder than it sounds
(Philstar.com) - October 9, 2018 - 12:08pm
MANILA, Philippines — President Rodrigo Duterte finally giving in to private rice importation to augment rice supply and address soaring prices is welcome news, but how this will be pursued is not as easy as it sounds.
On Tuesday, Malacañang announced Duterte gave the go-ahead for "unimpeded" rice imports during a Cabinet meeting, essentially allowing the private sector to take the lead on importing grains to boost supply.
"He wants to flood the market with rice so even if prices of crude oil should go up still further, people would still have access to rice," presidential spokesperson Harry Roque said in a briefing.
"Anyone who can afford it and will pay tariffs for rice will be allowed to import rice," he added.
However, it remains unclear how this will proceed. Philippine laws are silent on how rice shipments will be charged, precisely the reason why Duterte's own economic managers are pushing for the rice tariffication bill's passage.
The bill has been approved at the House of Representatives, but its counterpart in the Senate remains pending on second reading. The government wants the measure enacted into law by the end of the year.
Another option is for Duterte to issue an executive order that will lay out these new tariffs. He can do so once Congress adjourns for a brief recess from October 14 to November 12.
But Roque himself said there is no need for an EO to implement Duterte's order.
No such thing as rice tariffs
Under Republic Act 8178 of 1996, rice is left out of other agricultural products, which import restrictions were lifted and replaced by specific tariffs laid out in the Tariff and Customs Code.
RA 8178 instead provided for rice "import quotas" to be distributed to "certified and licensed importers" who can ship rice to the country at limited levels set by the government. No tariff rates had been set, which would have served as a basis for Duterte's latest order to import more rice.
The idea for rice quotas was simple: it was meant to protect harvests of local farmers, one of the poorest populations in the Philippines, from cheap rice abroad. By limiting the entry of grain imports, the country is left with no choice but to purchase local produce, which in turn, helps farmers' livelihood.
But the protection given to farmers has turned into a moral hazard, instead of a time to invest in boosting productivity. State farm investments remained minimal, while agriculture has continued to contract this year, slowing down over-all economic output in the second quarter.
Earlier, Duterte issued Administrative Order No. 13, which, among others, lifted these private rice import quotas to allow more rice imports. But this is also predicated on the issuance of licenses by the National Food Authority, the state grain agency.
History repeating?
But NFA, overseen now by Agriculture Secretary Emmanuel Piñol, has traditionally limited the granting of import permits to traders to limit imports and shield local rice produce from competition. Former NFA chief Jason Aquino was also accused of stopping imports before he asked Duterte to be relieved from office.
Rice, the country's main staple, has been highly politicized. In 2008, a global rice crisis prompted the government then of President Gloria Macapagal-Arroyo to import more rice, while also increasing the price by which the government buys local produce from farmers a key voter base. The Marcos-era NFA is tasked to do these two things.
The two policies later on backfired: increased imports without careful planning, and possibly because of corruption, resulted in an oversupply of rice that was left rotting in warehouses, driving prices higher. Meanwhile, NFA buying local palay from farmers at higher price of P17 a kilo from P10 burdened the agency with around P150 billion in debts still unpaid to date.
Last month, Piñol likewise floated the idea of increasing again the NFA's buying price of palay to P20 from P17 allegedly to induce farmers to sell their produce to the government.
No action has been taken on this so far by the NFA Council, the inter-agency body making rice policies headed by Piñol, but whose members include Finance Secretary Carlos Dominguez, whose agency is in charge of managing NFA's huge debts.
Soaring prices
The lack of a clear plan on how to implement Duterte's latest order of open rice imports comes as rice prices remain elevated.
Data from the Philippine Statistics Authority showed average retail prices of regular milled rice rose 20.45 percent year-on-year as of the last week of September.
On a weekly basis, however, rice prices dipped 0.07 percent, the first time it recorded a decrease this year. This could prove temporary, however, as harvests due beginning this month could end up lower due to crop damage from Typhoon Ompong last month.
The country's rice inventory also continues to thin, reaching only 1.52 million metric tons in August, down from 2.02 million MT in the same period last year and the prior month's 1.99 million MT, official data showed.
Rice imports supposed to bridge the supply-demand gap have also arrived slowly. Only 410,000 MT of the 1.25 million MT so far mandated to be imported has arrived, some of which had even been infested by weevils. The rest of the shipments are expected to dock later this year.
Rice is the single biggest contributor to this year's fast inflation, which hit a fresh near decade-high of 6.7 percent in September. For the first nine months, inflation has averaged 5 percent, way above the central bank's 2-4 percent goal for the year.
On Monday, Rep. Joey Salceda (Albay) said the government's failure to slow inflation down could sink 2.4 million Filipinos to poverty.