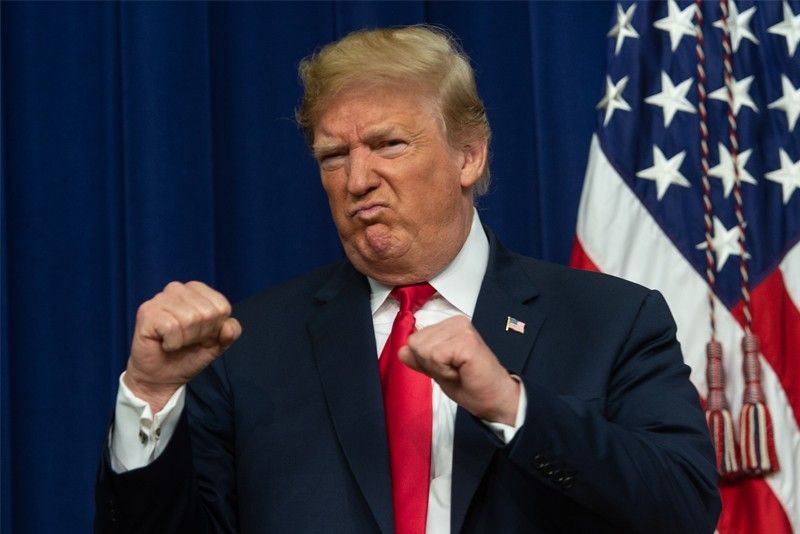 US President Donald Trump addresses the Face-to-Face With Our Future event at the White House in Washington, DC, on June 27, 2018.
Nicholas Kamm/AFP
Poll: Most Pinoys have confidence in Trump, but many countries are frustrated
MANILA, Philippines — Filipinos' confidence in United States President Donald Trump has improved, according to a new poll by the Pew Research Center.
The survey also revealed the Philippines is one of the countries with the most positive views of the US under Trump.
According to a new 25-nation poll taken from May 20 to August 12 this year, 78 percent of respondents from the Philippines trust Trump, higher than the 69 percent recorded in the 2017 reading.
However, Trump's confidence ratings in the Philippines since taking office in January 2017 were lower than the scores received by his predecessor Barack Obama, who garnered a trust rating of 94 percent from Filipinos surveyed in 2015.
Broken down, it is only in four countries—the Philippines, Israel, Nigeria and Kenya—where more than half the public voice has faith in Trump.

Meanwhile, majorities in four of the five Asia-Pacific nations polled gave Washington a positive rating, including 83 percent in the Philippines, one of the highest ratings in the survey.
Months after he came to power, Philippine President Rodrigo Duterte stoked diplomatic alarm by announcing his "separation" from the US after being infuriated by Obama's criticism of his bloody war on drugs. He said he would forge closer ties with China and Russia—the two superpowers that have historic rivalries with Washington.
But since Trump's election victory in 2016, ties between Manila and Washington had a fresh start, with the Republican leader praising his Filipino counterpart's deadly anti-narcotic campaign.
US global image deteriorates under Trump
Overall, Pew Research Center found that America's global image "plummeted" following Trump's election, amid intense opposition to his administration's policies and a widely shared lack of confidence in his leadership, especially among key allies.
Across all countries, 27 percent said they had confidence in Trump, well-below Russian President Vladimir Putin's 30 percent and Chinese President Xi Jinping's 34 percent.
German Chancellor Angela Merkel was the only leader in which most respondents expressed confidence at 52 percent. French President Emmanuel Macron was just behind at 46 percent.
Since becoming president, Trump has repeatedly stirred a hornet's nest by abandoning international agreements like the Paris climate accord and Iran nuclear deal.
He has also been criticized for his apparent affinity for strongmen leaders like Russia's Putin and North Korea's Kim Jong Un while berating traditional allies.
According to the same Pew Research Center survey, most respondents still want the US as top global power, but see China on the rise.