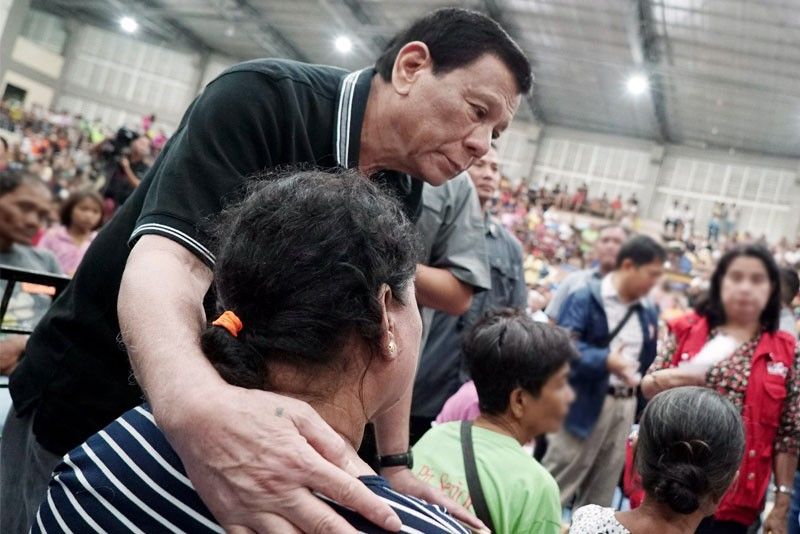 President Duterte sympathizes with a woman who lost loved ones in a landslide in Naga City, Cebu. The President visited families taking shelter at the Enan Chiong Activity Center the other day.
Cebu families get aid from Duterte
MANILA, Philippines — President Duterte has provided moral and financial support to about 400 families at the Enan Chiong Activity Center who fled their homes after last Thursday's landslide that left scores killed and dozens still missing in Naga City, Cebu.
Duterte visited the evacuation center on Friday and sympathized with the victims.
During his visit, one of the victims urged the President to order a ban on quarrying and mining in their province.
Duterte said he was saddened by the recent disaster, which followed the landslide in Itogon, Benguet where some 100 people were feared buried.
"The crisis that you are now going through is not easy. It is excruciating because many people were affected and many had died," he said.
In another event, Duterte said he has always mulled a total mining ban but he is always cautioned by his economic advisers.
"Now, if I impose stringent measures, well, they would say that… my advisor would say, 'Go easy on this because it's a 70-billion industry a year in taxes'," Duterte said at an event in Lapu-Lapu City.
"So, you begin now to make a sort of mental exercise of how much would you lose in terms of totality of the peso as against the earnings by way of taxes from mining companies," he said.
After the President's visit in Naga City, the Department of Social Welfare and Development (DSWD) and the Office of the President were directed to provide a total of P45,000 to each family whose kin died in the landslide, and P10,000 to those who were injured.
Apart from the cash aid, the President also ordered the concerned agencies to attend to the medical and funeral needs of the victims.
The President then asked the local government to provide the evacuees a proper relocation site as they can no longer head back to their previous homes because of the location's potential danger to their lives.
Duterte directed National Housing Authority (NHA) general manager Marcelino Escalada Jr. and Housing and Urban Development Coordinating Council (HUDCC) chairman Eduardo del Rosario to look for the relocation site.
"So, now that I told you about the relocation, I will also send the NHA here. I will look for funding," he said.
The provincial government of Cebu had already ordered the suspension of all quarry activities in the province following last Thursday's disaster in Naga City.
Almost a hundred people were buried in the landslide that destroyed some 30 houses underneath the massive rockfall.
Residents had blamed quarrying activities in the area that could have triggered the landslide.
Duterte also mentioned the dangers of mining to the environment and the people's lives.
Presidential Assistant for the Visayas Secretary Michael Dino, Environment and Natural Resources Secretary Roy Cimatu, Social Welfare and Development acting secretary Virginia Orogo, Interior and Local Government officer-in-charge Eduardo Año, Special Assistant to the President Christopher Lawrence "Bong" Go, Cebu Governor Hilario Davide III and Naga City Mayor Kristine Chiong accompanied the President during the visit.– With Edith Regalado