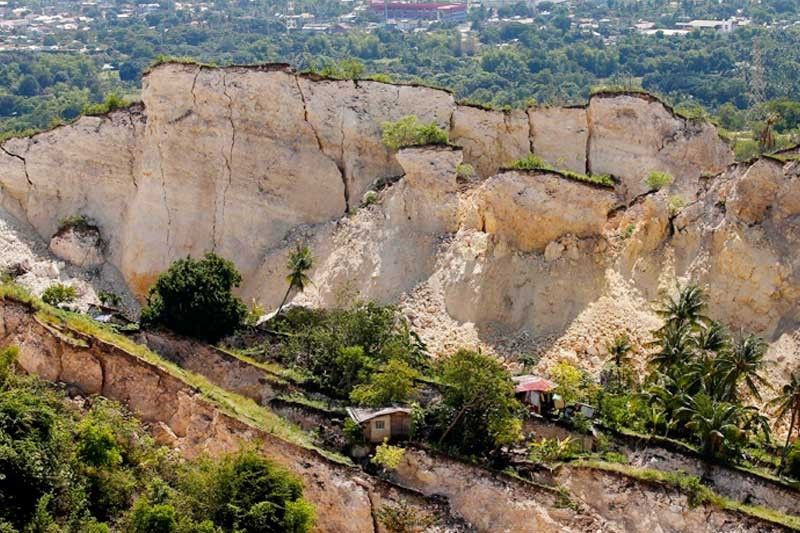 Photo shows the extent of the massive landslide that buried 30 houses the other day.
AP Photo/Bullit Marquez
Cebu stops all quarrying; forced evacuation on
MANILA, Philippines — Cebu Gov. Hilario Davide III yesterday ordered the suspension of all quarry activities in the province following the landslide in Naga City that buried almost a hundred people on Thursday.
Davide ordered Jayson Lozano, chief of the Provincial Disaster Risk Reduction and Management Office (PDRRMO), to implement the suspension order pending investigation on the incident.
"I will suspend quarry activities effective immediately… suspend and inspect especially those areas that are potential risks," Davide said.
Davide also ordered the provincial environment office to review all quarrying permits and to identify places of "potential risks."
"We will check the locations as a precautionary measure because we don't want disasters to happen again," he said.
Davide said what happened in Naga was a "wakeup call" for all the local government units in the province particularly areas that have quarry activities.
He urged local officials to check out and inspect quarrying operations in their areas.
Davide said he will call on the provincial board to conduct an inquiry to pinpoint responsibility.
Davide clarified the provincial government did not issue permit to APO Land And Quarry Corp. (ALQC).
He said APO had a Mineral Production Sharing Agreement (MPSA) with the Department of Environment and Natural Resources (DENR).
"I want to make it clear, there was an agreement between APO and DENR, so we did not issue the necessary permit to operate," he said.
Forced evacuation
Army troops and police forcibly evacuated residents of five villages in Naga City identified as vulnerable to landslides.
Some residents left on their own, but the bulk of more than 1,200 people in villages adjacent or near the landslide-hit area were forcibly moved by authorities Thursday night, regional police director Chief Supt. Debold Sinas said yesterday.
This developed as the death toll from the landslide has risen to 22, PDRRMO spokesman Julius Regner said.
Around 200 police, firemen and specialists using heavy equipment were still looking for about 50 people, Regner said.
"We hope to recover everyone today so as not to prolong the agony of the relatives," he added.
Rescuers have been digging through the night since Thursday in a frantic search for survivors as dozens were still missing after a massive hillside in Sitio Sindulan, Barangay Tinaan collapsed, burying some 30 houses.
Survivors heard a thunderous roar, crashing and banging when the mountainside fell.
Some trapped in the sludge managed to send text messages pleading for help but the messages stopped after a few hours.
Distraught relatives begged for more backhoes to be brought to the mound of earth and debris, where they hoped loved ones could be pulled out alive, but there were far too few machines to dig for the dozens of people missing.
A resident in the area, Nimrod Parba said one of his trapped relatives called for help about three hours after the landslide hit, entombing 13 of his kin.
"They are still under the rubble, they are still there. They are covered in shallow earth, we need a backhoe," he said.
A man embracing a child in a house was dug out by rescuers using a backhoe Thursday night in a poignant scene witnessed by journalists.
It's not clear what set off the landslide, but some residents blamed limestone quarries, which they suspect may have caused cracks in the mountainside facing their villages.
Authorities have limited the number of rescuers and other people inside the stricken villages, fearing heavy rains on the loose and soaked ground could cause new slides. Thursday's landslide also covered part of a river, prompting officials to order a temporary canal to be dug.
About 270 government troops and policemen were deployed to prevent residents from returning to high-risk villages, Sinas said.
The Department of Social Welfare and Development (DSWD) regional office took the initiative to provide relief to the families affected by the landslide.
Social Welfare Secretary Virginia Orogo assured the affected families that the DSWD will continue to work closely with the Naga City local government to address their needs.
"In behalf of the DSWD family, we express our sincerest condolences to the families affected by the massive landslide that occurred in Cebu. Rest assured that the department will provide the necessary interventions and assistance to all the survivors and burial assistance for the families who lost their loved ones in this very unfortunate incident," Orogo said. – Freeman, AP, AFP, Rainier Allan Ronda