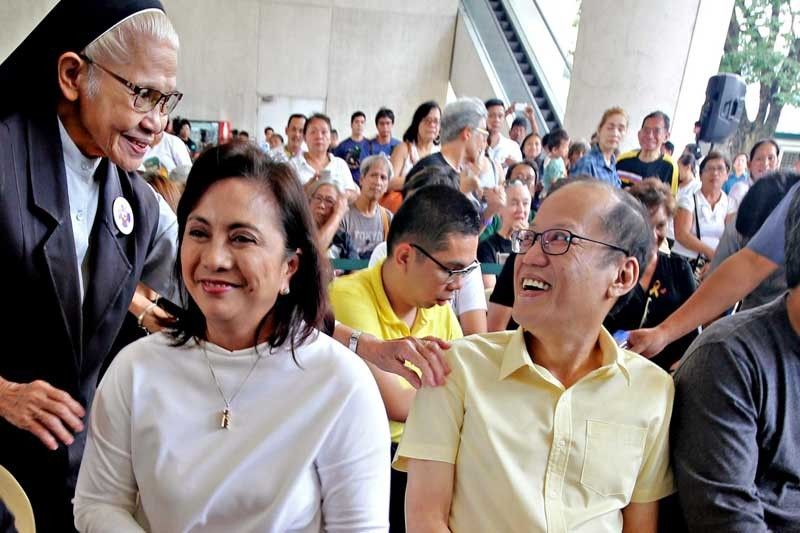 Vice President Leni Robredo and former president Benigno Aquino III attending a Mass for Peace at De La Salle University in Manila.
Krizjohn Rosales
Leni Robredo to Duterte: 'We need leadership, unity'
Helen Flores
(The Philippine Star) - September 22, 2018 - 12:00am
MANILA, Philippines — Vice President Leni Robredo has urged President Duterte to take the lead in uniting Filipinos and focus the government's attention on addressing the country's economic woes.
"We ask the President to set aside all things political and concentrate on what's urgent. And what's more urgent than the hunger and the suffering being experienced by our people?" Robredo said in an interview with The Chiefs on Cignal TV's One News channel Thursday night.
The Vice President made the call as Duterte stepped up attacks against her, accusing her of being among those plotting his ouster.
Robredo asked Duterte and members of his administration to ensure they are in control of the situation.
"We need to know where are we heading to. It's hard to unite if we don't know what directions are we going to take. We look for leadership now," she said.
She also called on Filipinos to pitch in to solve the nation's problems amid political distractions brought about by the coming senatorial and local elections next year.
"We are facing a major crisis, the rising prices, the rice shortage. This is the time to unite. The election is near, it is true that we have lots of disagreements, but when it comes to people's suffering, we need to help one another," Robredo said.
Robredo again denied being part of alleged plots to unseat Duterte, adding she is the one being targeted for removal from office.
She said the President himself had openly expressed his dislike for her as his replacement should he decide to resign.
"If you will base it on the pronouncements (of Duterte), we will think yes (the President is trying to oust me)," the Vice President said.
"He said a few times that he will not be comfortable if I will replace him, because I am incompetent. He said he would rather have Bongbong Marcos replace him than myself. If that will be the basis for my answer, then I think yes," Robredo said, referring to former senator Ferdinand Marcos Jr., who has filed an electoral protest against her.
Robredo defeated Marcos by a slim margin of more than 200,000 votes in the 2016 elections.
The Vice President said several people have warned that there are moves to oust her, but she stressed that these are unconfirmed reports.
"Even in my home province, some of the President's men have been trying to find ways to discredit me. I don't know if it's part of the plan to… just what they did to Senator (Leila) De Lima and Chief Justice (Maria Lourdes) Sereno and Senator (Antonio) Trillanes," she said.
"The manner by which they did these things to Senator Trillanes would be a confirmation that they would go to great lengths just to silence critics or discredit the opposition. And this possibility is not farfetched," Robredo said.
Duterte earlier said that Naga City, Robredo's bailiwick, was a hotbed of illegal drugs. He also accused a brother-in-law of the Vice President of bringing drugs to the city.
Duterte recently issued a proclamation voiding the amnesty granted to Trillanes by former president Benigno Aquino III in 2011.
Both De Lima and Trillanes are fierce critics of the President.
Robredo, however, could not categorically say whether Marcos was getting support from the administration in his electoral protest against her.
"That is not for me to say because I am not privy to what kind of relationship Marcos has with the administration. But for me, I'm well aware that I am living in a universe where the circumstances are not favorable to me. But my belief is that I'm the one on the side of truth," she said.
Robredo said Duterte has openly expressed his preference for Marcos despite the fact that she won the elections and the electoral protest remains pending before the Supreme Court, sitting as the Presidential Electoral Tribunal.