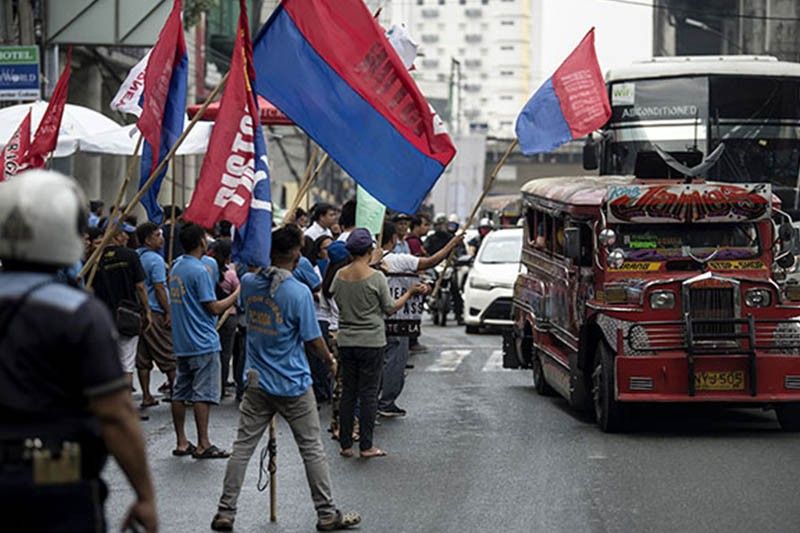 Activists and jeepney drivers hold banners during a jeepney transport strike held in Manila on October 16, 2017. Jeepney drivers and activists staged a nationwide transport strike in protest against the government's plan to phase out the ubiquitous passenger jeepney as part of a modernization campaign to turn the Philippines' main form of public transport green.
AFP/Noel Celis, File
DOTr: Official did not put down jeepney drivers, operators
MANILA, Philippines — The Department on Transportation on Friday defended an official whose remarks sparked outrage for seeming to demean jeepney drivers and those who make a living in public transportation.
In a Palace press briefing Wednesday, DOTr Assistant Secretary Mark De Leon said that the competition of different modes of transportations on Philippine streets "makes public transportation inefficient."
This, he said, was caused by the notion that operators think public transportation is a form of livelihood.
"But I will tell you guys, it's wrong to perceive public transportation as a livelihood," De Leon said in a mix of English and Filipino.
Remarks hit as insensitive
Sen. Grace Poe, chair of the Senate public services committee, called De Leon's statements "insensitive" amid the uncertainties that jeepney drivers and operators face when the PUV modernization fully rolls out.
In a statement, Poe pointed out that there are around 600,000 jeepney drivers nationwide who ferry commuters as their main source of income, adding they do not "wake up early just for fun, just to pass the time."
But for DOTr, De Leon only meant that jeepney operations must be treated as an organized transport business rather than an individual operator's source of income.
"Never did Assistant Secretary De Leon nor the DOTr demean the livelihood of PUJ operators and drivers. Public transport is a legitimate source of income, but the way we do things needs to change," the department said in a statement.
It claimed that the current administration's will to push for the modernization program belies insinuations that the agency is insensitive to the plight of operators and drivers.
"We want our drivers to be salaried and drive vehicles that aren't health or environmental hazards, we want them to drive on a specified number of hours so they will have more time for their families, we want our operators to have higher income and have better access to funding and we want our commuters to be safe, comfortable and feel dignified on their daily commute. Those, we think, are far from being insensitive," DOTr said.
Under the PUV modernization program, the government plans to replace jeepneys aged 15 years and older with electric-powered or Euro 4 compliant vehicles.
Piston president George San Mateo said the group does not oppose the modernization of PUVs but stressed that doing so would push drivers and operators into deeper poverty, as they could not afford to purchase new units imposed by the government.
A "modern" jeepney costs about P1.8 million.