Trillanes forms legal team for SC petition, Makati court hearings
September 13, 2018 | 9:27am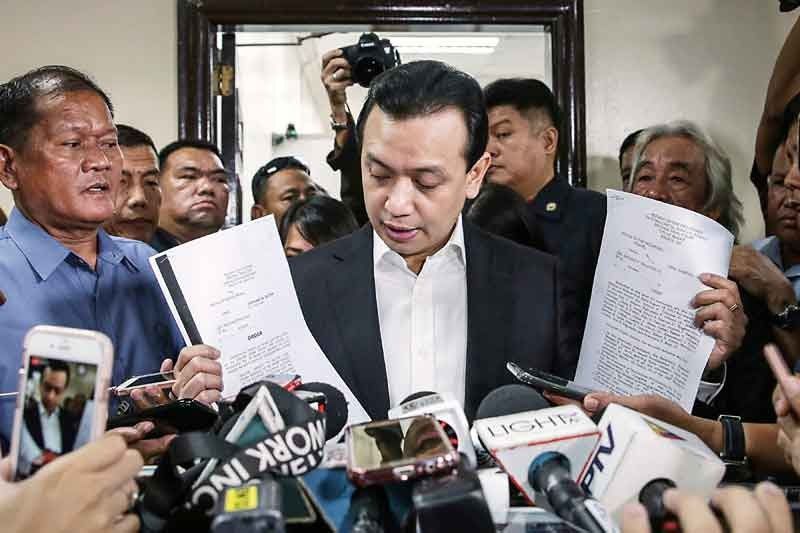 MANILA, Philippines — Sen. Antonio Trillanes IV has formed a legal team for his cases at two Makati regional trial courts and for his petition at the Supreme Court questioning Proclamation 572, the presidential order revoking his amnesty for mutinies against the Arroyo administration.
In a statement, Trillanes said he is conferring with some of the "best legal minds in the country who are willing to stand for the rule of law."
Among the volunteer lawyers on his team are:
Former Solicitor General Florin Hilbay
Former UP College of Law Dean Pacifico Agabin
Law professor Joselito Chan
Reynaldo Robles, Trillanes' chief legal counsel
"They believe that if this illegal act would not be corrected, our country's democracy would be in peril," the senator also said.
Although the Supreme Court denied his plea for a temporary restraining order against Proclamation 572, it has ordered the government to comment on Trillanes' petition questioning the constitutionality of the voiding of amnesty.
The SC noted that "it is appropriate that the Makati RTCs should be given leeway in exercising their concurrent jurisdiction to hear and resolve the pleadings/motions filed by the parties as regards the legality of Proclamation No. 572."
Makati court holds hearing on DOJ motion for arrest warrant
Makati RTC Branch 148, one of the courts that the Department of Justice motion asked to issue an arrest warrant and a hold-departure order Trillanes, has set a hearing on the plea for Thursday morning.
Branch 148 had dismissed the coup d'etat case against Trillanes in a 2011 ruling, but prosecutors said it has been revived by the revocation of the senator's amnesty.
"The instant case against accused [Trillanes, Alejano and Layug] is hereby dismissed pursuant to the grant of amnesty to them by Proclamation No. 75 dated November 24, 2010 by President Benigno Aquino III," read the order penned by Acting Presiding Judge Ma. Rita Bascos Sarabia.
RELATED: A duel of documents: DOJ, Trillanes cite different rulings
The proclamation voiding Trillanes' amnesty, and the prosecutors who filed the motion said the senator had failed to apply for amnesty as required by the Aquino administration's Proclamation 75 granting amnesty to members of the police and military who partcipated in mutinies against the Arroyo administration.
Judge Andres Soriano, who set the hearing, said he would have to review the records again "because this involves 53 volumes and the case started from another judge."
The government now claims that the amnesty is void because it was approved by Defense Secretary Voltaire Gazmin and not President Benigno Aquino III himself.
Former Aquino spokesperson and lawyer Abigail Valte has argued that Gazmin was Aquino's alter ego and "the task delegated was the determination of those who may be qualified among the applicants under the parameters of the amnesty given. It's not the grant of amnesty itself that was delegated."