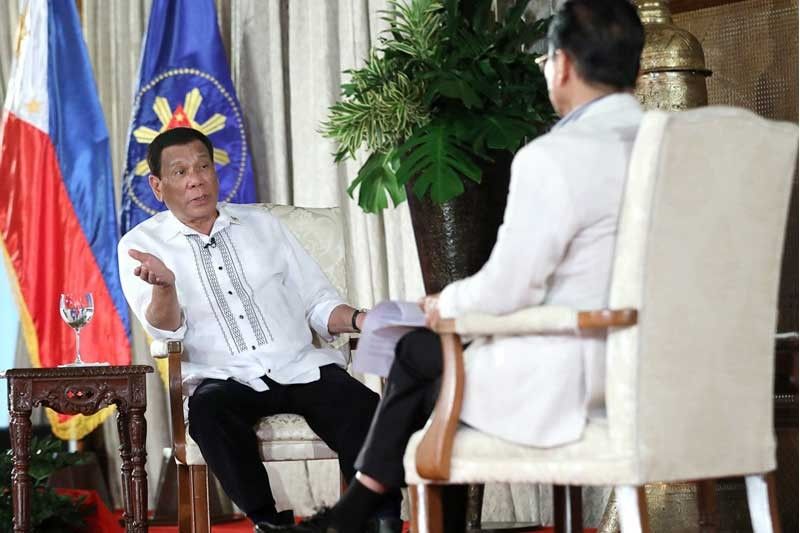 In fact, according to Duterte, his remaining three years in office is too short to fulfill his campaign promise to eradicate illegal drugs and corruption.
Presidential Photo/ Robinson Ninal Jr
Duterte: 'No regrets being president'
DAVAO CITY, Philippines — Facing alleged threats of ouster and destabilization plots, President Duterte said he has no regrets being the country's Chief Executive.
In fact, according to Duterte, his remaining three years in office is too short to fulfill his campaign promise to eradicate illegal drugs and corruption.
"Three years left is too short. I like to start again where I left off to finish this job," Duterte said during his televised one-on-one with his chief legal counsel Salvador Panelo on Tuesday.
"And of course, the scourge of drugs – I promised the people that I would finish this. Believe me, I will really put an end to this," he said.
Duterte was a reluctant candidate in the May 2016 presidential elections. Even without campaign machinery, he won the presidency on his campaign promises of strong leadership to bring peace and order and security for Filipinos.
Duterte stressed he could not renege on his campaign promises.
As much as possible, Duterte said he would do his best for Filipinos for the next three years before stepping down in 2022.
If there were certain things that the presidency deprived him, Duterte said it is the time that he would have wanted to do things freely on his own.
Duterte said the Presidential Security Group (PSG) has been strict in the security arrangements wherever he is.
He said he could not even do the things he usually did before, like strolling in malls without throngs of people milling around him.
If there is one thing the President also delights in while in office, it's the chance to meet the thousands of Filipino migrant workers on his trips abroad.
Duterte said after more than two years in office he had some misgivings.
He cited in particular the refusal of lawmakers to grant him emergency powers to solve the traffic problem in Metro Manila and other urban areas.
"Well, not all (lawmakers) but (they) appropriately extended the help. They have different views and opinions as against mine on the issue but I respect them," he said.
Duterte's TV appearance, which lasted more than an hour, delved on several issues focusing on his fight against illegal drugs and corruption.
Duterte denied that he was preoccupied with muzzling critics instead of addressing national problems.
"The fact that they are doing it every day only goes to show that I am giving them the time of their lives to just talk and talk and talk," Duterte said of critics.
In his parting words, Duterte defended his deadly crackdown on illegal drugs, touched on his fight against corruption and then went back to ramble on alleged threats by his opponents to force him from power.
Duterte accused the Magdalo group of rebel military officers that included his nemesis, Sen. Antonio Trillanes IV, among the groups who wanted him ousted from office.
"You start it now and don't delay," the tough-talking President said. "That's their plan. If they can't do it through explosions, then assassinate. I'll be happy to die in your hands, at least it's not death from illness."
No need for loyalty check
During the tete-a-tete, Duterte attempted to explain the legal offensive he has launched against Trillanes and his group, who he claimed has hatched a plot to oust him.
Duterte has ordered the release of intelligence provided by a "friendly" foreign government about the alleged plan.
The President added the communists have closed ranks with the group of Trillanes for his ouster, a plot which Duterte claimed will be in full motion next month.
Concerns have been raised that Duterte's moves against Trillanes, a former rebel military officer, may undermine judicial independence and that the political impasse may ignite restiveness among troops in a country with a recent history of military uprisings.
Armed Forces of the Philippines (AFP) chief Gen. Carlito Galvez Jr. warned troops over the weekend "not to meddle or take part in partisan politics."
Galvez declared the troops are loyal to the Constitution and the duly constituted authorities.
Philippine National Police (PNP) chief Director General Oscar Albayalde said there is no need for a loyalty check among policemen.
"We have to help our counterpart in the AFP and other intelligence units to validate the information (destabilization plot), especially if it is coming from the President himself," he said.
Military officials and even Trillanes said the military remains united, but Duterte repeated that he was ready to step down anytime and would not allow infighting among state forces.
"If the Armed Forces think that I am not competent, that I am not qualified to be sitting here as president ... it's up to you," Duterte said. "You want another president? Fine."
Defense Secretary Delfin Lorenzana confirmed the communist ouster plot but the involvement of active military personnel into the destabilization moves, he said, is still being validated. – With Jaime Laude, Roel Pareño, Michael Punongbayan, Artemio Dumlao, AP