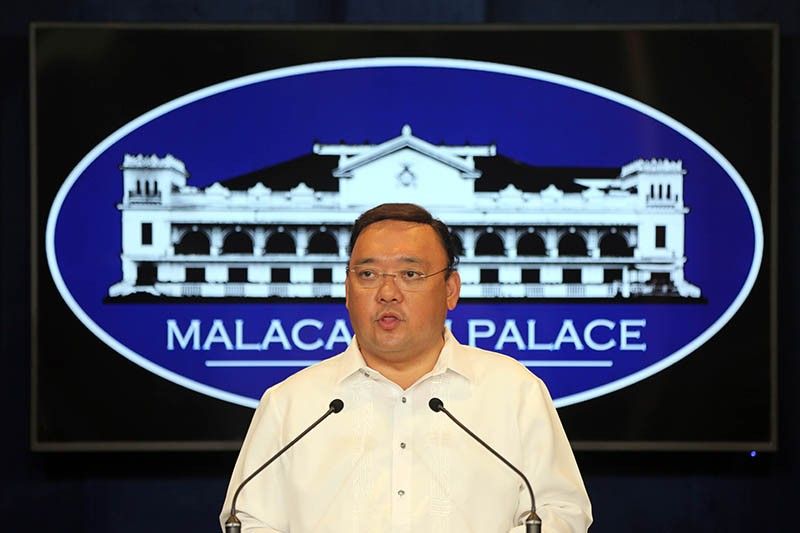 Presidential spokesperson Harry Roque said Sen. Antonio Trillanes IV's seeking of refuge at the Senate is all "drama."
Krizjohn Rosales
Roque: Trillanes milking Senate stay for 'drama,' 'political mileage'
(philstar.com) - September 12, 2018 - 3:50pm
MANILA, Philippines — Presidential spokesperson Harry Roque on Wednesday said that Sen. Antonio Trillanes IV's insistence of staying inside the Senate amid Proclamation 572 is all for "political mileage."
In the same press briefing, Roque reiterated that the Supreme Court's action on September 13, means that there are no more "legal impediments" in implementing Proclamation 572.
The Palace spokesman added that if the military wants to arrest Trillanes, it could, but he stressed: "I'm not saying they will do it."
The SC on Tuesday said that it did not see any urgent need for the issuance of a temporary restraining order against Proclamation 572. The tribunal said that it has taken "judicial notice" of President Rodrigo Duterte's pronouncement that Trillanes would not be apprehended unless a local court issues a warrant against him.
Roque said last September 7 that Duterte has decided to wait if a local court would issue a warrant against Trillanes.
Despite this pronouncement, Trillanes' lawyer Reynaldo Robles said they could not immediately leave the Senate premises since the administration has a history of walking back on its statements.
But Roque, on Wednesday, said that Trillanes' seeking of refuge at the Senate is all "drama."
"OA po yan. Uwi na kayo dahil hindi naman tama na taong bayan ho ang nagbabayad ng inyong board and lodging dyan sa senado (That's an overreaction. Go home because it is not right that the public pays for your board and lodging at the Senate)," he added.
Trillanes, shortly after the SC held its briefing yesterday, said that his office would closely coordinate with the Armed Forces to ensure that there is no misinterpretation with the developments of the case.
READ: Trillanes happy with Supreme Court ruling, may leave Senate
"We will see if there reading is the same with our lawyers," he added in Filipino.
Trillanes also stressed that if he will be still be arrested even after the SC's ruling on September, 12 it will be "an open defiance" to the highest court of the land. — Kristine Joy Patag