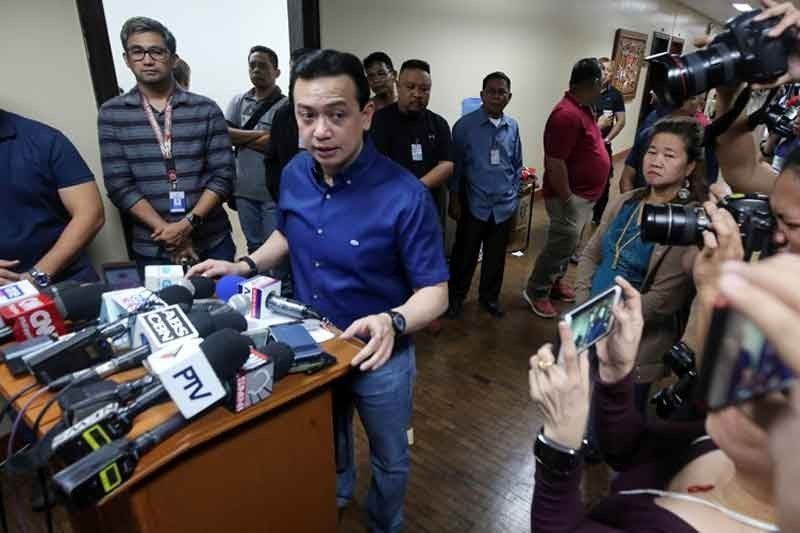 "The court is not persuaded with the argument of the prosecution that its omnibus motion should not be set for hearing and should be acted by this court ex-parte."
The STAR/KJ Rosales
Makati court defers issuing arrest warrant, travel ban vs Trillanes
(Philstar.com) - September 10, 2018 - 3:20pm
MANILA, Philippines — No arrest warrant and travel ban have been issued against Sen. Antonio Trillanes IV on Monday.
In a televised interview, Diosfa Valencia, clerk of court of Makati Regional Trial Court Branch 150, said that a hearing on the Department of Justice's motion for issuance of travel ban and warrant had been set on Friday, September 14.
"The court is not persuaded with the argument of the prosecution that its omnibus motion should not be set for hearing and should be acted by this court ex-parte," read in part the three-page order penned by Judge Elmo Alameda of Makati RTC Branch 150.
Alameda added that to act on the prosecutor's motion without a hearing "would definitely prejudice the right of the accused to due process."
On September 7, state prosecutors filed a "Very Urgent Ex-Parte Omnibus Motion for the Issuance of a Hold Departure Order and Warrant of Arrest" before the Makati RTC Branch 150, where Trillanes was being tried for a rebellion charge over the 2007 Manila Peninsula siege.
READ: DOJ seeks arrest order vs Trillanes from another court, for another case
The prosecutors noted that the court on Sept. 7, 2011, granted Trillanes' "Motion to Dismiss" pursuant to the grant of amnesty. The Duterte government, however, argued that the amnesty was declared void and that trial should continue.
The September 2011 ruling was also penned by Alameda.
"It is clear that this instant case is still pending with this Honorable Court, as the prosecution has yet to present its evidence in chief insofar as accused Trillanes is concerned," they said.
SC case
Valencia added that they are also waiting on how the Supreme Court would tackle Trillanes' petition that seeks for the issuance of a temporary restraining order against his arrest by the police and military.
"We are dependent on the ruling of the SC. If the SC would rule that there will no proceedings at all, we will apply it," she said in a mix of English and Filipino.
Alameda, in his order, noted that the prosecutors' plea for warrant and hold departure order involved a case "that has long been dismissed by this court."
READ: A duel of documents: DOJ, Trillanes cite different rulings
"There is also the constitutional issue raised before the Supreme Court by the accused [Trillanes] on the validity or legality of the revocation of Proclamation 75 which may be ground for this court to wait for the ruling of the Honorable Supreme Court because of the presence of strong probability that the issues raised therein would be rendered moot if this court would proceed to act on the Omnibus Motion," Alameda added.
President Rodrigo Duterte, through Proclamation 572, said the amnesty granted to Trillanes is "void from the beginning." The proclamation also ordered the arrest of the senator.
Justice Secretary Menardo Guevarra said the court might look into the proclamation in determining whether the case against Trillanes might be reconsidered.
Trillanes is also set to attend a hearing, this time on the coup d'etat case over Oakwood mutiny, on Thursday, September 13, at the Makati RTC Branch 148. — Kristine Joy Patag