Comelec sets filing of COCs on Oct. 1 to 5
September 9, 2018 | 12:00am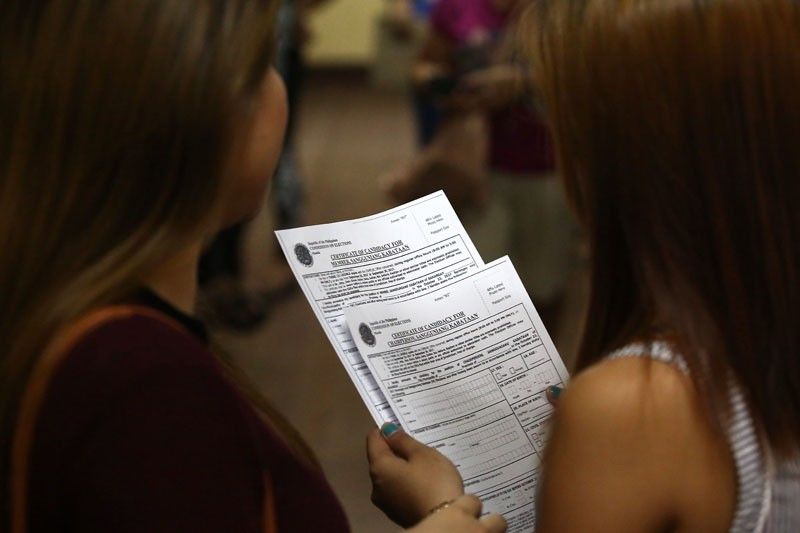 MANILA, Philippines — The Commission on Elections (Comelec) has set the filing of certificates of candidacy (COCs) for the May 13 midterm elections next year from Oct. 1 to 5.
Comelec's Resolution No. 10420 outlines the rules and regulations on the filing of COCs for senators; House of Representatives members; city and municipal mayors, vice mayors and council members; provincial governors, vice governors and board members; and Autonomous Region in Muslim Mindanao governor, vice governor and members of the regional legislative assembly.
The Comelec also set the same deadline for the filing of Certificate of Nomination and Certificate of Acceptance of Nomination of party-list groups at the agency's law department.
According to the Comelec, those who are holding appointive positions, including members of the Armed Forces of the Philippines and other officers and employees in government-owned and controlled corporations, shall be considered resigned from office when they file their COCs.
"But any person holding an elective office or position shall not be considered resigned from office upon the filing of a COC whether for the same or any other elective office or position," the resolution, promulgated Sept. 8, said.
The poll body added that COCs should be filed by the aspirants themselves or by their duly-authorized representatives. No COC filed by mail, electronic mail or fax will be accepted, the Comelec said.
The Comelec noted that those who will be nominated by party-list organizations are also considered automatically resigned if they are holding appointive positions.
"A public officer holding a public appointive office or position shall be deemed to include private citizens appointed to public office representing the public sector," it added.
The Comelec cautioned that COCs, certificates of nomination and certificates of acceptance must be complete and in the form prescribed by the agency.
As this developed, civil society group Democracy Watch is appealing for greater transparency in next year's midterm polls, saying it is the key to credible elections.
In a statement, Democracy Watch secretary general Claudette Guevarra said with the great strides brought about by the switch to automated polls starting in 2010, the country could ill afford to go back to its old ways.
"Transparency is a key principle in ensuring credible elections as it helps establish trust and confidence in the process by guaranteeing that the results reflect the true will of the people," he pointed out.
The group said it finds comfort in President Duterte's assurance of "clean and orderly" polls, amid rumors of a "no-election" scenario in 2019.
It added the 2016 election was "widely believed to be the most credible in recent memory," underpinning the gains achieved with electoral reforms.
"In May 2016, the world saw more than 44 million Filipinos troop to their respective polling precincts and made their voices heard through a process that has long been a cornerstone of our democracy," she added.
She underscored that the "faster conduct (of the elections) resulted in less instability and greater confidence in the process."
Guevarra also said there is a need to improve the polls by investing in the "retooling and building of an adequate IT infrastructure and developing the human resources for the Commission on Elections."
She added "such investments are also investments in our political stability."