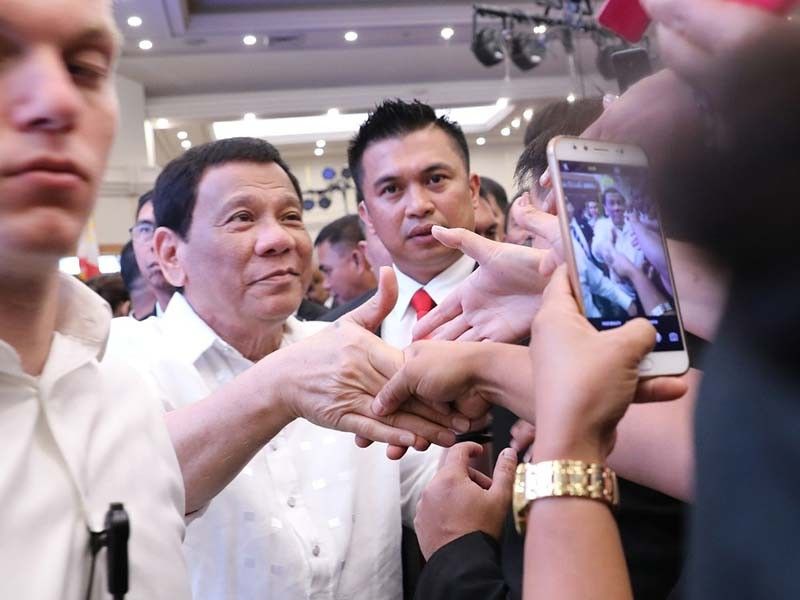 President Rodrigo Roa Duterte interacts with the Filipinos based in Israel as he met with them at the Ramada Hotel in Jerusalem on Sept. 2, 2018.
Presidential photo/Rey Baniquet
Duterte tries to justify war on drugs before Israeli business community
JERUSALEM — President Rodrigo Duterte has made a lengthy, impassioned defense of his bloody war on illegal drugs before business groups here, saying there is nothing wrong with killing those who place one's life in danger.
While claiming to believe in the sanctity of life, Duterte said he could not tolerate the atrocities of criminals and terrorists.
"You know I am a lawyer. I was baptized. I am a Christian and I believe in the value and sanctity of life. But for the life of me, I can never tolerate banditry, the ISIS (Islamic State of Iraq and Syria) thing of just killing people, children and all. I only kill criminals. And if you ask me now, 'Yes, I do,'" the president said during a business forum last Tuesday here.
"They said the criminals are being killed. But I have not for the life of me, ordered the killing of a particular person. If you happened to be there, sorry. If you are into drugs, sorry. That's your fault, you asked for it. So my guarantee really is my word," he added.

Duterte said he has ordered policemen and soldiers to destroy the drug apparatus in the Philippines even if it means killing those who they think pose threats to their lives.
"If you have to kill by all means kill. And there is only one everywhere the same philosophy is that you can only kill if your life is also in danger. So if the enemy wants to kill you, then feel free to kill him first," the president said.
Duterte went on to lambast critics of his drug crackdown in his more-than-an-hour-long-speech, which only made a few references to business matters. Some of the guests of the business forum were seen chatting with each other while Duterte was delivering the lengthy speech.
The president said human rights advocates have sued him before the International Criminal Court but he insisted that the tribunal has no jurisdiction over him. He argued that the Rome Statute, which created the ICC is not binding in the Philippines because it was not published in the Official Gazette, the official publication of the government.
"You know you idiots there, you can never acquire jurisdiction over my person. Not in a million years," Duterte said.
"I am now being charged of violating human rights. Now there is no such crime in the Revised Penal Code about what is extrajudicial killing. There is murder, homicide, everything but extrajudicial killing is very, very foreign to us," he added.
Duterte also assured the Israeli business community that he would not tolerate corruption in government. He promised to cut red tape and to humiliate government personnel who are extorting money from investors.
"If you are into business in the Philippines, there are rules to be followed. But I'm going to make it simpler and simpler the rules when I go back. And I want it really to be graft-free," the president said.
"And if there is anyone of you here now and I give you my guarantee, if anyone of you here would do business in the Philippines and you are given a hard time especially if you are being milked or extorted...Tell me. I will grant you an audience even in the middle of the night and hear you out," he added.
Duterte reiterated his call for businesses to report corrupt officials who are embarrassing the country.
"You name him I will call him and in front of me I will say to you, 'Slap him. Slap him twice on both cheeks,' because he is insulting you, he is insulting your character and for me, he puts my country into shame," he said.
"There will be no corruption. There will be no harassment, no nothing...We would be happy (to have) somebody like you, gentlemen and ladies doing business in my city, contributing for the nation-building of the Republic of the Philippines."