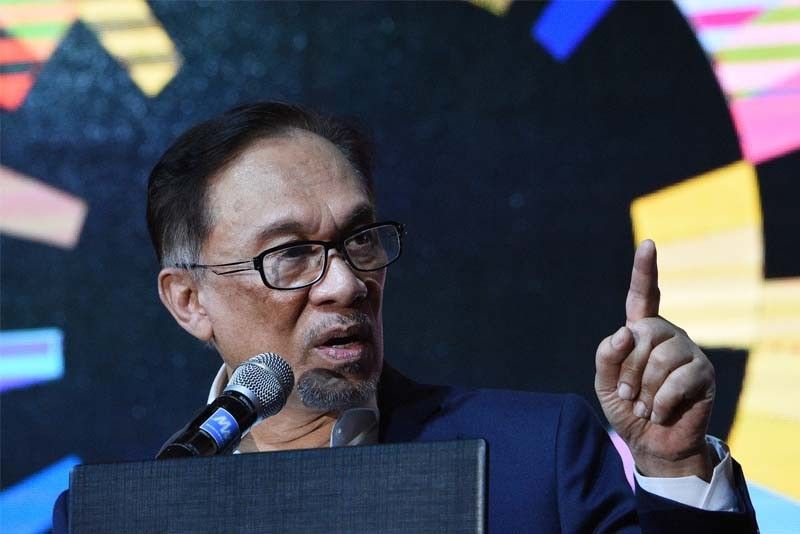 Malaysia's former deputy prime minister Anwar Ibrahim delivers a speech during a CEO conference organized by a local management association in Manila on Sept. 4, 2018. Anwar was jailed in 2015 on sodomy charges that critics say were politically motivated and then released in May 2018 after then-Prime Minister Najib Razak's election defeat.
AFP/Ted Aljibe
Malaysia's Anwar tells Duterte to 'ensure vibrant democracy' amid arrest order vs Trillanes
MANILA, Philippines — Ensure a vibrant democracy.
That is the advice of prominent Malaysian politician Anwar Ibrahim to Philippine President Rodrigo Duterte, who has been accused of authoritarianism and of silencing presidential critics.
At a press conference on the sidelines of a business conference in Manila, Anwar highlighted the importance of due process, the rule of law and human rights when asked about his thoughts on the perceived trend of political persecution in the Philippines.
This developed just after Duterte revoked amnesty for opposition Sen. Antonio Trillanes IV and ordered his arrest, making him the second lawmaker critical of the administration to be detained.
Anwar said he would express his view if he believes there's a "specific case where there's abuse" in the Philippines, as he recalled the support he received from Filipino leaders and civil society groups when he was jailed on sodomy and corruption charges that his supporters said were politically motivated.
"My consistent view is that you cannot abuse power to victimize the opposition and dissidents," said Anwar, a former deputy prime minister and a Malaysian opposition icon.
"If I am to meet President Duterte, I would say that I will support some of his measures but I will certainly want him to continue to ensure that there's a vibrant democracy and respect for the rule of law in the Philippines," he added.
"How? It's for him [Duterte] and the Filipinos to decide."
Trillanes has repeatedly accused Duterte of concealing unexplained wealth and has urged the International Criminal Court to prosecute the Philippine leader over alleged crimes against humanity for unleashing a lethal drug war.
Former President Benigno Aquino III granted the amnesty for Trillanes, who was involved in a failed coup 15 years ago, through a proclamation in 2010 that Congress concurred in. Duterte's spokesman, Harry Roque, told reporters in Jerusalem on Tuesday that the amnesty was awarded as a political favor.
Last year, fierce Duterte critic Sen. Leila de Lima was arrested on drug charges that she said were part of a presidential vendetta. The former justice secretary turned lawmaker launched a Senate probe into alleged unlawful killings by the police under Duterte's anti-narcotic campaign.
"Due process must be regarded, we must accept due process and no way can you ignore the importance of the rule of law and respect for human rights in this principle," Anwar said.
"The Philippines is a great country. You were a pioneer of democratic reforms at the time of [late Philippine President] Cory Aquino. People often look up to you... so when you see this derailment or erosion, of course you get a bit concerned," he added.