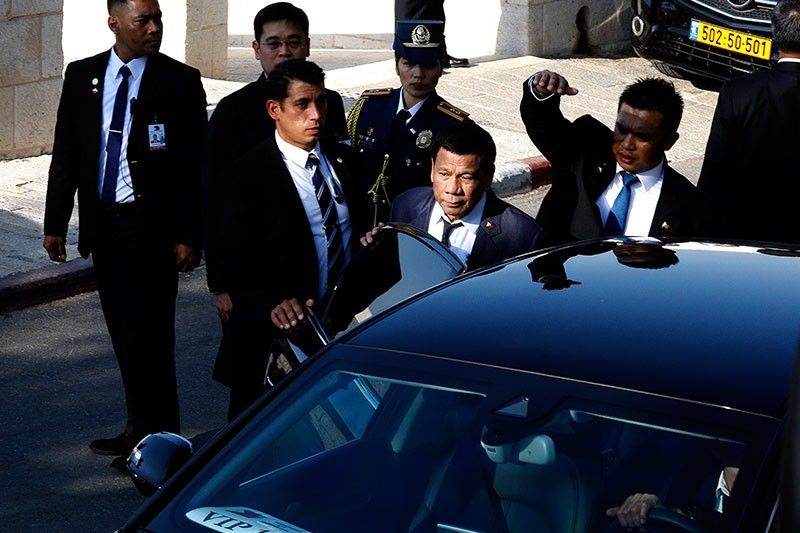 President Rodrigo Duterte leaves on Sept. 3, 2018 after his visit to the Yad Vashem Holocaust Memorial museum in Jerusalem commemorating the six million Jews killed by the German Nazis and their collaborators during World War II.
Gali Tibbon/AFP
Philippines to ink oil exploration deal with Israeli firm
JERUSALEM — The Philippine government and an Israeli firm are set to sign Tuesday an oil exploration deal that would cover an area east of Palawan province.
Presidential spokesman Harry Roque said the agreement with Ratio Ratio Petroleum Ltd. would help ensure energy security in the Philippines.
"We expect the signing of an exploration agreement in the Philippines by a company based here in Israel. It will be signed with Ratio Petroleum Ltd. and this is in connection with Round no. 5PECR5 with an area for East of Palawan base," Roque said in a press briefing.
"It's another foreign investor helping us explore for energy in an effort to provide energy security," he added.
Roque said Energy Secretary Alfonso Cusi had been working to firm up the deal since his arrival here last Sunday. Cusi is part of President Rodrigo Duterte's official delegation for his four-day official visit here.
The PECR5 offers 11 areas for petroleum exploration mostly located in Luzon, and 15 areas for coal exploration, largely concentrated in Mindanao, according to a statement posted on the energy department's website.
The areas offered for petroleum exploration are southern Luzon, Masbate-Iloilo, northeast Palawan, southeast Palawan, west Palawan, west Luzon.