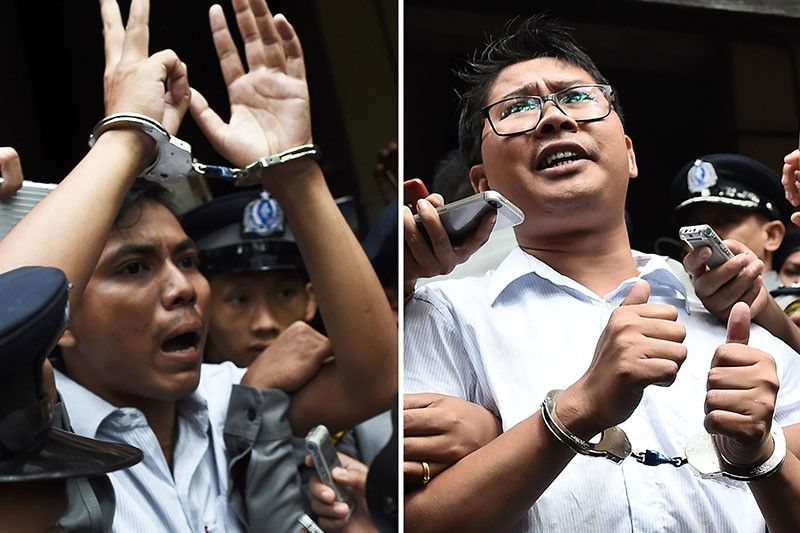 This combo shows journalists Kyaw Soe Oo (L) and Wa Lone (R) being escorted by police after their sentencing by a court to jail in Yangon on Sept. 3, 2018. Two Reuters journalists were jailed on September 3 for seven years for breaching Myanmar's official secrets act during their reporting of the Rohingya crisis, a judge said, a case that has drawn outrage as an attack on media freedom.
AFP/Ye Aung Thu
Groups of Filipino journos join call to free Reuters reporters
MANILA, Philippines — Organizations of Filipino journalists condemned the sentencing of two Reuters reporters, who reported a massacre of Muslim Rohingya minority, to seven years in prison.
The National Union of Journalists of the Philippines and the Foreign Correspondents Association of the Philippines also called on the Myanmar government to free Wa Lone and Kyaw Soe Oo.
The reporters were charged with violating the Official Secrets Act, a draconian British colonial-era law which carries a maximum sentence of 14 years.
"Myanmar has effectively outlawed freedom of the press and belied all its claims of democratization," NUJP said Tuesday.
FOCAP said that journalists should be able to report news honestly and fairly without intimidation or fear of reprisal.
"Free and responsible journalism is not a crime nor the enemy and is a critical pillar for any democracy," it said.
NUJP, moreover, noted that the jailing of the duo is part of the worsening trend of media repression in the region "as governments seek to control the free flow of information and the public discourse."
"We call on journalists throughout the region to close ranks and vigorously oppose all efforts to muzzle us and prevent us from serving our people's sacred right to know," the group said.
All 10 member states of the Association of the Southeast Asian Nations landed in the lower half of the Reporters Without Borders' (RSF) 2018 World Press Freedom Index of 180 countries.
The Philippines, despite being touted as the country with the freest and liveliest press in Asia, slipped to 133rd from 127th on the list.
RSF noted that the dynamism of the Philippine press has been challenged by President Rodrigo Duterte, who repeatedly hurled threats against journalists.
Myanmar ranked 137th. — with report from Agence France-Presse