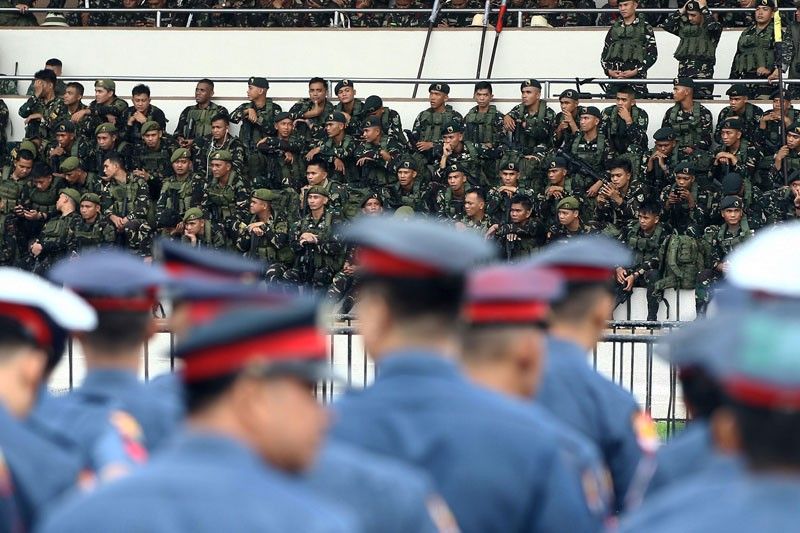 Presidential spokesman Harry Roque said the trip would allow security forces to learn from Israel's experiences in fighting terrorism.
Miguel de Guzman
Inclusion of retired police, soldiers in Israel trip justified
MANILA, Philippines — Malacañang insisted that there is nothing wrong with rewarding retiring police and military officers with a foreign trip and the government will shoulder their expenses when they join President Duterte's entourage in Israel next month.
Presidential spokesman Harry Roque said the trip would allow security forces to learn from Israel's experiences in fighting terrorism.
"Including them, of course, as a gesture of appreciation is part of the reason why they will be joining the trip. But obviously, for security personnel, a trip to Israel would entail collaborating and mingling with security forces in order for our men in uniform to benefit from the experience, particularly in their drive against extremism and terrorism," Roque said at a press briefing yesterday.
"Nothing wrong. I think strengthening security cooperation is one of the matters that will really be discussed in the Middle East as well," he added.
Roque said that police and military officials are still state workers so the government will spend for their trip.
"As far as I know, they are still active members of the military, so it will be the government who will spend for it," Roque explained.
Last Monday, Duterte said retiring police and military officials will join him in his visit to Israel as a "reward" for their service.
"I would be going there with some of the retiring military and police officers. Many of us are going. That is my gift to them for serving the country well," he said after the National Heroes Day rites at the Libingan ng mga Bayani in Taguig.
Duterte said he also aims to check the condition of about 28,000 Filipinos in Israel.
After his trip to Israel the President will fly to Jordan, where there are about 48,000 Filipinos.
Officials have said the trip seeks to boost the Philippines' ties with the two Middle Eastern countries.
Sen. Panfilo Lacson said yesterday promoting or awarding citations would be a better incentive for deserving military and police officials than granting them travel perks.
Lacson, a former chief of the Philippine National Police and chairman of the Senate committee on public order and dangerous drugs, was commenting on Duterte's announcement that a number of retiring military and police officers would be accompanying him on his official visit to Israel next month.
"Good will may be a better word, or what the President actually meant. Every official presidential trip abroad must have a purpose better than just being a gift to anyone in government," Lacson said in a statement.
He said it was "plain and simple" that government officials are always expected to serve their best.
"Rewards for the more deserving come in the form of promotions, awards, even a pat on the back," the senator said.
Foreign Affairs Alan Peter Cayetano, who is accompanying Duterte on the trip, said the inclusion of retiring officers in the delegation was not purely for reward.
He said Duterte was "multitasking" in asking the officers – who will be retiring upon reaching the age of 56 – to join him to also see if they can be fit to continue serving in the government as civilians.
"I say multitasking because whether they have six months or two years left in the military, building these bridges, these connections, seeing what's out there not only in technology, military technology, hardware, what types of war are being fought… that they can expand their horizons and for the President to find them jobs for those who excel," he said. – With Paolo Romero