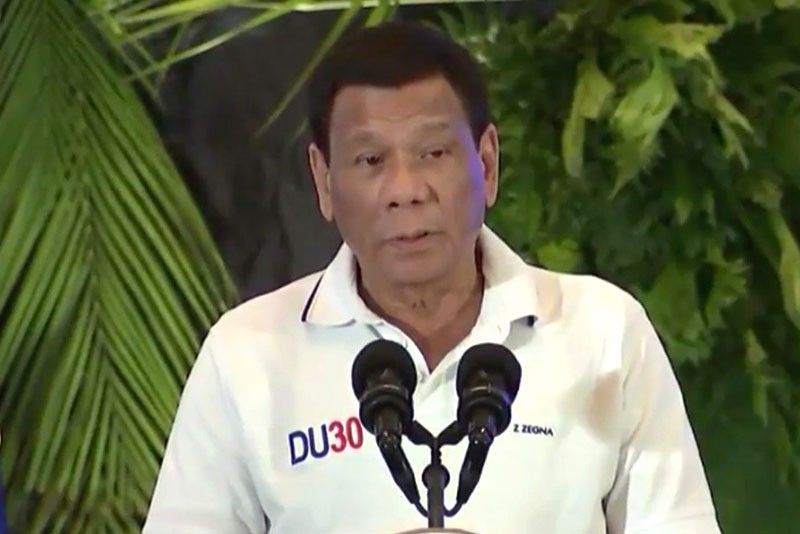 President Duterte addresses the League of Municipalities-Visayas cluster conference in Cebu City yesterday – his first public appearance following rumors that he had slipped into a coma.
Duterte vows to finish term
MANILA, Philippines — After his latest resignation pronouncement, President Duterte now says he is bent on finishing his term in 2022.
"I'll be out. If God wills it, it will be in 2022," Duterte said during the anniversary of the Lex Talionis Fraternity at the Marco Polo Hotel Davao over the weekend.
Yesterday, he also made his first public appearance since communist leader Jose Maria Sison claimed the President had slipped into a coma.
Duterte was his usual fiery self as he addressed members of the League of Municipalities-Visayas chapter in Cebu.
Earlier in Davao, he explained that he said he wanted to resign mainly out of frustration over massive problems faced by his administration.
"I was so exasperated, tired. So I said if that's the situation, why would I sacrifice by being president to serve and I could not even trust anybody. I said it is hard and then I said all those things. I am really tired," he said.
"When I said I would resign, it was said after my conference with the generals outside of the room in Malacañang. It was just a sounding board. That was an echo of what I told the soldiers and police during a command conference," he added.
The President told the military and police generals to be straightforward with him if they no longer wanted him in office.
"I told the generals, if you do not want me and there's no cooperation, say it now. I am prepared to go down, to step down. I only need somebody to stand up in this room. And if you decide kung may mahusay ba dyan eh di sige (there is someone better, then go ahead)."
Duterte also told the military and police officials not to give him crisis like the failed coup d'état that Sen. Antonio Trillanes IV launched when he was a military officer.
"You just call me and we will have coffee. Do not be like that charlatan Trillanes na may dala pang baril (who was carrying a gun)," he added.
The President said he had no plans of pitting soldiers and policemen against each other just to keep himself in power.
"If you think that I should go, why would you kill your own soldiers? Why would I do that? Why would I waste the lives of my soldiers and police?" he added.
Duterte: I'm not in coma
Duterte has also denied that he is seriously ill and has assailed Jose Maria Sison for saying that he is in a coma.
In a Facebook live video uploaded to dispel rumors that he is sick, Duterte said Sison is the one suffering from illness. The video was taken while Duterte was having dinner at a hotel in Davao City Monday night.
"I'm alive — fairly healthy and I'm having dinner with a beautiful lady from Davao. She's Bernice, she's on leave from Harvard. I invited her to discuss some things along the way," Duterte said in the nearly five-minute video posted by Special Assistant to the President Christopher Go.
"I am still okay. He (Sison) said I'm comatose? How can you be comatose with a beautiful lady? If I were comatose and I see Bernice, I would really rise. That's it. You bare the one who is comatose. You are the one who is sick," he added.
The President mocked Sison and wished him long life.
"Joma, ang wish ko sa buhay, maski wala ka nang silbi sa mundong ito, mabubuhay ka pa rin ng mga 1,000 years para ikot ng ikot ka na lang dito sa mundo (Joma, I wish you will live for 1,000 years even if you no longer have a purpose, so you can roam around aimlessly on earth)," he said.
"I think you are the reincarnation of the guy... it's biblical... I don't know if it's in a book in the Bible. He's a guy whose been around walking around planet Earth. And he's not dying," he added.
Duterte was referring to the Wandering Jew, a legendary character who was doomed to walk the Earth until world's end because he taunted Jesus Christ.
Duterte also claimed that the Netherlands is already complaining about the expenses of Sison.
The rebel leader has been on self-exile in the European country since 1987.
"You frequent the hospital without paying your bills. You're not paying and you're abusing the hospitality of the Netherlands," Duterte said.
The President said he would bring Sison to jail if he returns to the Philippines.
"If you think that you are sick, come home and I will bring you to the place—it's called Bilibid. There, we will provide you with a space: a bed and...plenty to keep you company," he said.
Presidential daughter and Davao City Mayor Sara Duterte-Carpio also chided Sison.
Sara claimed a caretaker must be the one posting for Sison on Facebook.
"Some years ago, Joma Sison sent me chocolates and a note. It was a surprise because I did not think he knew me then, nevertheless, the message was rational and pleasant," Sara said in a statement yesterday.
"His recent Facebook posts about the dying President Rodrigo Duterte are not rational and napaisip ako kung siya ba ang nagpost or baka caretaker na lang ni Joma (I was thinking if he was really the one who posted or maybe it was just the caretaker of Sison). My guess is, at the rate that he or his caretaker is unraveling, he will soon say PRD is not human but an alien in the form of Rodrigo Duterte," she said.
Malacañang believes there is no need to make a big deal out of Sison's claim that Duterte is sick.
"Mahirap na pong patulan ang mga ganoong usapan. Parang pambata ng usapan yung ganoon (It's hard to react to such talks. It's like a conversation among children)," Go told radio station dzRH.
Go also said there is no need to determine who provided Sison the information. He reiterated that Duterte remains in "tip-top condition."
"Sabi ko mas malakas pa ito sa inyo (He is even stronger than you)," he added.
Duterte flew to Cebu City to attend the Conference of the League of Municipalities Visayas chapter at the Radisson Blu Hotel in Cebu City.
He returned to Davao City where he would be staying most of the time before he flies to Israel for a state visit on Sept. 2.
Sison's wish
Sison said he is "pleased to see" Duterte alive in a Facebook video.
"If the video showing Duterte hotel-dating a young woman was really recorded on Monday night, I am pleased to see that Duterte is still alive and that there is a chance of his living long enough to be held accountable for his crimes against the people and be tried by the people's court or by the International Criminal Court," Sison said in a statement posted in his Facebook account.
"Unlike him, I do not have any death wish for Duterte. In fact, I wish him to live long enough to receive a warrant of arrest, unlike the so many thousands of victims of Oplan Tokhang," he added.
Sison also said that in the video, Duterte looked tired and seemed to be recovering from medical treatment.
"I am also gratified that the aforesaid video shows Duterte truly looking very tired and dispirited, his face still very dark and his right eye drooping. He looks like he just came from dialysis or some other kind of treatment on Sunday," he said.
Sison said the conflicting statements of Duterte against him are also a sign of his weakened mental and moral condition.
He cited Duterte's claim that he has been in and out of Dutch hospitals as a charity patient, but the military said he is living a lavish lifestyle in the Netherlands.
"I have never stopped to presume that Duterte is still alive and capable of doing more mischief, mass murder and mass intimidation, as you can read from my message to the 5th National Congress of Karapatan," Sison said.
In his message, Sison cited a photo of Duterte attending the national conference of the Lex Talionis Fraternity.
"If you read carefully the following text, you can see that I qualified the report that Duterte had gone into coma was still to be 'verified or negated'," Sison said.
"Below is a photo of Duterte attending the national conference of his San Beda Law fraternity Lex Talionis last night, Saturday, in Davao City. Those who saw him reported that the darkness of his face had become aggravated from its appearance the other day and that his walk and handshake had become more unstable. The latest report (still to be verified or negated) is that Duterte has gone into coma since the afternoon or evening of today, Sunday, August 19," Sison's message read. – With Jose Rodel Clapano
Related video: