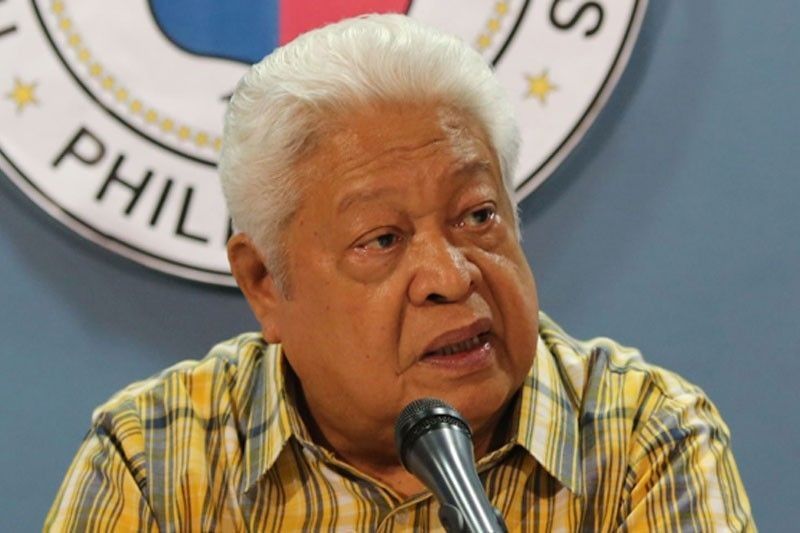 Presidential spokesman Harry Roque said the local government of Naga City should take President Rodrigo Duterte's statement constructively by fighting the illegal drug trade. He said: "If they think that the President was wrong...they should prove it."
The STAR/Boy Santos
Lagman schools Roque on forgetting law since becoming Duterte's 'apologist'
(philstar.com) - August 21, 2018 - 3:18pm
MANILA, Philippines — Rep. Edcel Lagman (Albay) chided his former colleague and presidential spokesperson Harry Roque for the latter's defense of President Rodrigo Duterte's claim that the province of Naga is "hotbed" of shabu.
Lagman said that Roque, his fellow member of the bar, "has forgotten his law since he became the official apologist" of Duterte.
The lawmaker was referring to Roque's defense that the local government of Naga City—bailiwick of Vice President Leni Robredo—should prove Duterte wrong.
Last week, the president claimed that Naga is a hotbed of shabu, proving that Robredo is incompetent of succeeding him.
The palace spokesman said that Duterte's claim may be based on information that only the president has access to.
But Lagman slammed Roque's pronouncement as it "desecrates the cardinal rule that 'he who alleges must prove his allegation.'" Roque's statement also ran counter to the legal dictum that "he who asserts, not he who denies, must prove," said Lagman.
Before serving as the Palace's mouthpiece, Roque sat as a representative of Kabayan party-list at the House of Represenatives. He has also made a name as a humanitarian lawyer that handled sensitive cases.
The opposition lawmaker added that the president failed to identify alleged drug lords or number of persons indicted for illegal drugs that should support his claim.
"A wild gratuitous accusation is a virtual hallucination and an errant and feeble excuse is simply folly, which are both aberrations in law," Lagman said.
Robredo, Naga officials refute Duterte's claims
Robredo and the Naga City Council expressed indignation over Duterte's pronouncement.
Naga City officials, in a resolution dated August 17, called Duterte's remarks as "irresponsible" and "without factual basis."
The vice president said that Duterte's remark to Naga is an "insult."
"Look at the records if we are at least in the top 10 cities that have a problem with illegal drugs. We are not there, so for me there is no basis. Maybe it is better to ask him for his basis," she said, referring to Duterte. — Kristine Joy Patag