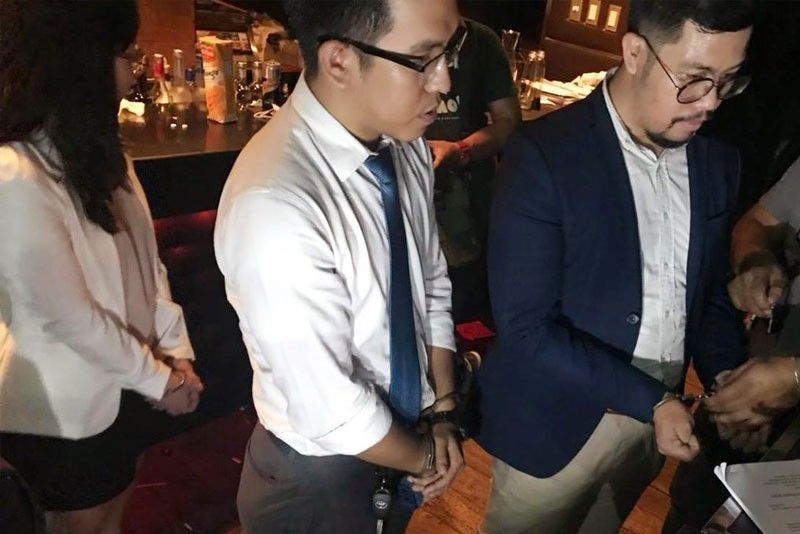 Lawyers Lenie Rocel Rocha, Jan Vincent Soliven and Romulo Bernard Alarcon are handcuffed following their arrest at the Time Bar in Makati City Thursday afternoon.
Image released by Southern Police District
IBP head: Arrested lawyers' acts not obstruction of justice
MANILA, Philippines — Integrated Bar of the Philippines President Abdiel Dan Fajardo said that the arrested lawyers' actions in the controversial Makati bar raid do not constitute obstruction of justice.
Fajardo told ANC's Early Edition that "disrespect, intimidation to the police" do not constitute obstruction of justice—the violation that the lawyers Lenie Rocha, Jan Vincent Soliven and Romulo Alarcon were initially accused of.
"If you read the law on obstruction of justice, there are specific actions that constitute obstruction of justice and none of that not one of what the police general stated qualified as obstruction of justice," the IBP president said.
Among the acts listed under Presidential Decree No. 1829 or obstruction of justice are preventing witnesses from testifying, altering or destroying documents, harboring or concealing a suspect, delaying prosecution of criminal cases and presenting false documents.
The Southern Police District said the three lawyers "entered the premises of the bar, took several pictures and videos of the scene and intimidated the members of the searching team."
The IBP president also said that the police, being the ones armed, are in total control of the premises.
"The search warrant was specific as to what artifacts to collect and what premises to search so and of course the police is expected to do their jobs not to allow contamination in that case," added Fajardo.
He also stressed that claims that the lawyers crossed the police line does not constitute obstruction of justice, but, if proven true, is a separate offense and is an act in violation of a city ordinance.
Even the lawyer's seeming reluctance to identify their client—as shown in a video—does not constitute obstruction of justice.
Presidential spokesperson Harry Roque, who is a lawyer himself, earlier said that based on the video, the three lawyers should take a refresher course on what lawyers can and cannot do.
He added that lawyers do not have immunity from obstruction of justice.
"They have to answer for their acts, in addition to possible administrative remedies, for possible violation also of the canon of professional responsibility," Roque added.
The Makati police have already filed criminal complaints—including "constructive possession" of illegal drugs—against the three lawyers.
The arrest of the lawyers drew strong criticism from Vice President Leni Robredo, some lawmakers and lawyers' groups. The Commission on Human Rights, for its part, said that it would continue to investigate the incident.