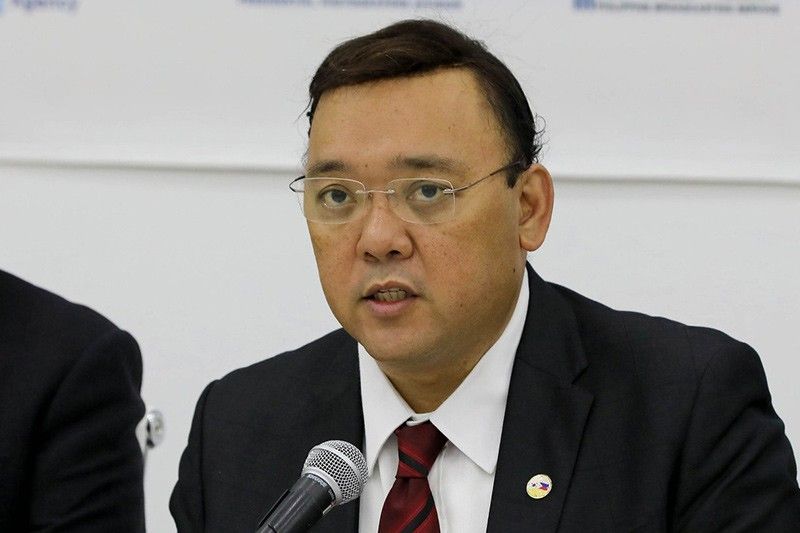 Presidential spokesperson Harry Roque in a press briefing at the Imperial Palace Botique Hotel in Seoul, Republic of Korea on June 5, 2018, following the bilateral meeting between the Philippines and the Republic of Korea.
Alfred Frias/Presidential Photo
Roque says arrested Makati bar lawyers need 'refresher course'
(philstar.com) - August 20, 2018 - 5:55pm
MANILA, Philippines — The three lawyers arrested by the Makati police for alleged obstruction of justice need to have a "refresher course" on what they can and cannot do, Malacañang said Monday.
While some critics claimed the arrest was a violation of human rights, presidential spokesman Harry Roque said the action was justified because lawyers have "absolutely no involvement" in an ongoing police investigation.
"As a law professor, I can assure you, in any police investigation, you can only observe, but certainly, you cannot interfere in an ongoing police investigation. Even on freedom of information, that is one of the recognized exceptions, if there is an ongoing police investigation, the public don't even have the right to information to find out what's ongoing," Roque said in a press briefing.
"I've only seen, one video, but from the video, it's apparent, they need a refresher course on what lawyers can and cannot do and the legal profession should in fact, use this video t0 tell law students what they can and cannot do in the course of an ongoing police investigation," he added.
Lawyers Lenie Rocha, Jan Vincent Soliven and Romulo Alarcon were arrested and detained last Thursday for allegedly intimidating the policemen searching for illegal drugs in TIME, a bar in Makati City. The police claimed the lawyers "entered the premises of the bar, took several pictures and videos of the scene and intimidated the members of the searching team."
The Commission on Human Rights has assailed the police for arresting the lawyers, saying it showed "utter disrespect not only of the law profession but also of constitutionally enshrined rights."
The CHR said the three lawyers were just fulfilling their obligation as counsels of their client.
Roque said a lawyer starts when there is already a pending action in the prosecutor's office.
"If there is anything that was wrong in the police investigation, then they can allege this either in the determination of probable cause or in the trial itself," he said.
"They should not even have been there. And what business did they have being in the area, being where the search warrant was being served, without being identifying who their client was, that's ridiculous. You do not acquire a right to be in a police investigation, just because you claim to be representing a client that you don't want to divulge," he added.
Roque said obstruction of justice is committed if policemen are prevented from affecting the service of a search warrant.
"Lawyers have no immunity for obstruction of justice. They have to answer for their acts, in addition to possible administrative remedies, for possible violation also of the canon of professional responsibility," he said.
"Remember, between policemen and lawyers, lawyers are held to higher standards. Validly issued warrant of arrest, why will you prevent policemen from entering or proceeding to an upper floor where the safe is supposed to be searched? They better think about this. I also taught constitutional law, it's wrong, at least from the video that I saw."
Roque said the three lawyers might have committed the acts because of their lack of experience.
"Masyado kasing mga bata (They are too young)... I'm appealing to the policemen, please show extreme patience...they're overzealous, too. They still have to learn the ropes. I understand one of them had just passed the bar, so come on. Let's be patient and let's not make a big deal out of it," he added. — Alexis Romero
As It Happens
LATEST UPDATE: August 22, 2018 - 11:10am
Three lawyers reportedly arrested for obstruction of justice are facing criminal complaints before the Makati prosecutor's office.
Makati police have filed complaints of Obstruction of Justice, Resistance and Disobedience to a Person in Authority, Violation of City Ordinance No. 96-298 and Section 11, Article II (Possession of Dangerous Drugs) of the Comprehensive Dangerous Drugs Act of 2002 against lawyers Romulo Alarkon, Jan Vincent Soliven and Lenie Rocha.
The investigation data form notes that the complaint is for "Constructive Possession" of illegal drugs.
August 22, 2018 - 11:10am
A resolution has been filed at the House of Representatives for its committees on justice and good government to hold hearings on the "highly irregular" incident of lawyers being arrested for alleged obstruction of justice.
Rep. Salvador Belaro (1-Ang Edukasyon party-list) says lawmakers "would like to ascertain if the said irregular incident has serious imolications on the observance of basic constitutional rights, especially the right to counsel, rights under custodial investigation and right to due process."
The arrest of the lawyers, who were at a Makati bar to observe and document police as they implemented a search warrant, has been condemned by the Integrated Bar of the Philippines and other lawyers' groups.
August 20, 2018 - 4:21pm
Vice President Leni Robredo criticizes the arrest of three lawyers for "obstruction of justice" as they were monitoring the execution of a search warrant by the police, calling it a challenge to constitutional rights which Filipinos must not allow to pass.
"That some members of our police force now feel that they can brush aside claims to legal rights and due process, and bully and intimidate those asserting them – even if they are lawyers performing their duties, and thus, clothed with authority as officers of the court – through verbal harangues, physical restraint, and the threat of subsequent criminal liability, is indicative of an alarming erosion of Constitutional protections and the rule of law," she says.
"If even lawyers, fully educated on their Constitutional rights and trained to assert them, can be treated with such official disdain, then we can only imagine how much worse less informed, less empowered Filipinos will fare when subjected to abusive behavior by agents of government."
The arrested lawyers were Lenie Rocel Rocha, Jan Vincent Soliven and Romulo Bernard Alarcon.