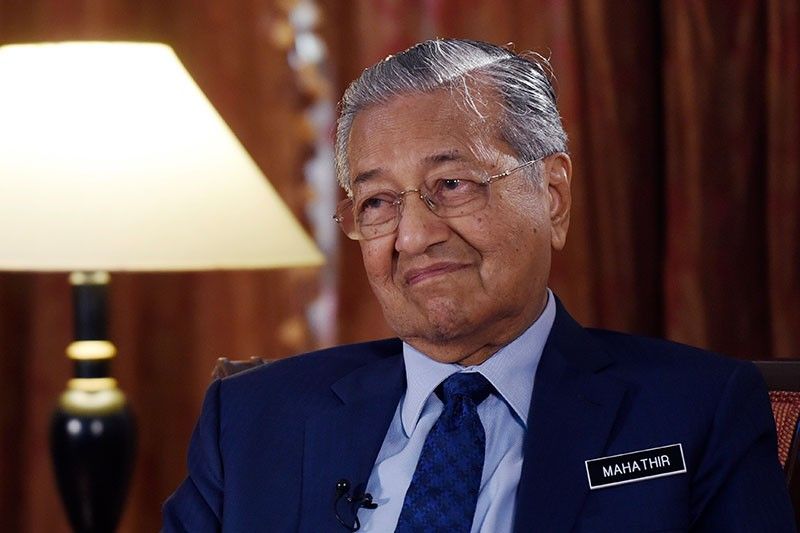 Malaysia's Prime Minister Mahathir Mohamad listens during an interview with The Associated Press in Putrajaya, Malaysia, Monday, Aug. 13, 2018. Mahathir said he would seek to cancel multibillion-dollar Chinese-backed infrastructure projects that were signed by his predecessor as his government works to dig itself out of debt, and he blasted Myanmar's treatment of its Rohingya minority as "grossly unjust."
AP/Yam G-Jun
Malaysia's Mahathir calls on China to respect passage in South China Sea
(Philstar.com) - August 13, 2018 - 4:55pm
MANILA, Philippines — Malaysian Prime Minister Mahathir Mohamad stressed his position on the South China Sea dispute amid Beijing's expanding militarization of artificial islands in the region.
In an interview with The Associated Press, the 93-year-old Malaysian leader called on China to respect the free movement of ships throughout the South China Sea.
"We are all for ships, even warships, passing through, but not stationed here," Mahathir told AP.
"It is a warning to everyone. Don't create tension unnecessarily," he added.
China and several Southeast Asian countries, including the Philippines, have overlapping claims on islands and reefs in the South China Sea.
Beijing claims almost the entire South China Sea under its so-called nine-dash line claim, which a United Nations-backed tribunal invalidated in 2016.
The arbitral tribunal also ruled that China violated its commitment under the UN Convention on the Law of the Sea for building artificial islands in the Philippines' exclusive economic zone.
The Duterte administration, however, shelved the ruling in exchange for rejuvenated ties with the Chinese government.
While Duterte is seeking stronger ties with China, his Malaysian counterpart is portraying a tough stance against Beijing's Belt and Road Initiative.
Economists have been warning that the Philippines may fall into China's debt traps, which the government has dismissed despite loans available from Japan with lower interest rates.
"We cannot get all the loans from the ODA (official development assistance) of Japan. They have to give to other countries as well… Between 2 and 3-percent interest rate is still much better than commercial (loans)," Socioeconomic Planning Secretary Ernesto Pernia said in February.
On the other hand, Mahathir wants to cancel multibillion-dollar Chinese-backed infrastructure projects signed by his predecessor, Najib Razak.
Under Mahathir's leadership, Malaysia has suspended work on Chinese-backed energy pipelines and a rail project and called for drastic cuts in their cost, which is estimated at $22 billion.
"We don't think we need those two projects. We don't think they are viable. So if we can, we would like to just drop the projects," Mahathir said. — Patricia Lourdes Viray with reports from Associated Press