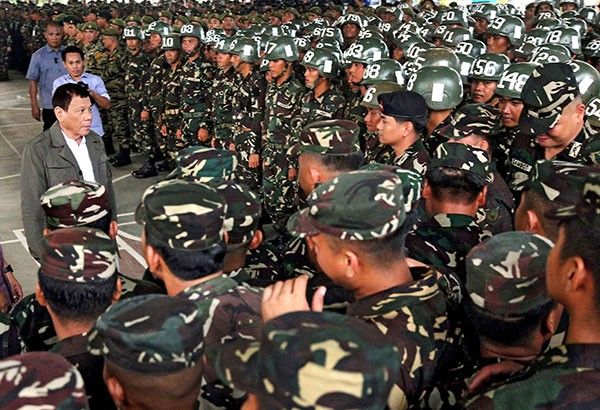 President Rodrigo Duterte will fire a high-ranking military official allegedly involved in P1.5 billion worth of ghost deliveries, presidential spokesperson Harry Roque said.
Kriz John Rosales, file
Palace to announce sacking of top military exec
(philstar.com) - August 13, 2018 - 9:52am
MANILA, Philippines — Malacañang will announce the firing of a high-ranking military official on Monday morning, presidential spokesperson Harry Roque said.
UPDATE: Duterte sacks AFP officials for alleged anomalous transactions
Roque, in a television interview, said that the military official was involved in P1.5 billion worth of ghost deliveries.
The Palace spokesman noted that President Rodrigo Duterte has been "really aggrieved" by this corruption incident as the Armed Forces of the Philippines is "close to his heart."
"He (Duterte) thought that this will not occur... He thinks that by doubling the salary of our soldiers that corruption would in fact be minimized but apparently it continues," Roque told ANC's "Headstart".
According to Roque, Duterte wanted to announce the dismissal of the high-ranking military official as early as Friday last week.
Roque clarified that only one person will be sacked but the incident may trigger an investigation into how many more officials were involved in corruption.
Last week, Duterte fired the board members and officials of Nayong Pilipino Foundation for supposedly approving a disadvantageous lease contract with a foreign company.
The Office of the Government Corporate Counsel will review the supposedly disadvantageous deal, but the lease agreement itself still stands.
"The removal of all members of the Nayong Pilipino board, by itself alone, does not affect the implementation of the project," Justice Secretary Menardo Guevarra said last week of the $1.5-billion NayonLanding project of Landing Resorts Philippines Development Corp. (LRPDC), a subsidiary of Hong Kong's Landing International Development Ltd.
RELATED: What we know so far: Duterte's 'no new casinos' directive
Special Assistant to the President Bong Go said that Duterte will fire more erring government officials. Investigations for erring government officials reported to practice corruption in their respective offices are ongoing. — Patricia Lourdes Viray