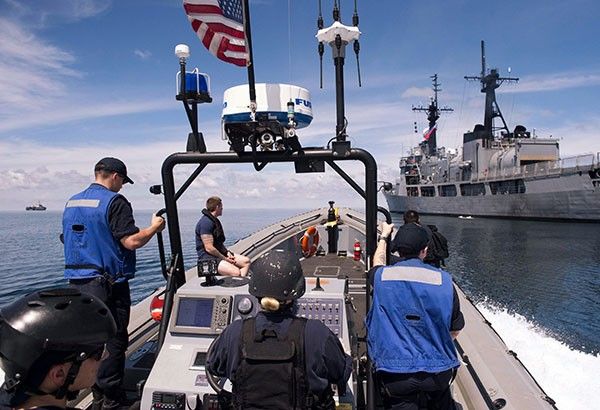 File photo shows US sailors assigned to littoral combat ship USS Coronado ride a rigid-hull inflatable boat to the BRP Ramon Alcaraz for personnel transfer during a coordinated counter-piracy operation in the Sulu Sea.
US Navyphoto/Deven Leigh Ellis
US Navy searching for overboard marine off Sulu Sea
(Agence France-Presse) - August 11, 2018 - 1:23pm
MANILA, Philippines — The US military said it had launched a search and resecue operation after reports a marine may have fallen overboard from an American warship as it sailed through Philippine waters.
The US 13th Marine Expeditionary Unit said a member, who was not named, may have gone overboard Thursday morning.
The 13th MEU is conducting search & rescue operations for one of our Marines. We are conducting an extensive search w/ support from all available agencies & we will continue until every option has been exhausted. The most updated info will be posted here when available. pic.twitter.com/zpkpDYeisM

— The Fighting 13th (@Official13thMEU) August 10, 2018
Aircraft on board the USS Essex are searching waters off the Sulu Sea and the Surigao Strait while multiple searches are also being made inside the ship itself, the unit said on its social media sites late Friday.
The ship was conducting "routine operations in the Sulu Sea" at the time, the California based unit said.
"We remain committed to searching for and finding our marine," the statement quoted the marine unit's commander, Colonel Chandler Nelms as saying.
"All of our sailors, marines and available assets aboard the USS Essex have been and will continue to be involved in this incredibly important search and rescue operation," added the search commander, US Navy Captain Gerald Olin.
The Philippine coastguard are also taking part in what is now an expanded search covering about 3,000 square nautical miles (10,290 square kilometres), it added.
Sulu Sea, the Philippines' largest inland waterway, sprawls over the central and southern sections of the Asian archipelago, a US military ally.
Surigao Strait is at least 300 kilometres (186 miles) away, off the country's eastern seaboard.
The statement did not explain why the two separate locations were being searched.
Philippine navy and coastguard spokesmen in Manila told AFP Saturday they did not have a statement to make on the search.