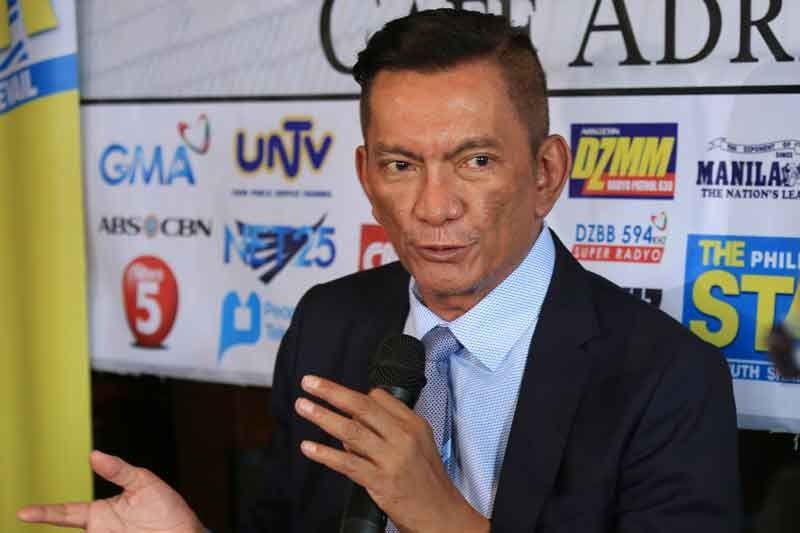 "It could hit six percent or even beyond without vigorous counter-inflation measures," Salceda told "The Chiefs" show on Cignal TV's One News channel.
Edd Gumban
'Inflation may hit 6% without interventions' - Joey Salceda
Jess Diaz
(The Philippine Star) - August 11, 2018 - 12:00am
MANILA, Philippines — Inflation or the rate of increase in the prices of goods and services could reach a new record high this month if the government does nothing drastic to keep it in check, Albay Rep. Joey Salceda warned yesterday.
"It could hit six percent or even beyond without vigorous counter-inflation measures," Salceda told "The Chiefs" show on Cignal TV's One News channel.
Inflation reached 5.7 percent in July from 5.2 percent in June.
He said consumer prices have been steadily rising since January, when the government imposed new and higher taxes under the controversial Tax Reform for Acceleration and Inclusion (TRAIN) law.
"There is persisting inflationary pressure within the system. We should really be crying wolf. This is the first near-crisis for the Duterte administration. Our worry really is a spiral," he said.
Salceda pointed out that the inability of domestic producers to meet demand is the reason why Speaker Gloria Macapagal-Arroyo and other leaders of the House of Representatives proposed zero tariff on certain products to allow the private sector to bring in supply.
The zero-tariff list proposed by the House originally covered meat, fish, corn, feed wheat and vegetables before it was narrowed down to only corn and feed wheat.
Salceda, an economist, said higher inflation would produce "more poor and more hungry Filipinos."
Another economist in the House, Rep. Michael Romero of party-list 1-Pacman, said a six-percent inflation rate would take away P300 from a poor household with an income of P5,000 a month.
"That means that this family's P5,000 is worth only P4,700 due to higher consumer prices. It could make do with its reduced purchasing power by buying fewer goods, which means less rice and food on the table," he said.
He said if this household receives a subsidy of P200 under TRAIN, its net loss is P100.
Romero added that this is the reason why he is proposing that the TRAIN subsidy to 10 million households be increased to P500 "to allow poor families to cope with inflation and the depreciation in the value of the peso."
Finance Undersecretary Karl Chua has told the House ways and means committee that total collections under the tax reform law would reach P285 billion this year, while the revenue loss from lower individual income tax is estimated at P140 billion, for a net gain of P145 billion.
Critics have blamed inflation largely on new and higher taxes imposed under TRAIN starting in January. Last month's rate was the highest in more than five years.
As the House of Representatives prepares to approve on third and final reading the rice tariffication bill before next week's recess, senators warned Malacañang that setting tariffs on basic agricultural products should only be a temporary measure.
Sen. Sherwin Gatchalian, chairman of the Senate committee on economic affairs, said the surge in inflation is largely due to the rising prices of commodities.
"And the reason for the rising prices in food commodities is due to the imbalance in supply and demand," he said.
Sen. Francis Pangilinan said he is inclined to support such a move but warned against reducing tariffs to zero.
"They said it's a temporary measure and yes, prices will go down but I'm concerned if they're going to make it zero," Pangilinan said.
"There will be more imported produce but our farmers will not be able to recover because they can't compete price-wise, so it's really a difficult balance," he said.
Under the rice tariffication bill, volume restrictions on rice imports would be replaced with 40-percent tariff. Duties collected from the importation of rice would go to a rice competitiveness enhancement fund to be used to assist farmers.
Rep. Jose Panganiban Jr. of party-list ANAC-IP, agriculture committee chairman, is the principal author and sponsor of the bill.
Camarines Sur Rep. Luis Raymund Villafuerte, a co-author, said the proposed law "will not only pull down the price of rice by as much as P7 per kilo but also set up a huge support fund that will enable palay growers to increase their harvests while reducing their production costs."
Majority Leader Rolando Andaya Jr. said safety nets for farmers "should be advanced instead of waiting for them to be funded by income from the duties on rice to be imported."
Meanwhile, stakeholders have agreed to impose a five-percent duty on fish imports to help curb inflation while the Department of Agriculture (DA) is set to scrap unutilized import permits on pork and chicken. – Paolo Romero, Marvin Sy, Louise Maureen Simeon