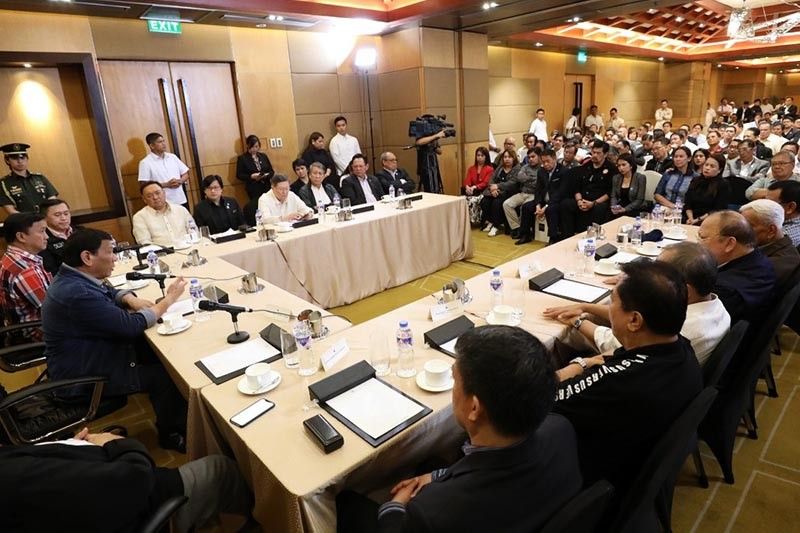 President Rodrigo Duterte presides over the Partido Demokratiko Pilipino-Lakas ng Bayan caucus held at the Diamond Hotel in Manila on Aug. 9, 2018.
Presidential photo/Simeon Celi Jr.
Warring PDP-Laban factions to meet again in September
(philstar.com) - August 10, 2018 - 3:11pm
MANILA, Philippines — Another meeting of feuding groups within the ruling Partido Demokratiko Pilipino-Lakas ng Bayan has been set next month to hash out their differences.
President Rodrigo Duterte met with the groups of PDP-Laban president Sen. Aquilino "Koko" Pimentel III and Rogelio Garcia Thursday night at a hotel in Manila in an attempt to fix the squabble within the party.
The chief executive, PDP-Laban's chairman, first met each group separately before addressing them together.
Pimentel said that another meeting would be held in September, a month before the filing of certificates of candidacy for the midterm elections.
"Another more 'formal' meeting is scheduled on September 1, 2018," PDP-Laban president Sen. Koko Pimentel said Friday.
The faction led by Garcia, Duterte's classmate, held a "national assembly" described by Pimentel as an unauthorized event.
Garcia's group supposedly replaced Pimentel as party's president and Rep. Pantaleon Alvarez as secretary general.
READ: PDP-Laban faction elects new leaders; Pimentel shrugs off
Duterte still with PDP-Laban
Duterte also affirmed his membership to the PDP-Laban, the party that catapulted him to the presidency, Pimentel said.
This, despite the statement of presidential spokesperson Harry Roque that Hugpong ng Pagbabago is the president's party "ever since."
Hugpong is the local party of Duterte.
"The president said that PDP-Laban is his party and that he is duty bound to campaign for its candidates," Pimentel said.
The party president added: "He requires only two qualifications of PDP-Laban's candidates: competence and honesty." — Gaea Katreena Cabico