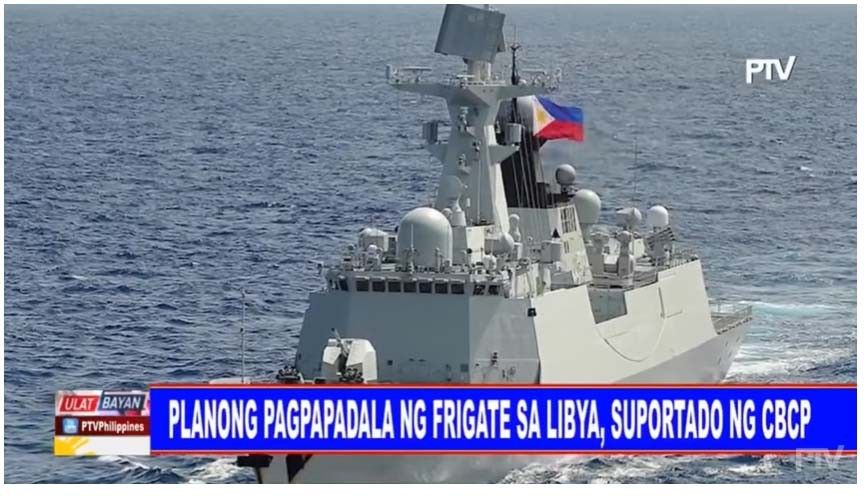 Videos of the PTV report have since been taken down.
Screenshot of PTV "Ulat Bayan" report
Ship happens: PTV sorry for frigate photo foul-up
(Philstar.com) - August 8, 2018 - 8:17am
MANILA, Philippines — State-run People's Television has apologized for using an edited photo of a Chinese ship to represent a Philippine Navy frigate.
In a statement on Tuesday, PTV said its program "Ulat Bayan" is sorry "for the inadvertent use of wrong photos as support video for its story."
The story was on a plan to send a Philippine Navy ship to Libya to help in the rescue of three Overseas Filipino Workers who had been abducted there.
READ: PTV issues an erratum regarding photo support in Ulat Bayan's newscast on August 5 pic.twitter.com/UUw0R5pRwi

— People's Television (@PTVph) August 7, 2018
RELATED: Libya prioritizes release of Filipino captives
The network said an Ulat Bayan editor downloaded the photos from the internet and has since been sanctioned for using them without verification.
"Consequently, other PTV News producers and editors have likewise been warned against making similar mistakes in the future," it also said.
Facebook pages Philippine Defense Forces Forum and MaxDefense Philippines called the network out for the use of the photos, including one that showed a Chinese Type 054A frigate flying a Philippine flag.
The use of that photo led to social media users joking about how the Philippines is already a province of China — a reference to the country's improving ties with the regional giant and to a speech that President Rodrigo Duterte made in February.
RELATED: Banners welcome visitors to 'Philippines, province of China'
"Moving forward, we shall take more diligent measures to deliver straightforward and accurate news to the Filipino people," the network, which is supervised by the Presidential Communications Operations Office, said.
The Philippine News Agency, which is also under the PCOO, was criticized in 2017 for similar errors.