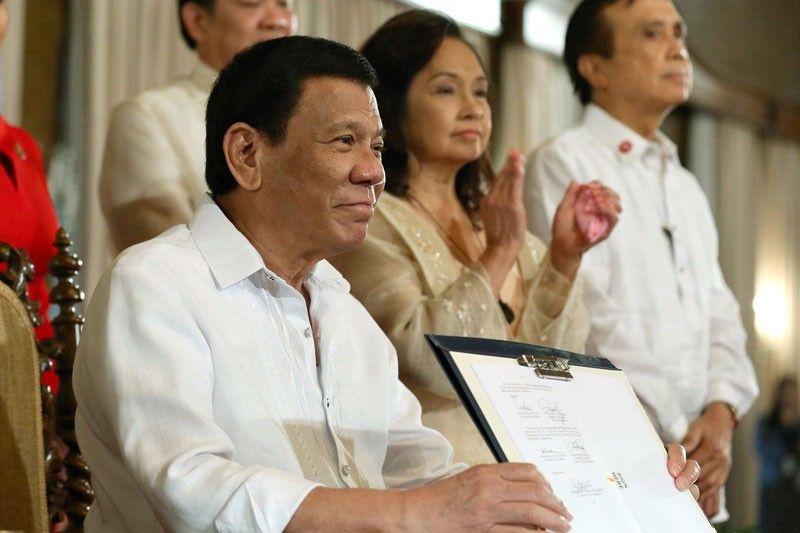 "We have provided the implementing agencies with advice and guidance to address the privacy risks identified at the early stage of project design," Liboro said.
Protection of personal data in national ID system vowed
Janvic Mateo
(The Philippine Star) - August 8, 2018 - 12:00am
MANILA, Philippines — In a statement last Monday night, NPC commissioner Raymund Liboro said they will work with the Philippine Statistics Authority (PSA) to ensure the protection of personal data that will be collected for PhilSys.
"We have provided the implementing agencies with advice and guidance to address the privacy risks identified at the early stage of project design," Liboro said.
Liboro added that in the implementation of PhilSys, the PSA, together with the NPC, would ensure the full protection of the people's data privacy rights.
President Duterte last Monday signed the PhilSys law that will provide a unique identification number for every Filipino.
Duterte said the program would cut red tape, reduce corruption, improve the delivery of basic services and serve as a tool to keep the public safe.
The Commission on Human Rights (CHR) has welcomed the signing of the law.
CHR spokesperson Jacqueline de Guia said the implementation of PhilSys is a step forward in ensuring the people's equal access to public service.
"It is equally aligned with the government's obligation to provide legal identification to all Filipinos," she said.
"At the same time, we urge the government to exert its strongest effort in guaranteeing the protection of our right to privacy, as well as enforcing safeguards against abuse and discrimination that comes with the access to our private information, so we may genuinely achieve the goals of this legislation," added De Guia.
Fight terrorism, money laundering
Administration lawmakers in the House of Representatives lauded Duterte yesterday for signing into law the PhilSys, saying it would fight terrorism and money laundering, among many others.
Reps. Robert Ace Barbers of Surigao del Norte, Albee Benitez of Negros Occidental, Rodito Albano III of Isabela and Raneo Abu of Batangas all agreed that it is about time the national government help cut red tape in the bureaucracy and ensure efficient transactions.
"Tougher banking regulations, coupled with a universal ID, could be used as an additional safeguard to prevent money laundering and financing of terrorism as the ID system would prevent money launderers and terrorists from creating fictitious accounts," Barbers said.
Benitez – chairman of the House committee on housing and urban development – shared a similar view.
"It is a landmark legislation. Our countrymen have been waiting for it for the longest time," Albano, a member of the House contingent to the powerful bicameral body Commission on Appointments, said.
House Deputy Speaker Abu said PhilSys will help interconnect countless and redundant government IDs.
"This is very important in our fight against terrorism and other lawless elements," he said, expecting the PSA to implement it soon.
Department of National Defense spokesman Arsenio Andolong said having PhilSys in place would make things more convenient for law-abiding Filipinos.
"Based on our experience, armed conflicts and insurgencies are often noted in poor governance and delivery of basic services," Andolong said.
Col. Noel Detoyato, Armed Forces of the Philippines (AFP) Public Affairs Office chief, said once PhilSys is fully enforced, it will subsequently result in the unmasking of insurgents and other lawless elements.
Col. Edgard Arevalo, AFP spokesman, in welcoming the passage of the law, said this will promote a peaceful and secure environment as terrorists, criminals and other unscrupulous individuals can no longer assume multiple or false identities.
Meanwhile, PhilSys should be able to solve the problem of 7.5 million Filipinos without birth certificates, given its P25-billion budget, Senate President Pro Tempore Ralph Recto said.
"If there will be a mass list-up and registration (for PhilSys), then perhaps we can use this activity to end the plight of those without birth certificates," Recto said.
He also suggested that an individual without or who cannot present a birth certificate could still register for a national ID by presenting "alternative or additional documents to prove his or her identity."
It emerged during the Senate debates that the measure – which Duterte signed into law as Republic Act 11055 – will cost P25 billion, spread out over five years.
It is estimated that 20 to 25 million Filipinos will register every year for five years, or about 60,000 a day, in data capture centers in at least eight government offices.
These are PSA regional and provincial offices, local civil registry offices and offices of the GSIS, SSS, PhilHealth, Pag-IBIG Fund, Comelec and PHLPost.
'Nothing to be afraid of'
Quezon City Vice Mayor Joy Belmonte said innocent citizens have nothing to be afraid of.
"I'm in favor of (PhilSys) because I think that it is important that every citizen has proper identification and can be traced. When a citizen has not done anything wrong, there is nothing to fear," she said in a statement yesterday.
Belmonte said the rollout of the system would be "very timely" because of the heightened alert announced in Metro Manila following the explosion that killed 11 people in Basilan last week.
She said the implementation of the system must go hand-in-hand with the continued internal cleansing of the police ranks. – With Delon Porcalla, Paolo Romero, Rhodina Villanueva, Artemio Dumlao, Jose Rodel Clapano, Evelyn Macairan, Jaime Laude