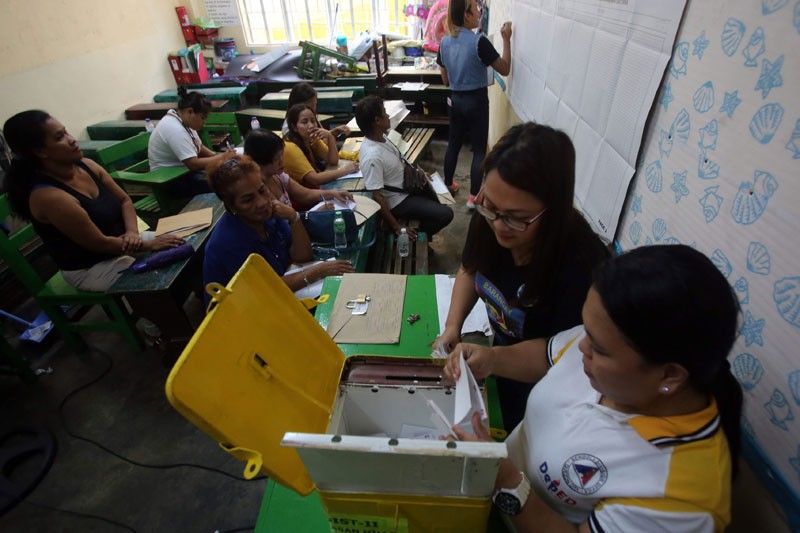 "We have funds for the national election in 2019, and that has been submitted by President Duterte to Congress. So, the President's budget is an anti no-el (no election) budget," House Majority Leader Rolando Andaya Jr. clarified.
Boy Santos
'P6-billion budget for May 2019 polls belies no-election'
MANILA, Philippines — Contrary to repeated insinuations, the midterm elections in May next year will push through as scheduled since the government has allocated P6 billion for the coming polls, a senior administration lawmaker said yesterday.
"We have funds for the national election in 2019, and that has been submitted by President Duterte to Congress. So, the President's budget is an anti no-el (no election) budget," House Majority Leader Rolando Andaya Jr. clarified.
The allotted P6 billion is separate from the P12.4 billion contained in the General Appropriations Act for this year and has been earmarked for preparatory electoral activities of the Commission on Elections (Comelec).
"So, we have a total of about P18.4 billion for the midterm elections. The P6 billion is under our National Expenditure Program. You can validate this with Comelec," Andaya said.
Comelec's proposed budget this year is P16.1 billion while next year's is P10.2 billion.
Andaya said critics of Duterte should stop peddling lies about the no-el scenario next year because these are all unfounded and baseless allegations aimed at discrediting the government.
"Between speculation and proposed appropriation, nothing can be clearer than the budget. So this no-el scenario being painted by those critics with conspiracy theories is definitely flawed. There is funding for the May 2019 elections as scheduled," he insisted.
Speaker Gloria Macapagal-Arroyo herself is opposed to scrapping the senatorial polls.
"No, I am not supporting no-el. Definitely, I am not supporting term extension," Arroyo told reporters in an ambush interview during last week's relief operations for at least 1,000 residents affected by floods in Dinalupihan, Bataan.
Arroyo, a former president and now Pampanga congresswoman, also branded as "black propaganda" the allegations that she has been eyeing the post of prime minister under the proposed Charter change.
"Look, to begin with the proposed constitution is presidential federal isn't it? So that's black propaganda," Arroyo pointed out.
Even one administration lawmaker who was key in installing Arroyo as Speaker agrees.
"Magkakaroon po ng election by May (2019), sigurado po iyan," Rep. Mikee Romero of 1Pacman party-list, who was among those who backed Arroyo's speakership last week, told GMA-7's "Dobol B sa News TV" in an interview.
"Even Speaker GMA will not support the no election, this will be her last term as congresswoman," said Romero, vice chairman of the House committee on sports and youth development and on East ASEAN Growth Area.
"Iyong federalism po, we will push for it. No elections, hindi namin isusulong (we won't push that)," Romero said.
He said the same political parties and party-list groups that form the supermajority coalition will continue to support the administration of President Duterte and push for his legislative agenda, including a shift to a federal system of government.
Romero likewise revealed that ousted speaker Pantaleon Alvarez's hardline stance to cancel next year's senatorial polls actually cost him his job, which resulted in "cracks" within the ruling party PDP-Laban.
He said many congressmen were not happy with no-el, and that was one of the problems, which then forced even the former speaker's closest allies to bolt from his circle.
This was why lawmakers decided to install Arroyo as Alvarez's replacement.
Sen. Aquilino Pimentel III said yesterday there is no more time for the Comelec to implement a hybrid system for the 2019 midterm polls.
Speaking with reporters after conducting a hearing by the Senate committee on electoral reforms on various issues related to the conduct of elections in the country, Pimentel said the idea of a hybrid election system is worth pursuing but not for the 2019 midterm elections due to lack of time.
Proposed by some members of the House of Representatives and supported by Senate President Vicente Sotto III, the hybrid system involves the manual counting at the precincts and the electronic transmission of results.
"We are running against time but the idea is worth pursuing," Pimentel said.
Pimentel issued a warning to the Comelec that if problems still arise during the 2019 elections, then "we really have no choice but to abandon that (system) and then shift to hybrid."
During the hearing, Sotto once again raised his concerns about the questionable activities that took place in the 2016 elections involving the vote counting machines (VCMs) of the Comelec.
In two privilege speeches delivered by Sotto last March, he said there were VCMs that were transmitting data on May 8, 2016 or the day before the conduct of the general elections that year.
The Comelec has stated that these transmissions were all part of the regular diagnostic tests conducted to ensure the VCMs operated properly and there were no problems with the connections.
Sotto has demanded the Comelec submit the logs of the VCMs for May 8 and other dates when the machines were transmitting data.
Comelec executive director Jose Tolentino said no election results were transmitted before May 9, 2016.
Tolentino said no party has complained about discrepancies between the transmitted results and election returns, including the voters and election watchers. – With Marvin Sy