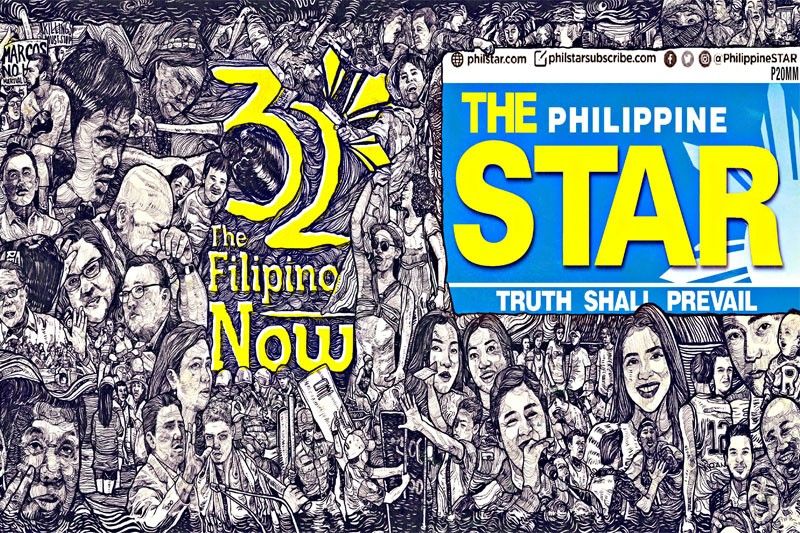 STAR@32: The Filipino Now
MANILA, Philippines — The creation story goes that when Adam and Eve fell from grace and were thrown out of Eden, the human narrative started with all the elements of the short story we learned in literature classes in college: plot, setting, character, theme, conflict. Of course history is replete with the various routes mankind has tried to get back to the garden, through various beery detours and Woodstock-like music festivals.
32 by any other measure is quite a long time in years, and in the newspapering business we try to brush aside the nagging fear of having overstayed our welcome. The newspaper itself is a document or recorder of human history, whether print or digital, and there's much to be said for longevity, or simply thinking up creative ways to pass the time or bring in advertisers.
Which brings us to this present pass: the Filipino now, at the crossroads of nowhere and evermore. All the key words must be mentioned: inspiration, resilience, visionary, influencer, short of multi-hyphenate. If we had paid more attention to our Philippine Institutions 100 teacher in university, we might be able to directly link Rizal's women of Malolos with the young bright female politicians of today, from youngest lawmaker Sarah Elago to Grace Poe; or the national hero's the Filipino a century hence with a growing number of films on the drug war, such as Buybust and Neomanila; Mi Ultimo Adios with the memory of the Marawi heroes; the moth and the flame with the trappings and temptations of power.
Not that we would run out of cautionary tales any time soon, but the list had quite a number of names that stood out, of which we'll name only a few, most likely due to space constraints.
In the world of design, Kenneth Cobonpue combines functionality and aesthetics without compromising the integrity of space – at least from what we've seen of his chairs on which any fish who sits can turn back into warrior.
Lea Salonga's rendition of orphan Annie left an indelible impression of tomorrow that sometimes questionably convicted felons have to give up, and the lilt in her voice in Ms Saigon was the chimera made audible.
Knock knock who's there Chai. Chai who? Chai Fonacier, the milk tea of alternative cinema: Patay na si Hesus, Pauwi na, Respeto.
Scarlet Snow is one perky kid who will likely go places, if she isn't already. She's endearing and cute and maybe somewhat precocious in a social media way, and might have found Rizal's second slipper after the first turned into salmon and swam back upstream, doesn't have to hyperventilate through the periodic table of elements to hold our attention, much less be the center of the solar system.
Musician and jazz poet Lourd de Veyra has captured the imagination of postmodern society with his improvisations, his Radioactive Sago Project coming out with albums considered collector's items, while his younger brother Francis has branched out to writing musical scores for indie movies. Their unusual star turn only proves that it's a crazy planet.
Street cartoonist Dengcoy Miel is notable not only for his wry artwork that has made the pages of newspapers and magazines from Quezon City to Singapore and New York, but also for his distinctly Filipino sense of humor. We knew him as a kind of self-styled acolyte in Jingle magazine in the '70s, when after reading an issue of Playboy magazine cover to cover during breaks in illustration jobs, he chanced upon a reporter of the sister publication ExtraHot in the dimly lit corridor to ask the classic pickup line: Miss, can I buy you a drink?
Tourism Secretary Bernadette Romulo has been touted as the one who will save her department from fund drain to dubious causes, and under her watch will see the rebirth of the much missed Boracay. Though a widow now, she was the baby of the Romulo family on Maginhawa Street in the late '60s, long before the youngest Erwin was born and by which time they had moved out. Erwin the musical scorer of Buybust, where end credits listed their eldest Guadalupe as among the persons in memoriam the film was dedicated to. Upon exiting the theater it felt like we were cast out of another Eden, of transistor radios, señorita candies, the Book of Knowledge.
"What we call history is the history of the word. In the beginning of that history was the word." – William Burroughs, 'The Ticket that Exploded'
Cesar Ruiz says, On the moon there is no moon. Smashing pumpkins sing, Siamese dream.