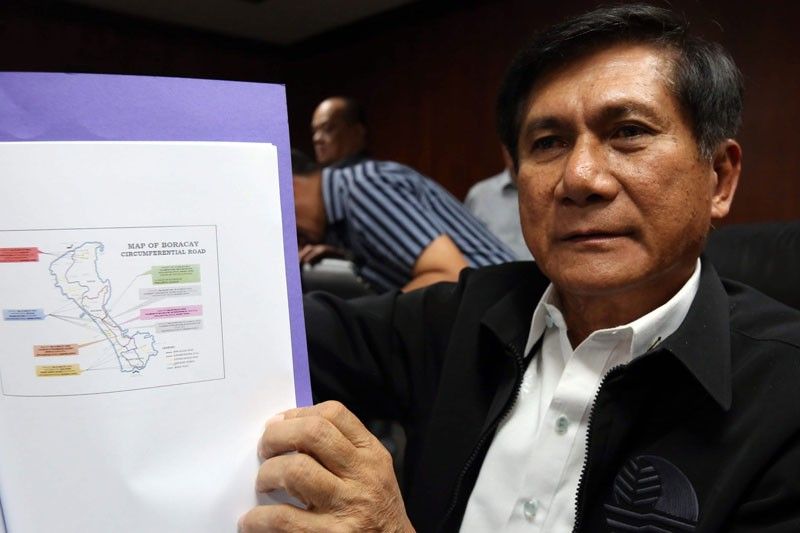 DENR suspends all ECCs in Boracay
MANILA, Philippines — Three months prior to the reopening of the world-famous Boracay, the Department of Environment and Natural Resources (DENR) has suspended the environmental compliance certificates (ECCs) of all business establishments on the island pending the review of compliance with environmental laws.
In a recently issued memorandum circular, Environment Secretary Roy Cimatu has ordered the suspension and review of all existing ECCs in terms of their compliance with current local and national laws, rules and regulations.
In reviewing the ECCs, Cimatu said results of the cadastral mapping that defines land ownership and the carrying capacity study would be taken into full consideration.
A committee composed of attached agencies Environmental Management Bureau and Mines and Geosciences Bureau will also be created to review all Boracay establishments' compliance with all existing ECCs and environmental management plans.
The committee is required to submit a report to the DENR chief, either for the lifting of suspension or cancellation as those compliant establishments will be the only ones to be allowed to operate once Boracay reopens on Oct. 26.
Likewise, the DENR-EMB Regional Office will monitor establishments holding Certificates of Non-Coverage (CNC) to ensure compliance.
Boracay establishments would be monitored during the suspension of ECCs to ensure that there is no violation of environmental laws.
Based on the recent order, all properties along Boracay's beachfront must have sewage treatment plants (STPs) whether they connect to the sewer lines of Boracay Island Water Co. (BIWC) or not.
The DENR exempted small restaurants, bars and hotels along the beachfront with five rooms or less and with no available space for the construction or installation of individual or clustered STPs.
However, these establishments were ordered to secure discharge permits from the EMB stating the volume and quality of wastewater to be discharged.
These establishments are also required to install pre-treatment facilities like grease traps subject to DENR inspection.
The deadline for the submission of application for permits and registration as hazardous waste generator, as well as necessary documents for the lifting of ECC suspension is on Aug. 15.
All permits, meanwhile, will be issued on or before Sept. 15.
The DENR earlier assured that all environmental problems such as water pollution and garbage woes will be addressed and finished in the next three months.
Aside from fixing Boracay's sewage and drainage systems, rehabilitation efforts also include addressing garbage problems, road widening, clearing of illegal structures, and recovering five missing wetlands.
Last April 26, President Duterte issued Proclamation No. 475 placing Boracay's three barangays – Balabag, Manoc-Manoc and Yapak – under a state of calamity and declaring the entire island closed to tourists for six months.
The closure was deemed necessary to rehabilitate the resort island described by the President as a "cesspool" in order to "ensure the sustainability of the area and prevent further degradation of its rich ecosystem."