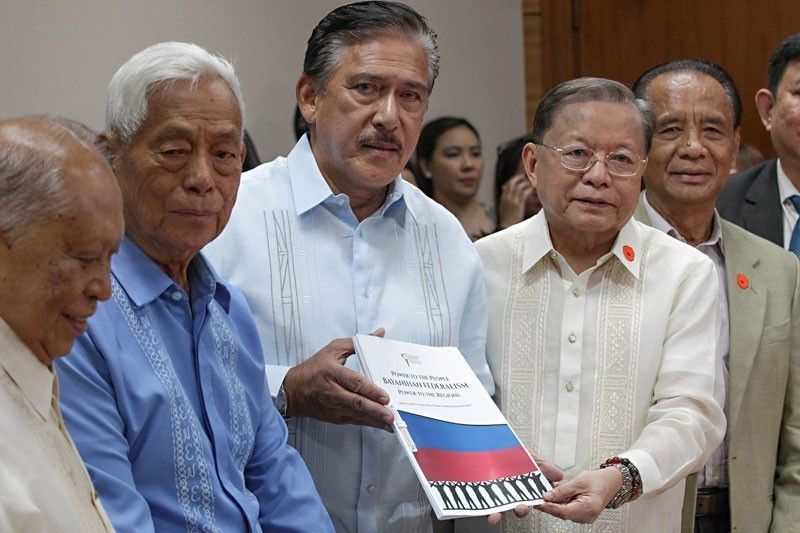 Senate President Vicente Sotto III receives a copy of the draft federalism constitution from former Chief Justice Reynato Puno and former Senate President Aquilino Pimentel Jr.
Geremy Pintolo
Sotto: No law to allow Alvarez's 'no elections' people's initiative
MANILA, Philippines — Senate President Vicente "Tito" Sotto III on Thursday said that the 1987 Constitution does not allow officials to stay beyond their term.
Speaking at the Kapehan sa Senado forum, Sotto stressed that there is no provision in the constitution on holdover of positions.
"The elections cannot be cancelled...It can be moved by Article VI, Section 8 of the 1987 Constitution as may be 'provided by law'—that allows postponement or perhaps, advancing, moving the date of elections, but it does not provide the that terms be extended," the Senate president added.
House Speaker Pantaleon Alvarez (Davao Del Norte) floated the option of not holding elections in 2019 so, he said, Congres could focus on charter change. He also said having them stay in a holdover capacity would remove suspicions than reappointing the officials after their terms lapse.
Alvarez, who is proposing a postponement that President Rodrigo Duterte does not support, said "no-el" could be done through a people's initiative—the third way to amend the constitution. Sotto, however, pointed out that there has yet to be an enabling law for people's initiative.
Sotto added that the Supreme Court already struck down Republic Act 6735, or the Initiative and Referendum Act, for being "inadequate to go over the system of initiatives to amend the constitution."
"In order for us to realize that there will be people's initiative, we have to pass an enabling law and review the inadequacies mentioned by the SC for us to be able to finalize a bill or a law that will be acceptable," Sotto added.
Constitution specifies terms of office
Integrated Bar of the Philippines president Abdiel Dan Fajardo also backed Sotto's sentiment and stressed that the 1987 Constitution does not allow members of Congress to stay on beyond their terms.
In a message to Philstar.com, Fajardo said: "Under the constitution, the terms of office of the current crop of senators and congressmen will expire on June 30, 2019. The current congress will thus cease to exist. Any term extension will be illegal because Sections 4 and 7 of the Constitution explicitly provide for six and three-year terms of office, respectively."
Fajardo's statement comes before the IBP's official statement on the proposal to postpone elections.
He stressed that while the constitution's language prescribes "' 'unless otherwise provided by law, the regular election of the Senators and the Members of the House of Representatives shall be held on the second Monday of May,' any such law must be consistent with the other provisions, i.e., that it will not effectively extend the terms of office of the current senators and congressmen."
Fajardo added that since Congress expects it will take six to eight months to deliberate on the proposed Federal charter, and another six months for an information drive before ratification, "it is highly doubtful that any proposed changes to the constitution thereafter would be legal or valid."
Senate will oppose 'no-el'
Sotto also backed Sen. Panfilo "Ping" Lacson, who earlier said senators will oppose the move to postpone the elections.
Lacson said on Wednesday: "It goes without saying, a majority of senators, even those running for re-election will fight tooth and nail any attempt to cancel the 2019 midterm elections simply because it is wrong and self-serving."
READ: Senators to fight 'no-elections' initiative
The senate president said that while he does not want to speak for the rest of his colleagues, that is the "sense" that he is getting.
"I have yet to hear a member of the Senate that agreed to that part—people's initiative and other forms of extending the terms of officials," he added.
He also said that he has yet to get a grasp why there is a need to postpone the elections.
"I think that is the question that needs to be answered first. Why is it needed? Maybe then you can convince most of the senators," Sotto added.
Massive vacancies in government
Sotto said that if the 'no elections' scenariois rammed through, there will be widespread vacancies in government as the Supreme Court "will strike it down for sure" for being unconstitutional.
He pointed out that when the 2019 elections period is over, the Philippines will be left only with the president, vice president and 12 senators.
"Those proposing it, they should really look into it," Sotto added.