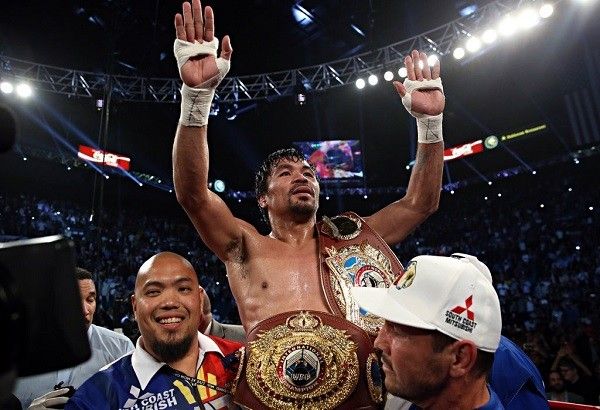 "I want to defend my belt," said the senator who flew home to General Santos City yesterday morning.
AP/File
One more fight in 2018 for Pacquiao
KUALA LUMPUR – Manny Pacquiao believes he still has a few more fights left in him, despite an advice from President Duterte that the Filipino boxing champion should consider retirement.
In the eyes of his strength and conditioning coach, the next good fight for Pacquiao is one against British boxer Amir Khan.
But they won't be fighting in Las Vegas or Malaysia. Not even in the Philippines.
"Khan in London," said Justine Fortune outside the Axiata Arena last Sunday after Pacquiao demolished Lucas Matthysse of Argentina in seven rounds.
Pacquiao, 39, was his old self inside the ring, and not the aging fighter most expected.
"I'm back," he declared.
Pacquiao said he wants to fight once more this year.
"I want to defend my belt," said the senator who flew home to General Santos City yesterday morning.
Head trainer Buboy Fernandez said yesterday newly crowned WBA welterweight champion Pacquiao has two up to three more fights left before hanging up his gloves and what's down the road could be the "big shot," a rematch with unbeaten Floyd Mayweather, Jr.
Before even reaching out to Mayweather, Fernandez said Pacquiao could fight once more but declined to name a possible opponent. Pacquiao said he's excited to stake his title, maybe in November.
"It's really up to Manny," said Fernandez. "He'll decide what to do next. My job is to be ready for whatever he wants me to do. I'm not expecting to be named his permanent head trainer. I'm grateful that he gave me the honor of being the head trainer for the fight against Matthysse."
Money matches
With the Filipino fighting legend back in the big time, AFP Sport looks at five boxers who could be money-spinning opponents for Pacquiao's next fight:
Amir Khan - Pacquiao singled out the Brit, who used to be his training partner when both were under Freddie Roach's wing, as a "potential opponent" at his post-fight press conference on Sunday. Former light welterweight champion Khan has long wanted a crack at Pacquiao and the pair agreed to fight in Dubai last year before the deal collapsed when the UAE investors failed to come up with the money on time. Khan's speed and power could trouble Pacquiao but the Briton has suffered huge knockout defeats in the past at the hands of big punchers Danny Garcia and Saul "Canelo" Alvares.
Jeff Horn - Pacquiao is not someone who talks revenge, but he is still smarting from the way Horn took his WBO welterweight belt in Brisbane a year ago with a controversial points decision in front of a heavily partisan home crowd. Horn lost the title when stopped by Terence Crawford last month. This time Pacquiao would call the shots, meaning the bout would take place on his favored turf, either at home in the Philippines or back in Kuala Lumpur where Pacquiao enjoyed huge support in the 15,000-seat Axiata Arena.
Terence Crawford - If Pacquiao wants his old WBO belt back then he needs to go knocking on unbeaten 30-year-old American Crawford's door. The trouble is, Crawford is now rated as "best pound-for-pound fighter" in the world, meaning it might be a dangerous fight to take on. Bob Arum and Top Rank would likely want it in Las Vegas to maximize pay-per-view returns as would Crawford, who has never fought outside of the US. Pacquiao might just be lured by a lucrative share of revenues because at nearly 40 years old, he will not have many more eye-watering pay days left.
Vasyl Lomachenko - Top Rank promoter Arum said last week in comments reported by the Los Angeles Times that Pacquiao was one of the options for Ukrainian lightweight champion Lomachenko's return at the end of this year following shoulder surgery. Pacquiao hinted at interest after beating Matthysse at welterweight (147 pounds) on Sunday but some observers doubt that he could move back down in weight to 140lb or less to meet Lomachenko, who has only fought at 135 lb or below. Pacquiao's long-time conditioning coach Fortune says "Pac-Man" would have no problems, though. "He could make 135 pounds inside of four weeks," he told AFP last week. "His metabolism is ridiculous. I don't know what it is. He's a freak."
Floyd Mayweather - Maybe the most left-field suggestion, but Pacquiao is ruling nothing out and says he will be up for a rematch of the pair's 2015 superfight, one of the richest in history, if Mayweather wants to come out of retirement. "I have the belt, so it's up to him... let's do a second one," said Pacquiao after his win on Sunday. Whether there would be the same appetite from fans for pay-per-view purchases as there was for the first fight between the two best fighters of their generation seems doubtful as Mayweather is now 41 and Pacquiao will be 40 in December. The man nicknamed "Money" might just decide instead to stay at home counting his cash rather than risk losing his precious 50-fight unbeaten record.
Fortune, a former heavyweight contender from Australia, wants to see Pacquiao (60-7-2) fighting Khan (32-4) by the end of the year at Wembley Stadium.
"If I had my way, I don't know, Khan in London, if I had my way. Pacquiao in Wembley Stadium with a hundred thousand people," said Fortune.
That fight will sell like hotcakes.
Pacquiao's long-time adviser Michael Koncz, who arrived here the night before the fight, said he'd like only one more bout for the champion. "I don't want Manny putting his health at risk," he said. "You can't fight forever. I'm thinking just one more fight. But it won't be Mayweather. Let's face it, Mayweather's not stupid. He had a hard time beating Manny in their first fight and Manny wasn't 100 percent. If ever Mayweather agrees to a rematch, it'll be in Las Vegas. He won't fight anywhere else. He certainly won't fight in the Philippines. At the moment, Mayweather is retired and there are no indications that he'll come out of another retirement."
Koncz said Pacquiao was six times better than he was against Horn in demolishing Matthysse. "It was like Manny dominating Erik Morales in their third fight," said Koncz. "The speed, power, combinations and footwork were back. I haven't seen Manny perform that way in a long, long time."
Australian promoter and matchmaker Peter Maniatis, who watched the Pacquiao demolition of Matthysse at ringside, had an interesting suggestion. "Why not hold a two-day Australia-Philippines event where on the first day, Gilas will play the Australian national basketball team and on the second day, Manny will fight Horn in a rematch."