Roque: Local execs' killings may be due to 'election season'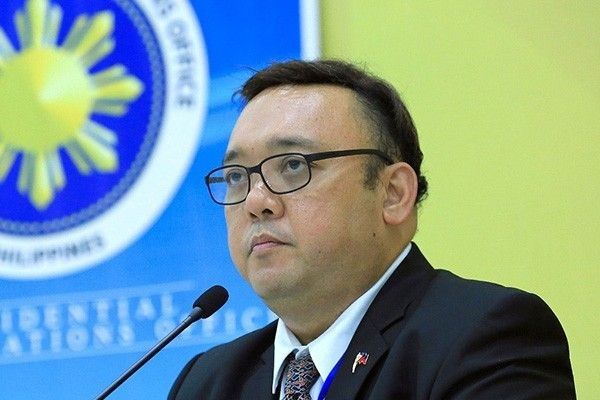 MANILA, Philippines — Presidential spokesperson Harry Roque attributed the recent killings of local executives to election season.
In a press briefing on Monday, Roque said there is "no system" or "pattern" behind the killings of four local executives in a span of less than a week.
He said the narco-list could not be the link among the killed officials.
"The more plausible explanation behind this is, it's really political season in the Philippines," the Palace spokesman said.
He said that of the three officials, only one had alleged links with illegal drugs. "There are different theories, possible motives, but what is common is they are all politicians."
On July 2, Tanauan City, Batangas Mayor Antonio Halili was shot during the city hall's flag-raising ceremony.
Hours after Halili was shot dead, President Rodrigo Duterte in a speech said that Halili might have been killed due to his links with the illegal drug trade, an accusation denied by the late mayor's daughter.
A day later, Nueva Ecija Mayor Ferdinand Bote was killed in an ambush. Last Saturday, Trece Martires City, Cavite Vice Mayor Alex Lubigan was gunned down.
Roque also said that the Commission on Elections is already looking into pushing for expanding the gun ban before the elections since "it seems like incidents of killings are rising."
On Sunday, Justice Secretary Menardo Guevarra has ordered the National Bureau of Investigation to look into the killings to determine whether they were interrelated.
READ: Destabilization eyed in local execs' slays
Meeting with mayors will be scheduled
Roque said Malacañang has yet to set the meeting requested by local executives with Duterte.
"I'm sure it will be scheduled. I'm just not sure exactly when," Roque said, adding that a meeting with the Union of Local Authorities of the Philippines has a higher probability of happening since it is a "broader" network of local executives.
READ: Local execs want role in vetting narco list
ULAP and other groups of local officials have expressed fear about their safety following the killings.
Last week, Roque said ULAP also expressed concern about the vetting process of the narco-lists.
The Palace spokesman assured that the government would continue to look into these incidents and deliver justice to the families of the slain officials. — Kristine Joy Patag
As It Happens
LATEST UPDATE: January 30, 2019 - 12:55pm
Multiple reports say General Tinio, Nueva Ecija Mayor Ferdinand Bote was gunned down on Tuesday afternoon.
Bote was reportedly shot in front of the city hospital of Cabanatuan City.
His death came a day after Tanauan Mayor Antonio Halili's murder.
January 30, 2019 - 12:55pm
Quezon City Police District reports that a barangay captain was killed in the city on Wednesday morning. The official was brought to the Far Eastern University Hospital.
January 4, 2019 - 9:29am
Former Parang, Maguindanao Mayor Talib Abo Sr., who was named as a "narco-politician" by President Rodrigo Duterte, was killed in an anti-illegal drug operation Friday dawn, reports say.
His brother was also killed in a separate police operation against illegal narcotics the same day.
July 12, 2018 - 2:50pm
Police in Zamboanga City have designated a task group to speed up the investigation into the killing of Sapa-sapa, Tawi-Tawi Vice Mayor Al-rasid Mohammad Lipae Ali on Wednesday afternoon.
Senior Superintendent Alan Nazarro, acting director of the Zamboanga City Police Office, says city police will coordinate with their counterparts in Tawi-Tawi.
Ali was shot on Gov. Alvarez Avenue around 5:20 p.m. on Wednesday.
Police have already retrieved CCTV footage from the area.
July 11, 2018 - 7:15pm
Vice Mayor Alrashid Mohammad Alih of Sapa-Sapa town in Tawi-Tawi was shot dead by motorcycle-riding gunmen in Zamboanga City, several reports say.
July 11, 2018 - 11:17am
Multiple reports say the suspect in the killing of General Tino, Nueva Ecija Mayor Ferdinand Bote has been arrested.