Robredo reminds Duterte, others: Exercise freedom of speech with responsibility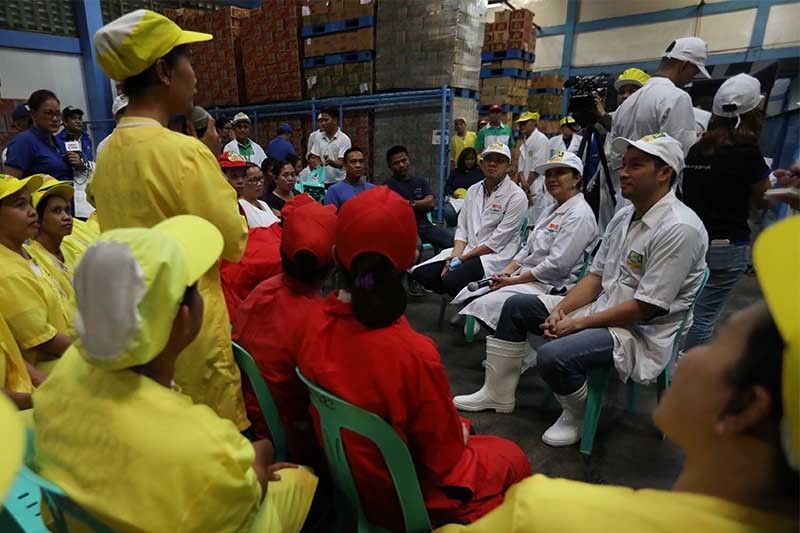 MANILA, Philippines — Government officials, especially President Rodrigo Duterte, should exercise their freedom to speak their minds with responsibility and avoid offending religious beliefs, Vice President Leni Robredo said on Thursday.
Robredo was reacting to the recent furor over Duterte's rants against the Bible and God, whom he called "stupid" for tempting Adam and Eve in the Genesis creation story.
The vice president said that all government officials, including her, have the right to express their thoughts and sentiments, but this should be exercised prudently.
"We should remind, not just President Duterte, but all government officials like us, that it's true we have the right to express our feelings, we have religious freedom, but all these rights have corresponding responsibilities," Robredo said in Filipino in an interview in Zamboanga City.
"Our obligation is to make sure that we don't offend the sensibilities of people, we don't offend the religious beliefs of people, and not to insult, which is also our obligation," she added.
Duterte recently described God, who he later clarified to be the God of his critics, as "stupid" and questioned the logic behind the Bible story on the temptation of Adam and Eve.
He also questioned the Lord's Supper and falsely claimed that some saints who were born centuries later were there.
These remarks outraged both Catholic and Christian churches and led the Palace to form a four-man committee that would dialog with them in an effort to iron out their differences.
Apprehension over arming priests
Robredo also expressed apprehension over plans to arm priests and village chiefs, asking if this means that the country's peace and ordeer situation is spinning out of control
"I'm not in favor of giving arms to village officials because it's not their mandate. If you arm priests, it's not the solution. We have to identify the reason and address it," she said.
Philippine National Police chief Oscar Albayalde said that the Catholic Bishops Conference of the Philippines agreed with its position not to arm priests.
He also said that they had briefed CBCP officials on the status of probes into deaths of some priests in the past months.
"We briefed the CBCP officials on the present status of murder cases involving members of the Catholic Clergy and apprised them of our initial findings that: 1. These murder cases were unrelated; 2. There are different motives, and; 3. There is no apparent pattern in all of these incidents," Albayale said in a press briefing.