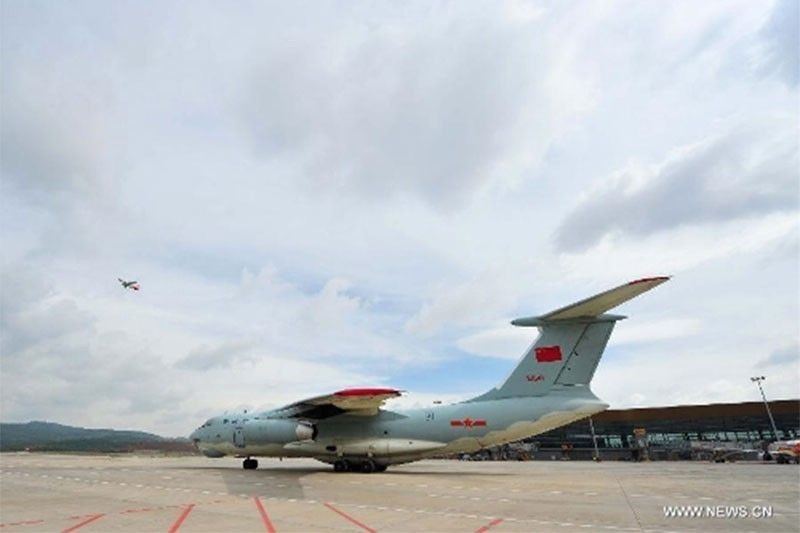 An IL-76 aircraft from the People's Liberation Army Air Force was spotted in Davao City airport on June 8, 2018.
Xinhua/Zhang Hengping
Chinese aircraft lands at Davao airport anew, Palace confirms
(Philstar.com) - June 23, 2018 - 6:08pm
MANILA, Philippines (UPDATE 3: June 24, 2018; 5:59 p.m.) — Malacañang confirmed Sunday the landing of Chinese aircraft at Davao City Airport Saturday noon.
Presidential spokesperson Harry Roque said that the military aircraft was allowed to land at the airport for refueling stop. He assured that all protocols were observed.
According to a report by ANC, the Chinese military aircraft arrived in Davao City at 12:18 p.m. for a "brief refueling."
However, the report said it was unclear if the plane that landed on Saturday, identified as an IL-76, was the same aircraft that was seen in Davao City last June 8.
Early this month, photos of a Chinese military aircraft in Davao City went viral on social media and fueled speculation that it was one of the planes used to patrol the South China Sea, including areas over which the Philippines has been awarded sovereign rights.
The IL-76 is used for tactical and strategic airlift missions, for transport of troops and evacuation.
But security officials at the time said the plane was on its way back to China from Australia.
Former national security adviser and Parañaque Rep. Roilo Golez doubted the presence of the said Chinese military transport aircraft that landed in Davao City early this month.
"This isn't usual. It's a very large airplane of the PLA Air Force so many people speculated about it. This isn't an ordinary landing by a small airplane so it's important for the government to be transparent," Golez told dzRH in Filipino. It turned out to be his last interview before passing away. — Ian Nicolas Cigaral