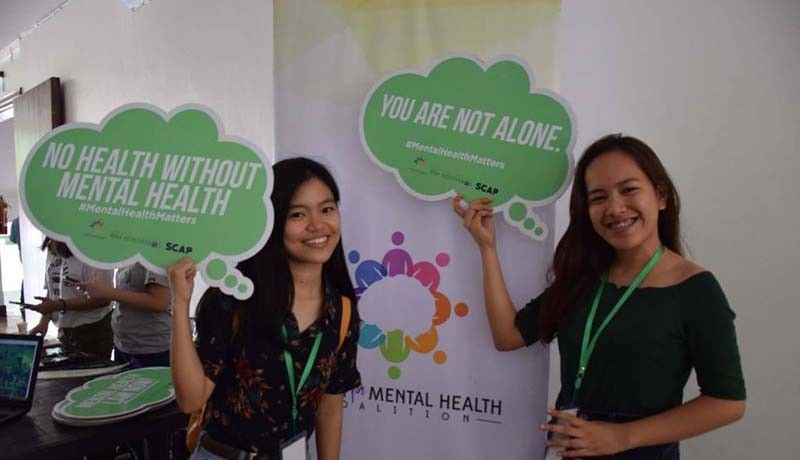 Advocates hailed the law as "the first legislation that protects rights and welfare of people with mental health conditions."
Youth For Mental Health Coalition Facebook page
Advocates hail passage of landmark Mental Health Law
MANILA, Philippines — "Finally, help is here."
Mental health advocates hailed the passage of Republic Act 11036, the Philippine Mental Health Law.
Youth for Mental Health Coalition, a group of youth organizations pushing for the increased awareness of mental health issues, celebrated the passage of the landmark law.
"After a decades-long battle in the legislative arena, the Philippines finally passed R.A. 11036...the first legislation that protects rights and welfare of people with mental health conditions, shifts focus of care to the community, improves access to services and integrates mental health in the schools and workplaces," Y4MH said.
Sen. Risa Hontiveros, the primary author of the bill at the Senate, said on her Facebook page, that the passage is the "victory of advocates" who have lent their voices to craft the law.
Hontiveros filed Senate Bill 1190 in October 2016. The proposed measure hurdled the Senate with a vote of 19-0 on May 2017. It was a consolidation of bills filed by Senate President Vicente Sotto III and Sens. Loren Legarda, Antonio Trillanes IV, Paolo Benigno "Bam" Aquino IV, Sonny Angara and Joel Villanueva.
The House of Representatives passed its own version of the bill last November.
Mental Health Law
Hontiveros said that the passage of the law will champion the rights of mental health needs and professionals.
It will also help provide mental health services to barangays and "integrate psychiatric and psychosocial and neurologic services in regional, provincial and tertiary hospitals, improve our mental healthcare facilities and promote mental health education in our schools and workplace."
Last week, Hontiveros urged Duterte to enact the bill.
She cited World Health Organization data that said: "In 2013 alone, it was found that as many as seven Filipinos committed suicide daily. The Global School-Bases Student Health Survey of 2015 reported that 17 percent of high school students in the Philippines aged 12 to 15 said they had attempted suicide at least once."
READ: Sign mental health bill into law, Duterte urged
Hontiveros also pointed out that the Philippines sorely lacks the capacity to tend to persons with mental health needs: The country has only 60 psychiatric health care facilities, and has a ratio of one health worker for every 50,000 people.
The National Center for Mental Health, she added, only has a bed capacity of 4,200.
With the passage of the law, Hontiveros said: "No longer shall Filipinos suffer silently in the dark. Mental health issues will now cease to be seen as an invisible sickness spoken only in whispers."