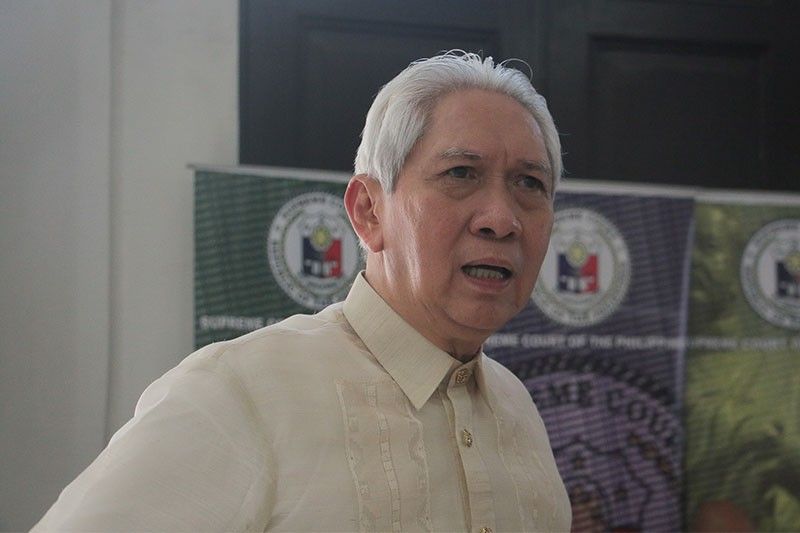 Associate Justice Samuel Martires is one of the ten vying for the Ombudsman position that will be vacated next month.
Philstar.com/Erwin Cagadas
Martires apologizes to Sereno, says he never meant to 'faith-shame' her
MANILA, Philippines — Associate Justice Samuel Martires said that he never meant to shame ousted Chief Justice Maria Lourdes Sereno in his questions pertaining to her faith.
Martires' application to the ombudsman post is facing an opposition from a group of priests, pastors and theological teachers. They pointed out that Martires' questions to Sereno that linked her faith to "mental illness" shows his "lack of respect to faith-based communities" and his "lack of probity."
But the sitting SC justice said that he has never faith-shamed any person. "I may sometimes utter bad words but I never ever shamed a woman, either in public or private," he added.
READ: Priests, theological teachers oppose Martires' bid for ombudsman post
Martires clarified that his line of questioning was not meant to offend or humiliate Sereno who was then defending the constitutionality of her appointment as chief justice before her peers. "My intention was to actually defend her that there is nothing wrong to invoke God," the justice said.
"It was not meant to shame a person, and if that person is referred to as Sereno, I apologize to her," Martires added.
Sereno earlier sought for the inhibition of Martires in the government's quo warranto petition against her. In her motion filed before the SC last May, she said that Martires appeared to have made the insinuations even if psychological fitness was not an issue raised in the solicitor general's petition, which seeks to invalidate her appointment mainly on the grounds of missing wealth declarations.
READ: Sereno seeks 'faith-shaming' Martires' inhibition from ouster case
Martires did not take his hands off the case. He is among the eight justices who voted to nullify Sereno's appointment. He also voted to reaffirm the ruling on June 19.
Speaking to reporters after the public interview, Martires stressed that everyone has "the right to say that god is the source of all the strength."
"It is not a sign of mental illness," he added.
The JBC public interview on the ombudsman applicants is ongoing as of this story's posting.